Overview
Fossil Mountain is located at the southern end of the
Confusion Range
in the western Utah desert. Named after the numerous fossils that can be found on its' slopes, Fossil Mountain is the second highest named summit in the Confusion Range next to King Top (elev. 8350 ft). Some of the best early Ordovician fossils in this area can be found on Fossil mountain. A variety of shells and other invertebrate fossils including trilobites, brachiopods, cephalopods and echinoderms can be found here. Some geology information about Fossil Mountain can be found
here
. The Fossils are completely legal to collect, since it's BLM land. More info about rock hounding in Utah can be found
here
.
Aside from the many fossils that can be found on the slopes of this mountain, the summit of Fossil Mountain is a worthy goal. The east face of Fossil Mountain is impressive and rugged; from the summit and down is a 300 foot cliff that begs for you to stand above it. Expect solitude and excellent views of the west desert from the top of this peak. It will take less than 2 hours to hike to the summit of this peak and I recommend combining this peak with a hike or visit to
Crystal Peak
about a 45 minute drive away. To get to Crystal Peak from Fossil Mountain head back to Tule Valley road, take a right and follow directions to Crystal Peak.
Views from the summit of Fossil Mountain are good but are not as extensive as they could be. Higher mountains in most directions overshadow Fossil Mountain and partially obstruct the view. You will have an excellent view of Notch Peak and Blind Valley to the north about 19 miles away. The very southern part of the Snake Range in Nevada peeks out a little towards the west. Frisco Peak, the highpoint of the San Francisco Mountains can be seen along with Tule Valley to the south, about 26 miles away.
Getting There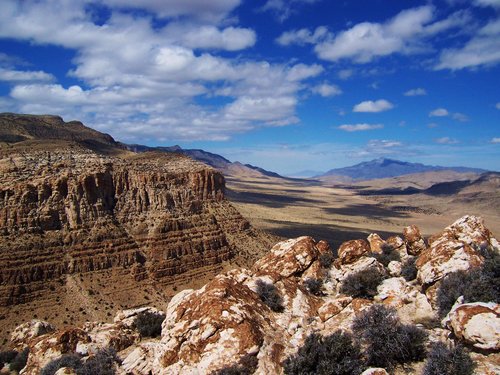 Some of these roads might not be labeled so use your odometer. A high clearance vehicle is not needed to get to Fossil Mountain. Make sure you have plenty of gas as the closest gas station is in Baker, Nevada 40 miles away.
From Salt Lake City (200 miles) :
Head south on I-15 for approximately 65 miles to the town of Santaquin. Take State Highway 6 out of Santaquin west towards Delta. After 71 miles you reach Delta, continue heading west out of Delta. The road heads straight for 48 miles and then will bend in the mountains at Skull Rock Pass after the road bends, begin looking for a well graded dirt road to the left, approx 1 mile from the road bend. Take this road, Tule Valley Road and begin heading south for just over 8 miles to a road that heads west. Take a right on this road (to Blind Valley) and continue heading west for 6 miles to where you reach a T intersection. Take a right and head north into Blind Valley for 1/3 a mile to where a 4WD trail on the left heads off in the west direction. Park here or drive a half a mile up to the start of the hike.
Route Description
Round Trip Distance :
4 mi (measured from the start of 4WD Trail)
Elevation Gain :
1300 ft (measured from the start of 4WD Trail)
Start of 4WD Trail:
N 38.8662 W 113.4505 (WGS 84)
The route up Fossil Mountain is straight forward and route finding is easy. Drive or hike westward (high clearance needed) up a half a mile to where the 4WD trail ends. If you drive you save a half a mile each way and 200 feet of elevation gain. From here, you will have a good view of your
route up
. Where the 4WD Trail ends and the wash begins, start hiking up the wash and head for the low point (saddle) seen (far left) of the previous picture. Hike up (class 2) this slope and you will eventually be at the
saddle
(elev. 6275). From here the summit is just under a half a mile away. Now, head north, this slope is not as steep, towards the summit of Fossil Mountain. There is one small cliff band that is easily bypassed.
A topo map of this hike can be found
here
.
When To Climb
Fall, winter and spring are the best times to do this hike. Snow doesn't accumulate on this peak in the winter; because of Fossil Mountains' relatively low elevation added with the dryness of the area. However, if recent storms have affected the area, use caution when driving to and hiking this peak. During the summer expect hot weather and bring plenty of water.
Camping
I would recommend camping right by Crystal Peak. Camping is allowed in the BLM Land; there are several undeveloped camping spots right off Crystal Peak road. Around Crystal Peak are many junipers and sagebrush, so firewood is readily available. There are no permanent water sources around so bring plenty of water. To get to Crystal Peak head back to Tule Valley road, take a right, go 12 miles to a T intersection, take a right and go west about 11 miles to Crystal Peak.
The closest developed campgrounds are in the
Great Basin National Park
. There are several campgrounds to choose from. More information about these campgrounds can be found
here
.
Another nice camping spot is the Minersville Campground located in the Minersville State Park on the Minersville reservoir. This campground is 77 miles away and offers swimming, boating and fishing. To get there, go back to Tule Valley Road, take a right, go 12 miles to a T intersection and take a right. Go 25 miles to highway 257 (paved) then turn right (north) and go to Milford about 20 miles away. In Milford take highway 21 to Minersville (13 miles) then head east on highway 21 for 6 miles to the state park,
more information
.
Red Tape & USGS Quads
No permits are required. Please follow wilderness area rules, as Fossil Mountain is part of the
King Top Wilderness
.
Fossil Mountain (1:24k)
Warm Point (1:24k)
The Barn (1:24k)
Mountain Conditions
A predicted forecast for the area can be found
here
.
Local weather for Milford, Utah can be found
here
.