Overview
This mellow, low elevation-gain outing is a neat little hike in a dynamite venue to share the high country with visitors. The scenery is never-ending, with expansive views of the Great Plains to the east and endless mountains to the west. The Rampart Range stretches to the north while views southward roll across alpine boulder fields of Pikes Peak granite.
Perhaps the best treat of all, however, is the up close and personal visit near Rumdoodle Ridge. The route is mostly Class 1 on a trail, with some easy scrambling among and over boulders near the summit. The boulders get larger and larger as you ascend, reaching refrigerator-size at the top. Views of nearby Pikes Peak, as the highway winds up its flanks, are sure to please.
Roundtrip Distance:
2.6 miles
Elevation Gain:
440 feet
YDS Rating:
Class 2+
Getting There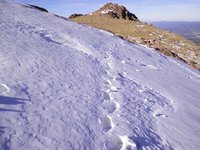 From I-25, take Exit #141 to Highway 24. Follow this to for about 10 miles to the town of Cascade, Colorado. Follow the signs to Pikes Peak Highway, heading west at the traffic light. Follow the toll road for roughly 16 miles to 12,930 feet. There is a gravel parking area on the west side (to your right as you ascend) of the road.
Route Description
• Depart your vehicle and carefully cross to the east side of the road. (Besides this crossing, please remember to stay away from the highway when on foot as walking along the roadway forbidden on the Pikes Peak Highway.)
• The trail is a bit messy, dispersed and braided immediately following the road crossing but soon consolidates into an easy to follow trail.
• The trail shadows the road trending generally southeast across the tundra.
• The peak will become apparent before you to the south.
• Select your route through the boulders up the north or eastern slopes of the summit cone.
• The last thirty or so feet involve easy scrambling on large blocks.
Essential Gear
This route is only accessible in summer into fall, prior to heavy snows. Standard short day hike gear appropriate to the weather will be sufficient.
style="display:block"
data-ad-format="autorelaxed"
data-ad-client="ca-pub-6523272176520096"
data-ad-slot="7132222476">