Travel Hwy 24 westbound from Colorado Springs.
From the Pikes Peak Toll Road gate, travel 3 miles to a turnout on the right side of the road near mile marker 4.
(The gate is about 1 mile from the start of the Toll Road at Hwy 24).
Note: You will pass the Crow Gulch Picnic Area / Trailhead to reach this unmarked gravel parking area, which has space for numerous vehicles.
Route Description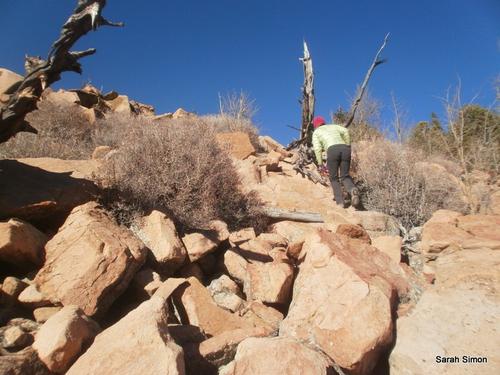 · Carefully cross the road to the southwest and begin hiking on an old road bed. You may notice in passing an old stone gatepost.
· The old trail heads first west / west-northwest up a drainage, then the drainage turns to the southwest.
· The trail seems to dead-end in this little valley, but if you look carefully, you may notice a faint footpath heading up the sandy hill. The trail in this area is not well-defined.
· Trend southward up a gentle drainage, and the trail again becomes more defined.
· Crest a gentle ridge where two social trails converge. Head to the right (south).
· The trail soon descends in a slow, traversing fashion into another drainage.
· Down in this wooded valley you will again encounter more social trails that may / may not be indicated on your map.
· Climbing out of this drainage, the footpath what appears to be a decommissioned roadbed (#331).
· Cruise briefly along a small, scenic ridge before beginning the switchbacks that take you to the southern slopes of Crystal Benchmark.
· Contour along the southern slopes of the peak for roughly one mile before selecting a spot to leave the trail and ascend the steepish southern slopes.
· Initially, you will encounter moderate bushwhacking and some rocks. Soon, the trees end and you will find yourself at the base of a rocky jumble of boulders. Ascend these (steep Class 2+)
to the summit.
Note: The high point of this mountain is to the west of the USGS Benchmark.
Essential Gear
•Map & compass and/or GPS
•Comfortable hiking boots or shoes

•Outerwear appropriate to the season

•Snowshoes or skis in snow season

•Water and snacks

•A camera to save memories of the high country

views

•First aid kit

•Other standard backcountry essentials
External Links
Feel free to notify me via additions and corrections of any external links, trip reports, etc., to include here.