Overview
This is an often overlooked climb (~4,000' vertical gain,~4.5 mi roundtrip) that offers rewarding views without the need for exposed climbing. It can be done in 5 – 6 hours at a steady pace and enjoyed by climbers of various abilities at a more relaxed pace. From the summit, you can look down to Otokomi Lake to your north
and St Mary Lake to your southeast. A short stroll down the ridge toward St Mary Lake soon offers you a beautiful view down to Goat Lake to the southeast just below you.
If you want to sample some exposure and a nice ridge walk, follow the ridge circling around
Goat Lake that heads out toward the southeast and then curves northeast over about 3 small summits which can all be climbed as class 3 or easy class 4 if you pick the easiest routes. This ridge can be walked on the top to the first of these small summits and then you need to start working to your right (south) as you continue out to the final summit which looks down at Wild Goose Island in St Mary Lake.
This bonus scramble should take about 2 hours roundtrip if you visit the various summits enroute.
From the summit of Goat Mountain, it is possible to scramble down the ledges to your NE toward Rose Basin and then descend to your left down to Otokomi Lake where a trail can be followed back to Rising Sun campground and general store.
Getting There
Glacier National Park is located in the NW part of the state and extends up to the Canadian border which it shares with Waterton National Park of Canada. The nearest airport is Kalispell. Amtrac stations are in Whitefish, W Glacier and E Glacier. Depending on your travel plans, it may be worthwhile to fly to Spokane, WA and pick up a rental vehicle. Some rentals there may be more user friendly on multiple state use and mileage allowances as well as price.
Goat Mountain is located east of the Logan Pass area of the park near the Going to the Sun Road above the Sunrift Gorge trailhead. You can access the Going to the Sun Road at the park entrances at West Glacier or at St Mary and from either location you head toward the opposite end of the road until reaching Sunrift Gorge.
Red Tape
Registration for day climbs in Glacier National Park is recommended, but not mandatory.
National Park entrance fees apply in Glacier National Park. See
Entrance Fees
Camping
There are many camping sites available at Glacier Park; backcountry, as well as car camping. Due to the large number of grizzly and even larger number of black bears who inhabit the area, there are strict guidelines for storage of food. Most of the backcountry campgrounds have facilities for hanging your food from cables or bear proof poles, but you need adequate lines to hoist your packs, etc 15 or 20 feet off the ground. If you are seeking an "undesignated area" camping permit, the rangers may require you to use a bear barrel to protect your food. When we backpacked in to Buffalo Woman Lake, they loaned us a bear barrel since they did not think we could find adequate tree limbs for hanging our food, etc. Hanging your packs is a good idea, since I have seen damaged packs from chewing by rodents. The GNP rangers require you to view an informational video annually before you can purchase your first backcountry permit.
GNP Campground Status and Info
Backcountry Camping Info
Backcountry Camping Sites
External Links
Guidebook:
A Climber's Guide to Glacier National Park
Trail guide:
Hiking Glacier and Waterton Lakes National Parks
Glacier Mountaineers Society
Route
Standard Route
Starting at Sunrift Gorge trailhead,
climb uphill on the trail that leads to Sieyh Pass. Follow this trail up along Baring Creek for about an hour through a series of switchbacks which are where the trail begins climbing the lower portion of Goat Mountain which is on your right (east) as you hike toward Sieyh Pass.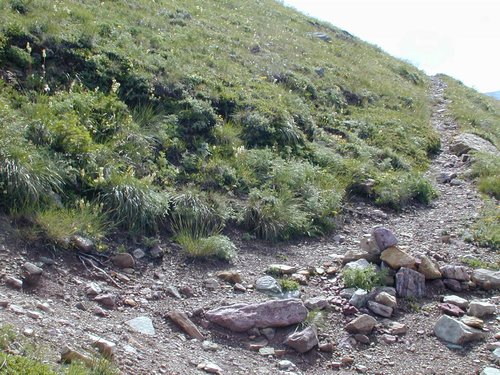 There is a small cairn by the trail where a branch heads back toward St Mary Lake. This is the use trail for climbers doing Goat Mountain. Follow this route back toward the lake until it reaches a drainage and then start climbing up the grassy hillsides toward the summit above you.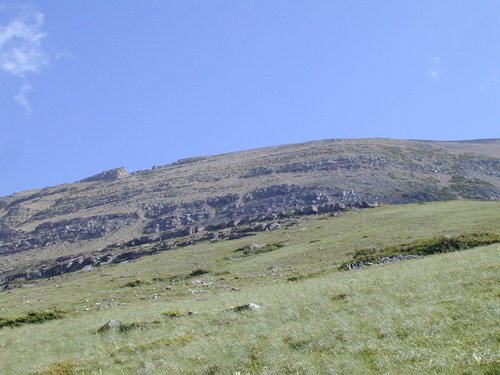 There are great views of the east side of Going to the Sun Mountain and Sexton Glacier across the valley to your west as you catch your breath. You gain nearly 1,000' elevation on the trail followed by about 1,000' elevation up the grassy hillside and then begin climbing the final 2,000' of elevation up loose scree and talus to the summit. This is Class 2 scrambling generally, but you may want to head further right as you ascend to climb easy ledges if that suits your style. As you approach the top, there are several small cliff bands that are best passed on the left end so don't get too far right. My recent climb took 2 ¾ hours to reach the top with numerous short breaks to catch my breath.
Alternative Route:
As an alternative to make this a more challenging climb, it has been suggested by Don Scharfe of Kalispell that Goat Mountain be climbed starting at the Rising Sun trailhead to Otokomi Lake. This trail is about 5 miles long and from the far end of the lake, you can head south to the base of the NE cliffs of Goat Mountain and carefully scramble to the summit. From there you can head down the standard route and out to Sunrift Gorge avoiding much of the scree climb otherwise entailed. Having down climbed this route, I have to agree that it would be a great alternative.
(This route gains approximately 4,700')
style="display:block"
data-ad-format="autorelaxed"
data-ad-client="ca-pub-6523272176520096"
data-ad-slot="7132222476">