Overview
The Grande Couloir (or, just Grand?) is a popular backcountry ski descent off of Storm Peak, outside of Silverton, Colorado.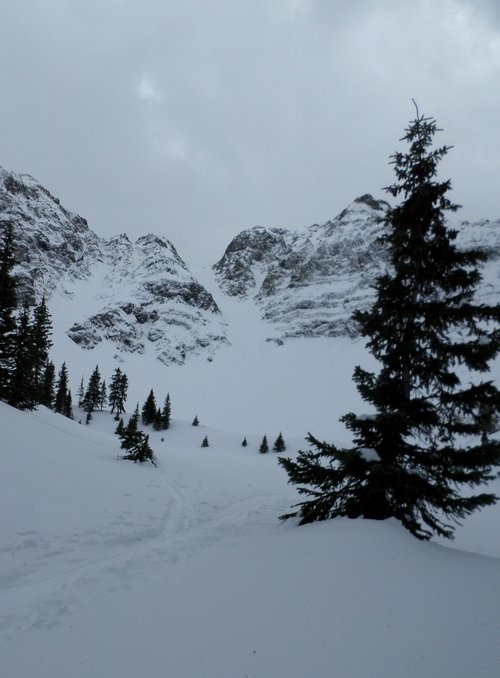 Getting There
From Silverton, drive north on County Road 110 for a little more than 5 miles to the Silverton Mountain ski lift. Continue another mile past the ski area to the intersection with County Road 52. Park in the plowed lot here.
Storm Peak, with the Grand and Gnar Couloirs, will be visible from the trailhead. Skin south up CR 52 into Velocity Basin toward your objective.
Route Description
We went in blind, without any beta, so there might be a better approach than the one described here.
The road basically ends at an unnamed frozen tarn at the NE foot of Storm Peak. We skinned around the east side of the lake and approached the base of the couloir from the (climber's) lefthand side. This led over one recent avalanche debris pile, but this approach overall looked less exposed than coming in from the other side.
Then, just go up. We skinned, switched to booting, and then back to skins. Expect many steep kick-turns.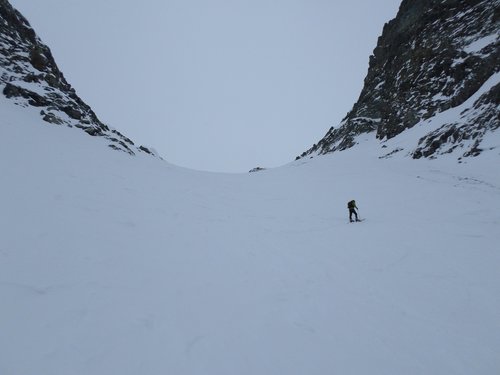 Once at the top, go back down. The saddle elevation is roughly 12,850 feet; the lake is 11,300.
The Grande faces pretty much due north, and this basin is known to load up. Know the conditions and check the avalanche forecast before heading out.
Essential Gear
Standard BC essentials: shovel, beacon, probe, avy poodle. The top couple hundred feet of the couloir might be windblown, so a Whippet might be useful too.