Overview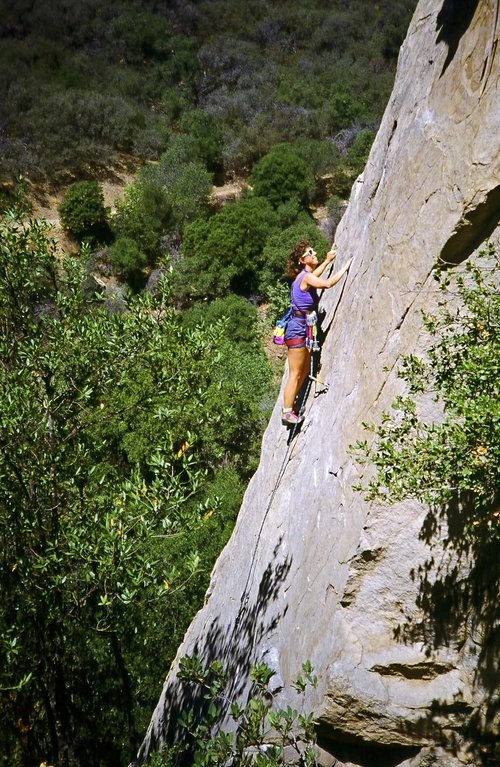 Great Race is the only route on San Ysidro Rock that can be genuinely categorized as a sport route. Unlike all other routes on San Ysidro Rock, Great Race was never covered by a heavy layer of lichen. This clean start is mainly due to its south east orientation. Great Race stays in the sun for the good part of the day, thus no lichen on the face.
The original pioneers of Great Race, Rick Mosher and Curt Dixon, however, had to do a lot of cleaning of the face. Loose flakes and debris that had accumulated for eons of times had to be removed. The vision was there, though, and the original climbers knew they had a great face route hidden underneath the virgin rock. Rick and Curt decided to put four bolts to turn this face into a lead climb in 1978. A number of years later, another bolt was added to the top part of Great Race to encourage climbers to continue climbing the face to its very end and to not take the easy escape route to its right, a 5.6 buttress called "Peels of Laughter."
Route Description
:
Great Race climbs a steep face past five bolts. There are two different ways to go past the first bolt. If you reach left for a small ledge the accepted difficulty rating is 10a. If you climb directly over the first bolt without going left, the rating is 10b. There are two separate three point anchors on top for a quick descent to the bottom. This climb is located to the right of a gully that most people use for accessing the top. Unfortunately, years of erosion caused by rain has made this approach/descent route somewhat precarious. There is a large, dirt-covered boulder blocking the gully, and you need to climb around it. There is an easier but longer way to get to the top from the right side of the entire formation.
Essential gear
: Five quick draws, two slings, 6 extra carabiners, one sixty meter rope.
Poison Oak
I am not a doctor and this is not medical advice, however, a tip from a friend has saved my life many time for the past fifteen years. The tip is that if you rub alcohol where you think you may have come in contact with poison oak the oils will break down before they have time to penetrate the skin. I used to carry a small bottle of rubbing alcohol with me for that exact purpose. I am extremely allergic to Poison Oak, and I have not had any allergic reactions since I started this practice.
How to get there
From Highway 101 take the San Ysidro Exit and head toward the mountains. Drive to Montecito Village where San Ysidro Road intersects East Valley Road. Turn right on East Valley Road and cross a small bridge to Park Lane. Turn left on Park Lane and veer left onto Mountain Drive. A short drive up Mountain Drive will bring you to the trailhead sign. Park off the pavement, please. We'd like to keep the access open and free.
Head up the well marked San Ysidro to Camino Cielo trailhead passed private properties and public and fire roads. There are two locked gates for fire trucks. Go around these two gates. In about fifteen minutes you will see the main rock formation on your left. About 200 hundred feet before reaching the rock, drop down a short distance and cross the creek on rocks. A short hike up the canyon will bring you to the first climb, Vanishing Flakes. Walk past the left half of San Ysidro Rock to a large gully. Scramble up the gully to a ledge with a tree. Great Race is the bolted face to the right of the tree.
Note: Look out for Poison Oak near the creek.
Essential Gear
Add Essential Gear text here.
External Links
Add External Links text here.
style="display:block"
data-ad-format="autorelaxed"
data-ad-client="ca-pub-6523272176520096"
data-ad-slot="7132222476">