Overview
Green Angel
is a hidden gem in the South Ghost. It is quite hidden in a remote canyon named "Hoodoo Hall" with very cool ambiance. This climb is a full 55-60 meters of sustained grade 4 climbing on beautiful green ice. Had this climb been longer, it would be a famous and regularly climbed route. Despite the short length, it is an enjoyable day out, and a high quality pitch.
Getting There
To approach, drive to the
Devil's Gap
parking lot at the Banff park boundary.
To get to the Hoodoo Hall, where this route is situated, hike down the wide trail from the parking lot to the first Ghost lake, past the turn-off for Planter's valley. There may be a trail on the left. At the end of the lake, go to your left and find the trail. The correct valley is the one after Planter's valley. Once there, follow the drainage and look for a hidden slot on the left. It takes about 15 minutes to reach it, be alert, or you may miss it. Once the slot is reached, fork left into it, and continue following that drainage until the route is seen on your left, in a hidden slot. About 1.5-2 hours total.
Route Description
From the drainage, climb a short step and walk 20 meters to the base of the route.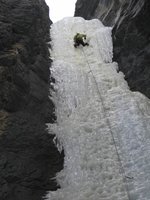 Climb a full pitch of 55-60 meters of sustained ice (grade 4). There are 2 bolts on the rock on your right once you top out. If you are feeling adventurous and have time to spare, you can leave the ropes here and go up short ice steps (WI 2-3) to explore the beautiful small canyon.
Essential Gear
Two 60 meter ropes, regular ice gear.