Overview
Location: Extreme Southwestern Sawtooths, near the tiny town of Atlanta
Nearby Peaks: Blizzard Mountain, Nahneke Mountain, Flat Top Mountain, Scenic Peak
Linkups: Blizzard Mountain
Difficulty: Class 2-3 (bushwhacking, endurance)
Usage: scrambling
Terrain: Rugged ridgeline above steep cliffs and brush
Traffic: Very Light
Summit Register: Yes- PVC tube placed 10-2010 and the existing log was placed in this. There were about 15-20 signatures at this time.
History / Etymology: it is reported that this great gray mountain was called Grayrock by early residents of Atlanta, but the Chinese there had difficulty pronouncing the "r" in "rock" and it soon became "Greylock."
Getting There
Nearest Paved Roads: ID-21 (from Boise via Edna Creek this drive is about 2.5 hrs)
Nearest Dirt Roads / Conditions: China Basin/ Queens River Road (decent- usually passable without 4WD), Middle Fork of Boise River (Good), Swanholm Peak Road (Good), North Fork Boise River Road (Good), Edna Creek Road (Good)
Approach Trails / Conditions: The Queens River trail is a good single track trail. The China Basin trail toward Atlanta is rough in the river valley section and gets better the higher up it climbs.
Routes
Main Route: Follow the Queens River Trail for 2.7 miles to the right turn (south) onto the China Basin / Joe Daly trail. This junction is marked with a small "Atlanta" sign. Cross the Queens River and climb the switchbacks to an initial high point, then drop into China Basin and climb to the high point of this trail at 1.8 miles from the previous junction. The trail from here drops down south to Atlanta, but leave the trail and follow the side ridge to a point between Point 8404 and Point 8826. This section is the most rugged and loose of this climb. From the saddle climb over Points 8826 and 9298. The true summit is Point 9363. Retrace your route, or follow the ridge onto Blizzard Mountain for a great ridge traverse.
Main Route Stats: 14 miles / 5081 (round trip)
Average RT Time: 7-9 hours
Other Routes: Continue on to Blizzard Mountain and descend down to the Queens River Trail below that peak for the traverse.
Other Route Stats: 17.8 miles / 7025 (round trip)
Average RT Time: 9-12 hours
Red Tape
Jurisdiction: Sawtooth National Forest
Permit: Yes- self registration at trailhead
Other Users / Issues: Hunters
Maps: USGS Quad- Atlanta West, Atlanta East, Mt. Everly
Guide Book: Tom Lopez, Idaho: A Climbing Guide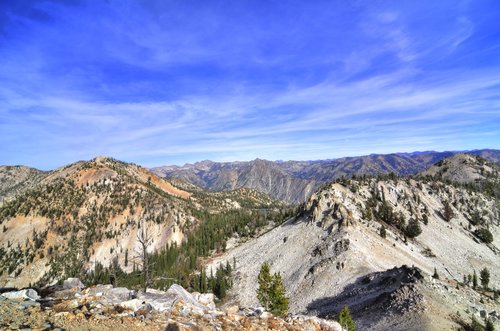 When To Climb
Climbing Season: May - Oct
Ideal Climbing Time: Sept
Nearest Weather Station: Atlanta, Smiley Creek, Vienna Mine
Weather Relative to Region: The trailhead is lower in elevation than much of the region and it similar to the Grandjean trailhead. Expect slightly warmer and drier conditions.
Camping
Car Camping Sites: Queens River CG, Riverside CG, Camp Gulch CG
Backpacking Sites: Along the Queens River, Misfire Lakes, lots of unnamed lakes below the ridge
Flora & Fauna
Potential Wildlife: Badger, Beaver, Black Bear, Mule Deer, Pronghorn, Cougar, Coyote, Elk, Marmot, Marten, Moose, Mountain Goat, Rainbow Trout, Brook Trout, Grouse
Confirmed Wildlife: Mountain Goat, Elk, Marmot, Pika, Grouse
Vegetation: Ponderosa, Lodgepole, Engelman Spruce