Overview
Greys Peak is located in Eastern Nevada in the East Humboldt Range. It is one of the most accessible high elevation peaks in Eastern Nevada. Rising precipitously above Angel Lake, it is located above a mountain paradise easily reached from a major access road.
Greys Peak is strange in that it isn't very spectacular when driving by it on I-80 heading east towards Salt Lake City, but it is a tremendous peak when driving towards it from I-80 heading west towards Reno. This east side is where it is climbed from the Angel Lake Campground.
Truth be told, most people go up there to fish. Fresh stockpiles are added during the year. Greys Peak has no formal trail, and requires a whole lot of scrambling to reach its lofty summit.
However, because Angel Lake is so close to the peak itself, it takes little more than an hour to reach the summit. It can be combined with nearby
Peak 10745
for a longer hike/scramble (adding about 2 to 2 1/2 hours to the total trip).
It is also feasible to do a tour of all of the major peaks in the East Humboldt Range from Angel Lake. This requires a start from Angel Lake over to Greys Peak, then heading over to Peak 10745, and then following the ridge for about 3 ½ miles to Hole in the Mountain Peak. This is possible through a long day hike/climb (14 miles+) with an elevation gain to all three peaks of about 4500', and then 1300' more elevation gain along the ridge on the descent. I recommend you camp at Angel Lake (see External Links for camping information) or stay in a hotel in Wells if you are to attempt such a feat.
Of course, Greys Peak is an adventure all by itself. Big horn sheep and mountain goats are present on the higher slopes. Views from the summit are tremendous, and go for many miles on a clear day. Because it can climbed so close to I-80, it is a great side trip hike if heading southeast to Great Basin National Park, east to
Pilot Peak
10,716', or southwest to the Ruby Mountains.
Typically snow levels remain significant throughout the spring. The best time to climb here is probably between late June and mid-October.
Getting There
Wells, Nevada is about 50 miles east of Elko, Nevada on I-80 and approximately 185 miles west of Salt Lake City, Utah. The road to Angel Lake (231) is right off exit 351 in Wells. The road is paved, and heads up 12 miles to Angel Lake, which is at approximately 8400'. There are clear signs leading to the lake.
Route Description
From the parking lot, follow the road to the left of the lake, which turns into a rustic trail. The trail goes up, very steeply, towards the ridge. Basically, it isn't a trail anymore, but just a gully.
This heads up and over a rocky ridge which has cairns leading the way. The summit of Greys Peak is generally visible along the way, so don't worry if you lose the cairns. The climb is mostly class 2 scrambling. You don't do much walking along this section, which eventually climbs over 2,000 feet to the summit ridge of Greys Peak in about 1 1/4 miles from Angel Lake.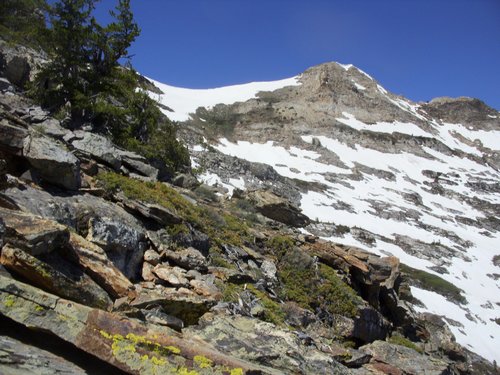 Due to steepness and rough terrain it can easily take an hour to climb the first 1 1/4 miles. Once atop the summit ridge, the rest of the East Humboldt Range comes into view as do the Ruby Mountains to the south. From here it is a pleasant 1/4 mile walk 180' or so up to the summit.
As for the descent, go back the same way you ascended. It is steep, especially when heading back down the ridge to Angel Lake. However, this is probably the safest way down. I tried going down below the saddle between Greys Peak and Peak 10745 and it ended up taking an extra hour, most of it through very heavy brush.
An alternative is to go up the east face of Greys Peak. Continue to the back side of Angel Lake and make your way up the slope. Eventually, due to steepness of terrain, you will need to get to the left and approach the same way as described above. The elevation gain is the same, and the distance may be cut by less than 1/4 mile if at all. This way can be exciting, albeit less scenic.
Red Tape
The road to Angel Lake is generally closed in winter. It reopens once snow levels are sufficiently low, which is likely in May, and probably closes in December, depending on when the first big snow occurs. When Angel Lake is open, there is a $5.00 fee to park at the edge of the lake, although it is possible to park on the road near the lake without having to pay the fee.
External Links
Angel Creek and Angel Lake Campground information
Public Lands Information Center - Camping Information