Overview
I was suprised, that Große Donnerkogel hasn`t got SP page yet. Its very often visited area, because of close to Salzburg, even Munich in Germany. Donnerkogel is one of many summits of Gosaukamm Range, situated at NW part of this mountains, at border of lands: Oberösterreich and Salzburg.
When we look at Gosaukamm from village Gosau, its second summit from right side, first is Kleine Donnerkogel.
In my translation, Donnerkogel means - Mount Thunder or Thunder Mountain. From NE its looks impressive. From other, SW side
seems less interesting
. Built mainly of sedimentary rocks, limestones.
Elevation, like for Alps, isn`t high, only little bit more than 2000 m, but from Gosau Lake its more than 1100 meters of difference.
Getting There
The best way - From motorway A1 (Salzburg - Vienna), exit to Bad Ischl, then roads toward Hallstat, Gosau and Gosausee or Annanberg in Lammertal
Route
Touristic trail
- starting point - park place at Gosausee, then toward Lake Gosau, from there easy ascent (path No 620) to Gablonzer Hutte, about 1,5 hour. From there up, to pass range near Torleck, opening views to Hohe Tauern and Salzburger Alps.
If we starts from Annanberg, the best option is trail No 626, which is connect with 620.
Next we` re going to Trail No 628, leading to summit. Path isn`t comfortlable, steep, partly insured by steel rope, but not too difficult for normal tourist. In my opinion, childs should be secured.
---
Klettersteig Intersport
- begins near Gablonzer Hutte, only for experienced climbers.
---
To shortcut way to Donnerkogel, we can use cable car from Gosausee.
Red Tape
At via ferrata - Klettersteig Intersport - The climbing is through private hunting area, an exit is permitted only in extreme emergencies.
Sometimes, in summer period water in Lake Gosau is warm, that we can swim just after the climbing!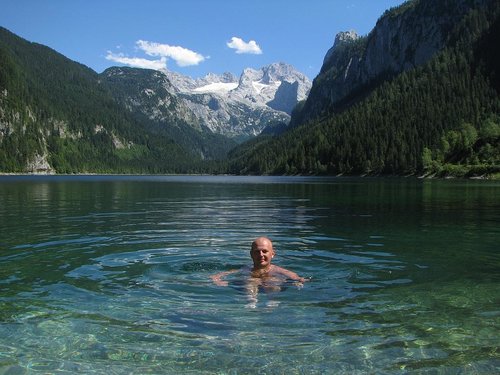 When to Climb
Like most of mountains, the best period to climb is summer and early autumn. On summer bigger possibility of thunder storms.
Camping
Nearset camping places are situated at Hallstater See, but in summer often full. Many private rooms or other acommodation possibilities are in each village in area. Mountain huts are: Gablonzer Hutte, Krautgarten Hutte
External Links
Gablonzer Hutte
Kletterstein Intersport
Kompass map
via ferrata - video
Labeled Panorama