Overview
That is not a lot of effort considering that once you get to the summit of this peak you are granted stunning views of Mount Adams, Mount Rainier, Mount Saint Helens and even a distant Mount Hood. The northern cliffs from both the false summit and the main summit are especially impressive. Mount Adams and Goat Peaks are especially impressive because they practically are almost right up in your face. It should be noted that the trail goes all the way to the western false summit. The way to the true summit looks rather frightful from the false summit but it is actually not bad at all. It would be best described as a Class 2 (at worst) slightly exposed walk-up scramble to the top.
Getting There
Head south from Randle on Forest Road 25 for about a mile. Make a left onto the Forest Road 23 and stay on it for 11 miles. Make a left onto Road #22 and take it 5.7 miles. Make a right turn onto Road No. 78 and take the road for 7.2 miles up to the pass. Make a left and drive as you feel comfortable. The road goes 1.8 miles to a Y but starts to deteriorate at about 0.5 miles. I stopped here but more sturdy cars and trucks can make it further. Go right at the Y and find the trailhead for Mud Lake. Most vehicles should park here because the road above is severely rutted. The trailhead is a half mile further but only high clearance vehicles will make it.
Route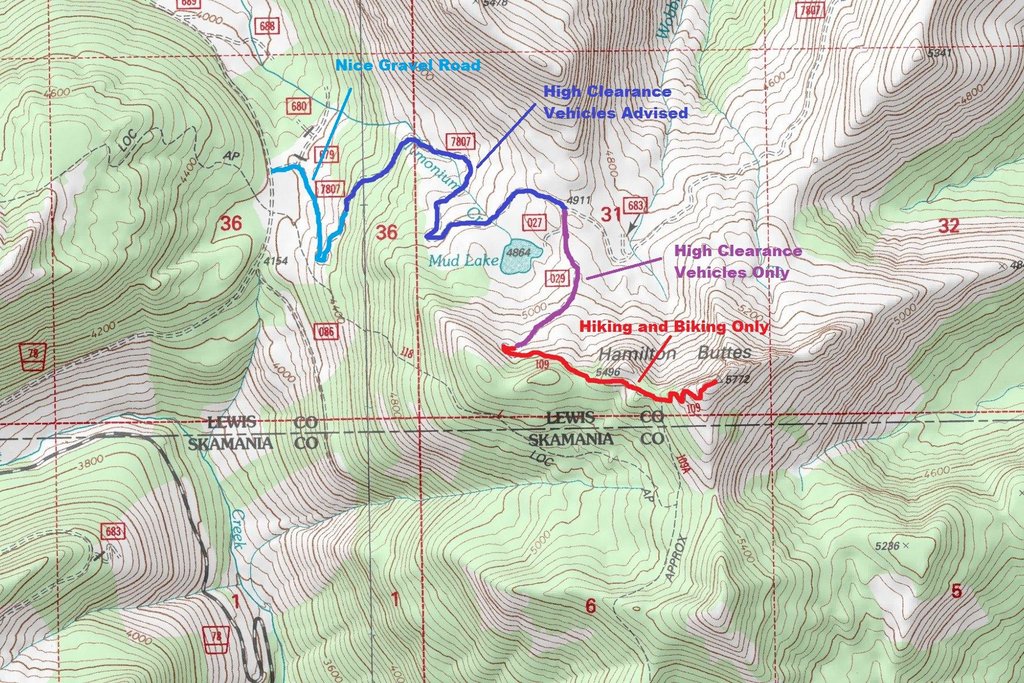 Depending on where you park will depend on how long your trip to the summit will be. Once you do hit the main trail you will note that this is seems to be a dirt bike path all the way to the false summit. The final route to the true summit looks challenging from the false summit. This small push is somewhat exposed and though Josh Lewis and I were able to basically walk to the summit some would classify it as one slightly exposed Class 2 ridge traverse move. Essentially use some care and caution and you will be fine on this section. Views on both the false and true summit are stunning.
Red Tape
There is no red tape or parking passes need for this trip.
When to Climb
Clearly the best time due to access to the mountain is from mid-June to mid-October depending on snow conditions. On very low snow years such as 2015 late May is very doable.
Camping
This is a very camping friendly area. There are a number of spots by Mud Lake for nice FREE camping. One can also bivy on the summit if they do not mind dealing with some of the glass on the summit.
External Links
Hamilton Buttes Peakbagger Page