Overview
Ok, so the posting process on this site is a fair bit more complicated than I would prefer but I will do my best. My primary goal is to provide information for a different-than-standard ski-mountaineering route to Handies Peak in winter. In my research for routes, every one I came across began from the Lake City side of Handies Peak. I wanted to come from the Silverton side and had to scout out my own route. My hope is that the information I provide here will help other people looking to summit Handies Peak in winter from the Silverton side.
Please tell me what you think of this whole thing as it is my first time posting anything of the sort. Any constructive criticism and/or suggestions are welcome!
Getting There
To start out, I drove up highway 550 from Durango to Silverton. I then took the Alpine Loop road coming northeast out of Silverton as far as it was plowed. Past Howardsville, Middleton, and Minnie Gulch, eventually arriving at the end of the maintained road in Eureka.
I camped out in my truck at Eureka, starting early the next morning. Well, not as early as I had hoped due to both my alarms malfunctioning but I was on the skis by 6:50am.
>Given a little hindsight, if I were with friends and had a bit more time, camping out on the trail would have been nice due to the abundance of great skiable terrain.
Route Description
As for my route, I began skinning up the Alpine Loop road towards Animas Forks and the Cinnamon Pass junction. The "road" is maintained by frequent snowmobile traffic and makes for a nice and easy warmup.
This is looking south towards Eureka, Middleton, and Howardsville. Silverton is off to the right a ways.
I turned off the trail once I reached some structures across the canyon, and most importantly, a bridge. I believe it is private property, but it was the only safe route across due to avalanche conditions while I was there. I would gladly throw $10 to whoever owns the property if they care at all.
Once across I was now in
Burns Gulch
and began my ascent. There is a hut on the way up, but it seems to not be used during the winter, or at least appeared locked when I went by. I passed the hut and switchbacked up through the edge of the trees lining the gulch. I find this to be the simplest way up. I did stop for a little while to dig a snow pit and study the slope that I would plan on skiing during my return. After a few hundred vertical feet, there is a road which leads northeast, further up the gulch.
[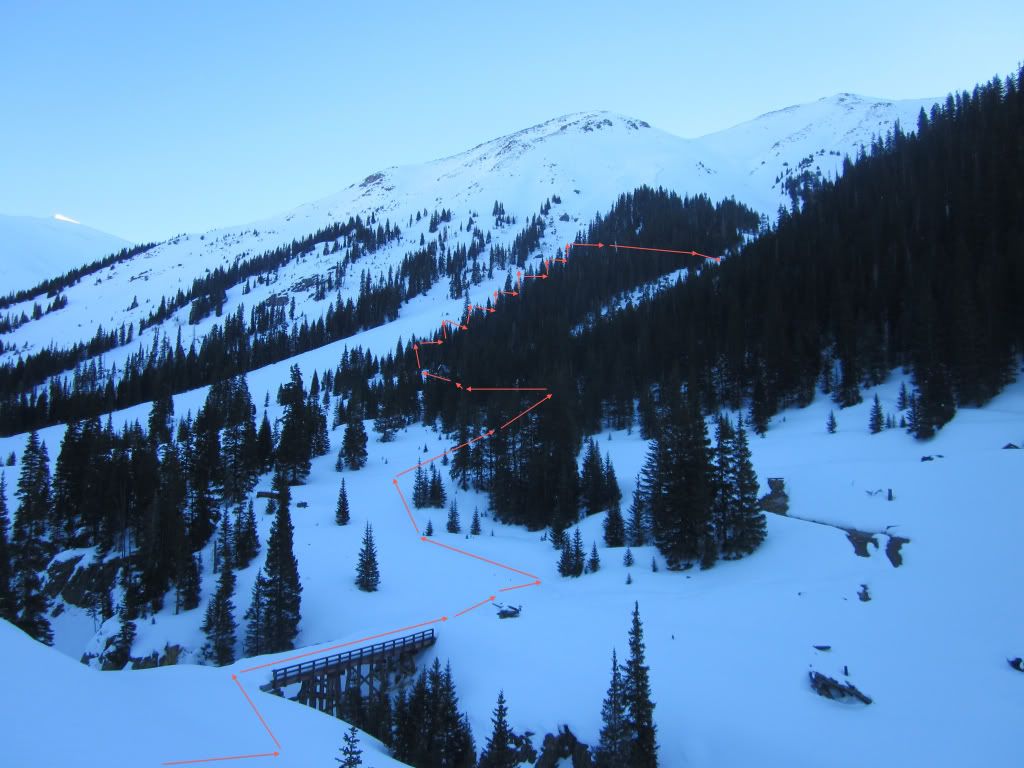 ROUTE NOTE: I had chosen Burns Gulch as my planned route about 3 weeks before due to several factors. The gulch just north of Burns Gulch, GROUSE GULCH, was horrifically unstable due to wind. A large wet slide had propagated recently (as of the time I was there 3 weeks prior to my summit journey) and the snow groaned and cracked under my weight, well before I even got onto the slope proper. Before the previous observations were made, this route looked on a map to be the best route due to an existing road/trail up to American Basin. Cinnamon Pass road is the other option, splitting northeast a mile at most north of Grouse Gulch at the Animas Forks junction. This road, while convenient to snowmobilers perhaps, was much too far for me to ski around. The road is a fairly low grade, but is exposed to avalanche danger from both sides, north and south, making for a potentially deadly terrain trap. This would have been my emergency/last resort route had the occasion and need arisen.
I followed this road which really only goes a little ways until it becomes lost in the snow. Anyways, at this point it's time to start going uphill more. I traversed up the left side (north) of the gulch, reaching a small road switchbacking up some mine tailings.
At this point, the gulch splits off, upwards and to the left (north). This happens at the base of Jones Mountain (13860')
From here I skinned up the middle of this gulch, aiming for the large couloir in between the rocky ridge/peak on the left and the snowier, pointier peak to the right.
I was able to skin up to the rocks, then 'mixed climbed' a bit up the rocks and ice and then climbed up the couloir. I have noted the location where I switched from skiing to hiking/climbing with dual lines.
This is looking down at my tracks: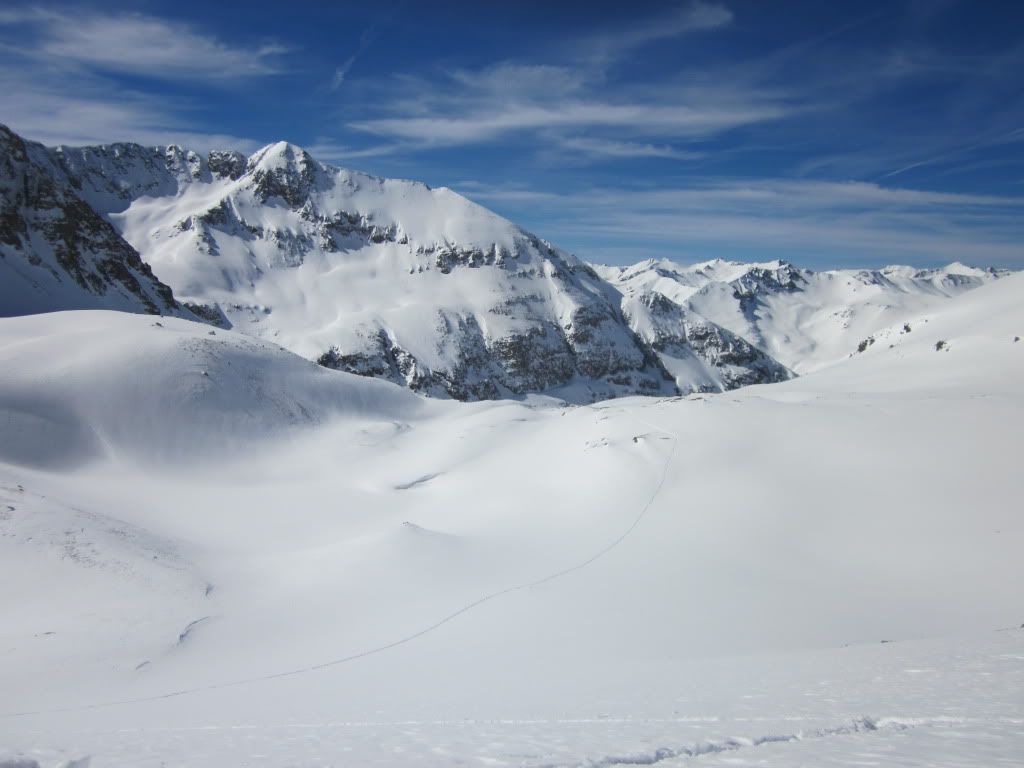 Once at the saddle at the top of the couloir I was afforded my first look at Handies (ever) and American Basin. I rested a bit then down-climbed with and ice-axe in hand. There were cornices going both directions (north/south) at the saddle indicating windloading/scouring on both sides and that was the main reason I did not choose to ski down. Once down a bit I strapped skis on again and skinned my way across the right side of the basin.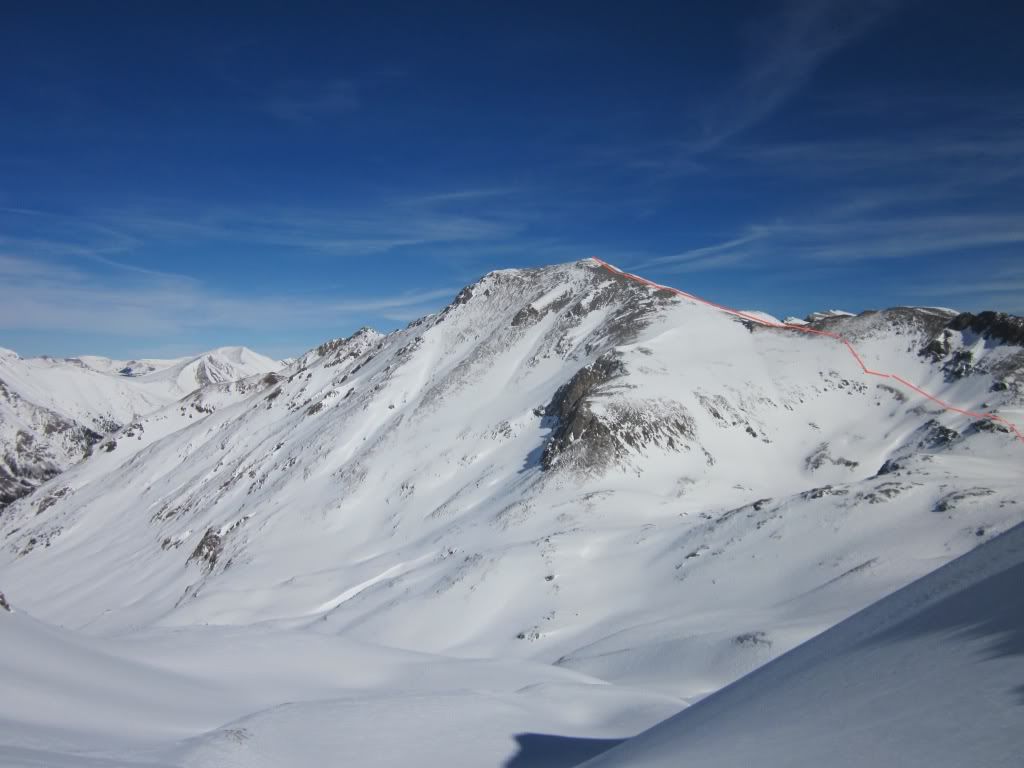 The traverse was strenuous due to icy, hard snow. I did not have ski crampons but they would have been very beneficial here. American Basin is pock-marked with very deep and steep gullies and riddled with large cornices thus limiting safe travel routes. Steep and icy was the best route on that day.
Once a bit closer to Handies, or rather on it's slopes, I took a middle route. There would have been nice climbing up some of the couloirs but I did not want to expend the extra effort. I traversed just below the cornice line as far as the snow allowed, then boot-packed vertically a ways to the scoured scree slope. From there I was able to walk with relative ease to the saddle and summit ridgeline.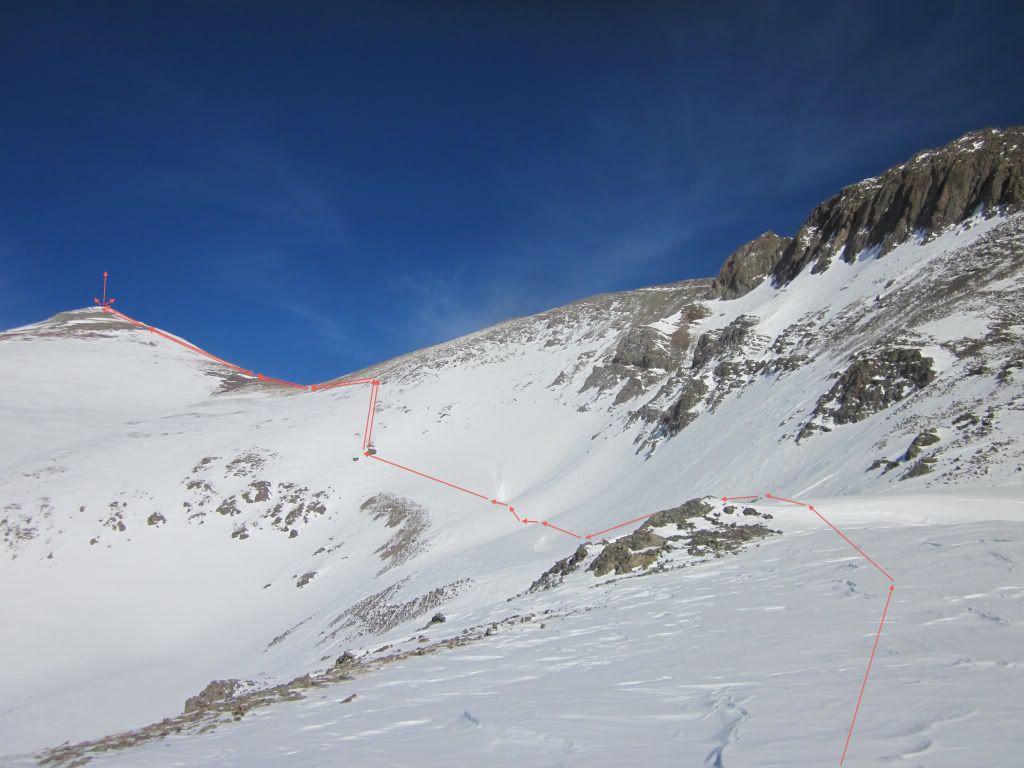 At the saddle I was surprised to see the summit and how far off it was.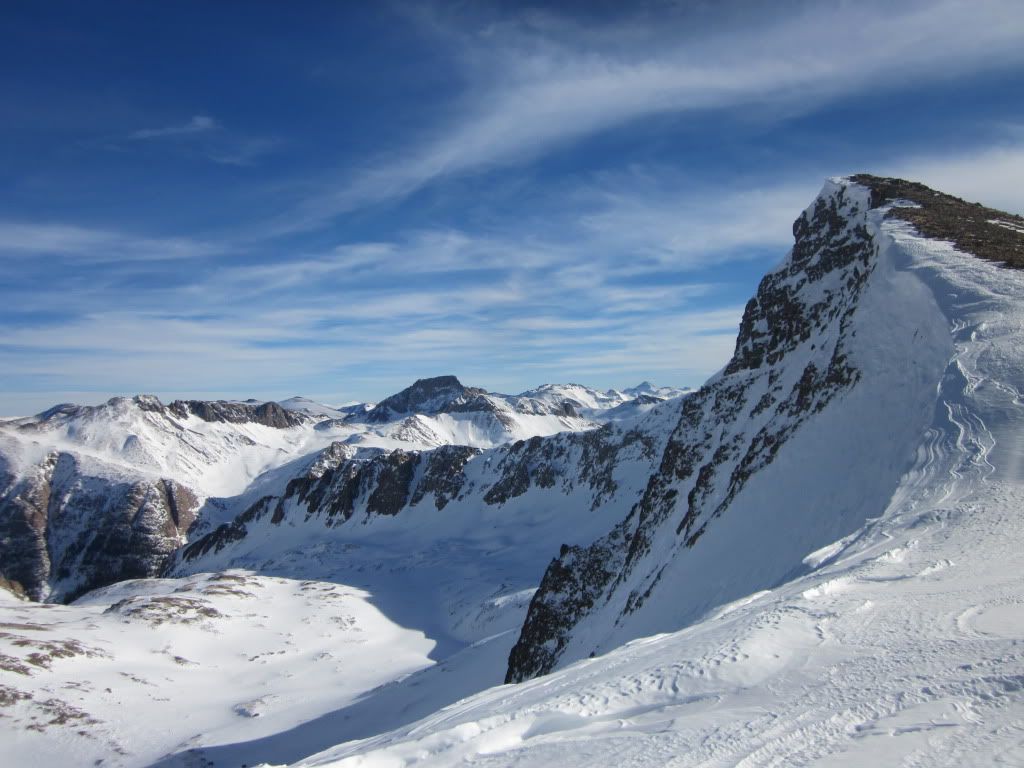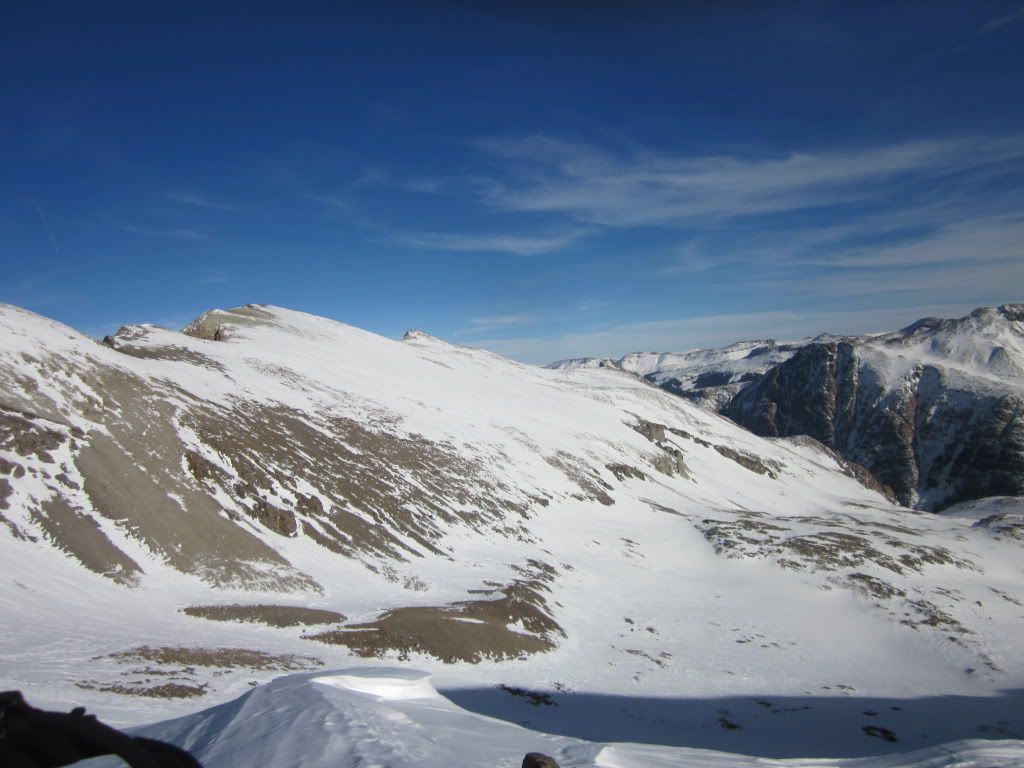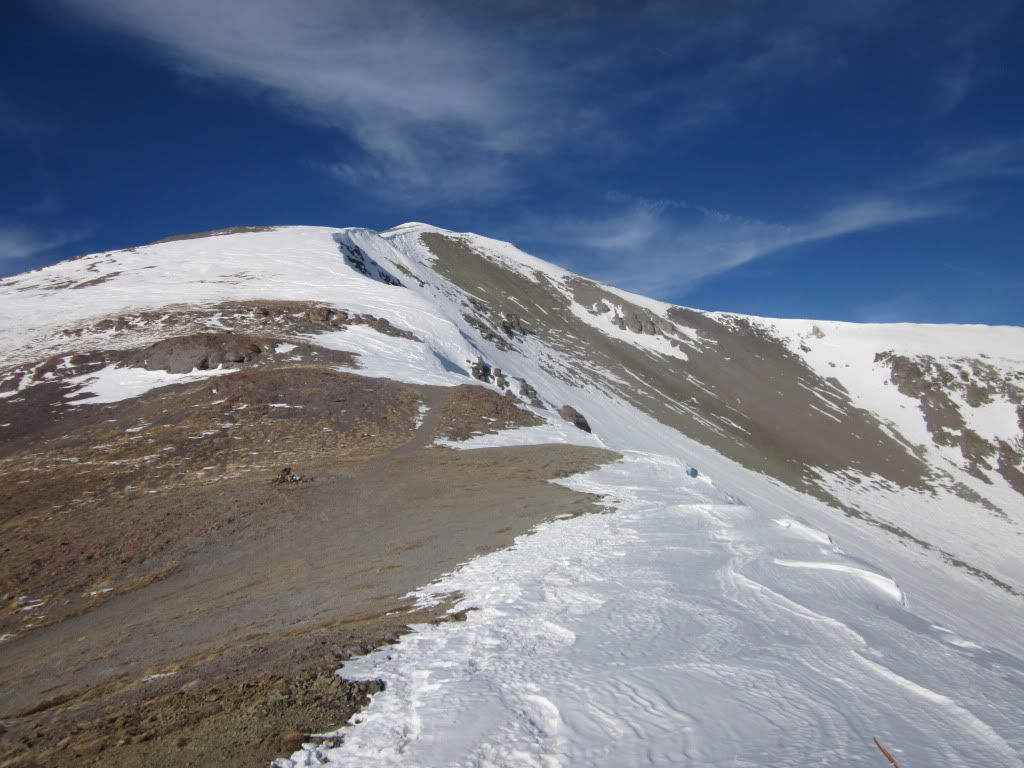 Nevertheless I started to hike up, skis strapped to my pack. The summer trail was visible in sections and provided me with a rough route up the ridgeline. The wind was absolutely blasting and the snow was extremely hard, but I was able to climb (and later descend) without crampons.
I arrived at the summit at around 4:30pm and after 8hrs 15min of skiing/climbing. (NOTE: I had planned on doing most of my return journey by headlamp and that is the reason I did not turn around sooner. Clear weather and a near-full moon provided me with ample lighting.)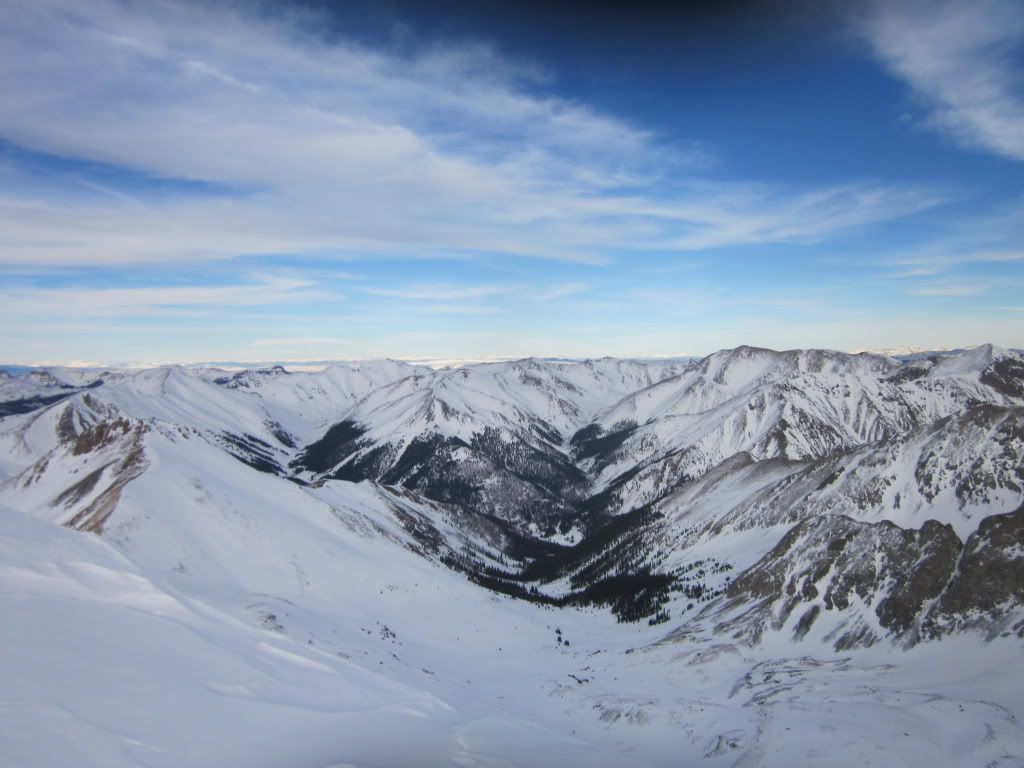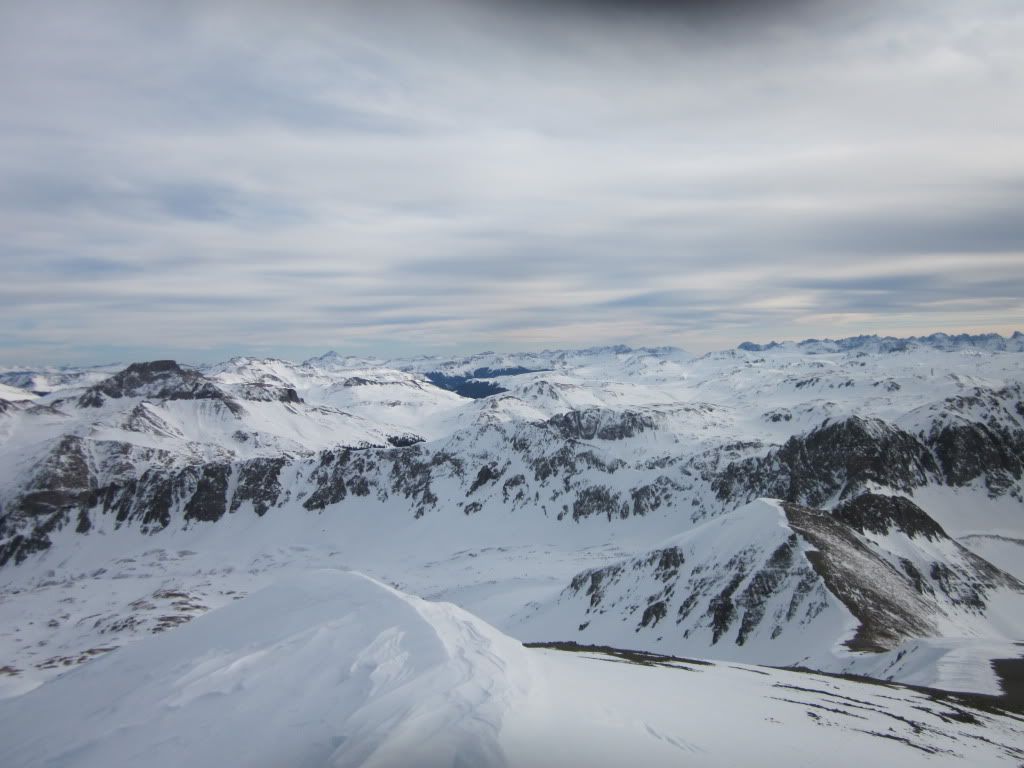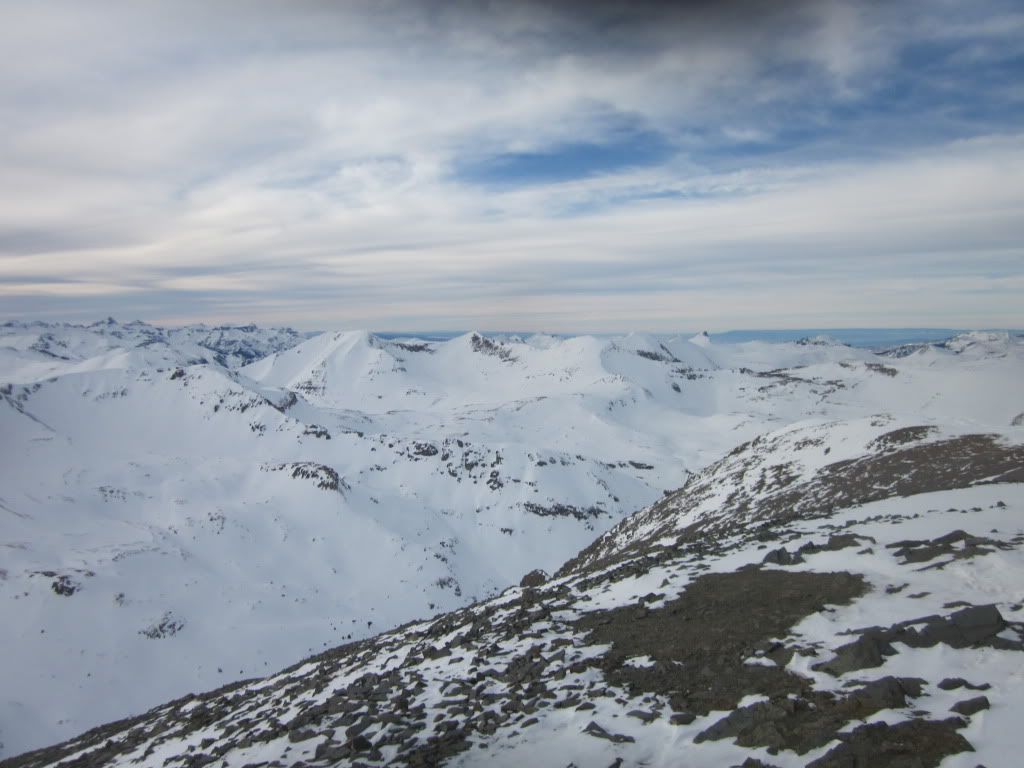 I marked my return route down the ridgeline and over American Basin, leading up to the saddle and back into Burns Gulch.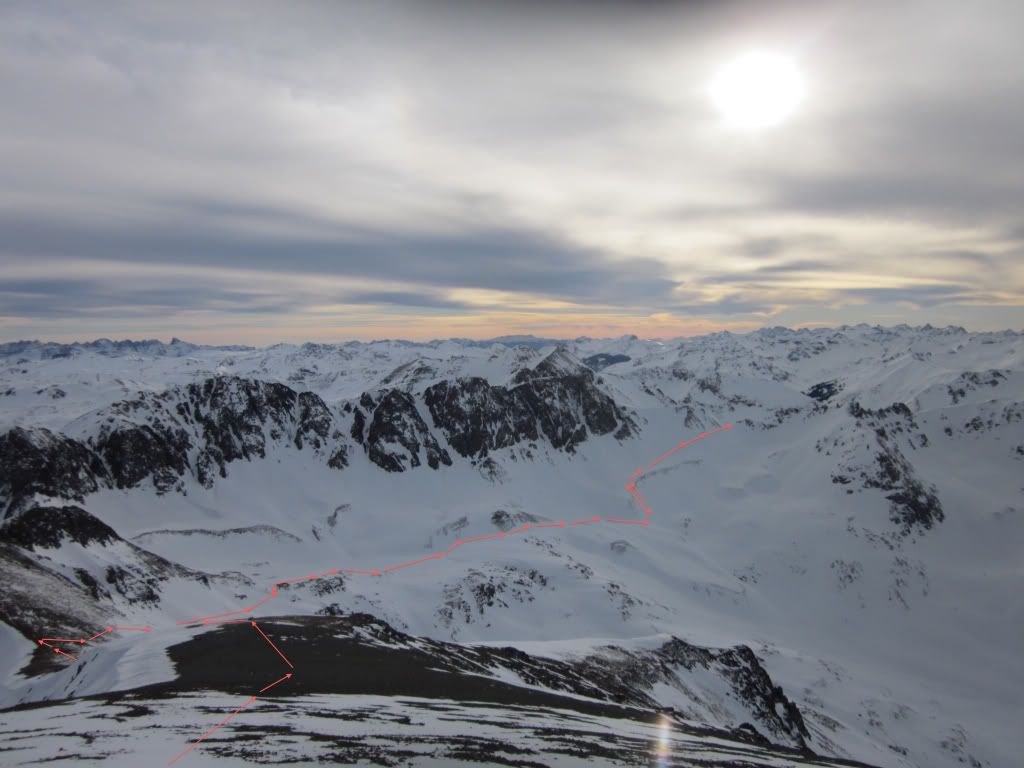 From there I down-climbed the couloir and then skinned down my tracks. The onset of night and the drop in temperatures lead to a hard surface crust forming. I had no desire to chatter along this surface in the dark, thus is my reasoning for down-skinning. After reaching the top of the slope where I had dug the snow pit, I locked the heels and skied down a ways. There was a mix between 6" of perfect powder and chattery surface crust. I skied down about 700' vertical then put skins on again because i was tired of skiing on ice. Past the hut, over the bridge and back down the road/trail to Eureka.
I arrived at my truck in Eureka at 10:30pm. The overall summit and return journey took me 15 hours 40 minutes. My GPS said I climbed just over 6000 vertical feet and traveled about 11 miles. I hope this information aids someone in the future looking to ski Handies from a different angle than the apparent standard.
Essential Gear
Ski Crampons
Ice Axe w/leash
Plenty of water, or at least a stove to melt water along the way
Plenty of food that won't freeze solid.
Perhaps a whippet pole (I ordered one from Backcountry.com because of my experience on this trip)
Avalanche gear-Beacon, Probe, Shovel
Snow Study equipment (crystal card, magnifier, saw, clinometer also highly recommended)
Strong headlamp w/extra batteries
Map and Compass
Snowpack Discussion
So it was brought to my attention that I should include the information from my observations and snow pit.
CAIC Avalanche rose for February 13th, 2011
Northern San Juan Range.
Yellow is MODERATE
Orange is CONSIDERABLE
(Image found at CAIC archive http://avalanche.state.co.us/index.php )
Burns Gulch Snowpit
Time: 8:30am
Date: Feb. 13th, 2011
Elevation: 10,890'
Aspect: West
Wind: Calm
Temp: 10F
>120cm total depth
--4 finger faceted/sugar snow layer
>ice/crust layer (1 Finger/Pencil hardness) at 95cm
--fist/4 finger hardness
>ice/crust layer (1 Finger/Pencil hardness) at 85cm
--fist/4 finger hardness
>ice/crust layer (1 Finger/Pencil hardness) at 45cm
--4 finger hardness
>30cm Fist hardness to ground at 0cm
Compression Test
A 30cm by 30cm column was isolated from the slope. After 5 or so hits from the wrist a layer at 115cm failed.
After the 115cm layer was removed the test was continued and after several hits from the elbow a layer at 105 failed.
Shear Test
A 30cm by 30cm was again isolated and utilizing a snow shovel (Black Diamond Transfer 7) a shear test was performed.
Light pressure brought the layer at 115cm once again to failure.
With the 115cm layer removed pressure was once again applied. Moderate to hard pressure saw a shear propagate at 65cm. From there shear occurred at the ground level 0cm.
Observations while traveling
Throughout the day nearly every slope aspect and elevation I encountered had a crust layer on top. This crust layer varied in thickness from 1cm to about 3cm. Underneath was a poorly bonded, sugar snow layer (faceted). This layer varied in depth from 5cm to about 20cm. Underneath this faceted layer was often yet another crust. On some aspects, mostly southern, this layer was extremely solid.
The part of Burns Gulch that turned towards the north on my way to American Basin was for the most (one can never be completely certain) part very stable. Fresh snow lay on top making for very easy skinning and travel throughout this upper basin.
On the couloir leading north from Burns Gulch to American Basin, the lower crust layer was weak and yet another faceted layer existed beneath. Scouring and wind-loading made this a dangerous slope, especially at night when the top layer froze into a misleadingly solid crust. On my down-climb on this couloir I heard groaning from my weight on the slope and quickly (as fast as physically possible) traversed to my left towards the rocks. I am absolutely certain the slope would have slid had I continued to climb down or remained where I was.
The north facing slope on the American Basin side of this couloir was stable and lacked the numerous crust and weak layers I found on the Burns Gulch, southern aspect side of the couloir. American Basin was overall was not as soft as this particular slope. Wind-blown surface layers were the rule of thumb. Skinning/traversing was difficult due to the wind packed surface layers. On the more level surfaces and above many of the exposed (scoured) scree slopes, sastrugi was abundant. This only proved problematic when climbing up one of the scree slopes to avoid a large and deep corniced gully. I was only able to get the tips of my ski poles to penetrate this layer, but only after applying my full strength.
I hope this helps at least provide an idea of what future conditions may exist and where existing layers will lie after new snow falls.
DO NOT
rely solely on my observations. Perform your own tests and make your own observations in order to safely navigate the avalanche terrain on this route.
More Pictures
Here is a link to my Photobucket album: