Overview
Hostile Takeover is an elusive 2 pitch route in the Triptych Drainage, first climbed by Stan Price and Charlie McDuff in 1992.
In some years, it can be climbed as a mixed route. Supposedly there are bolts up there, but I haven't seen them.
Most years it'll come in at least partially, though a spell of warm weather will quickly knock it down. It's visible from the road so you should be able to take a good look at it before committing to the slog.
The first pitch will never be fat, so expect thin ice.
Getting There
From Cody, take the South Fork Highway. The Triptych Drainage is about a mile further down the road from Legg Creek. Next time I go into the valley, I'll get an overview shot of this drainage and post it.
Park, look to see if the first pitch is in, then hike across the prairie until it makes sense to drop into the drainage. Follow the drainage for several hundred meters until it turns to the left. You'll find the route above. On your way (and depending on conditions), you'll tackle a couple of 20-25 ft steps of WI3 and possibly about 300ft of WI2, though this might be covered in snow.
Getting to the base of the route will take 1.5 to 2 hours.
If you go right instead of left at the split, you'll end up at some different routes: High School Squids (WI4), Triptych Pillars (WI4+) and Spitting Bullets (WI4). Long Neck Bottle, one of the hardest routes in the valley, is way up there but rarely forms.
Route Description
FIRST PITCH
If the first pitch is touching, climb the steep WI5 curtain to a ledge and belay from bolts (always remembering that the bolts sometimes disappear).
I haven't personally climbed the mixed variation, but it goes over the roof, hooking into the icicles.
SECOND PITCH
The second pitch is a straightforward WI4 with a bolt belay. The ice up there is likely to be much fatter and juicier than the ice below.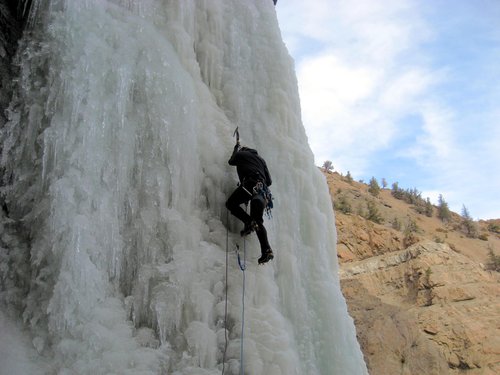 Essential Gear
All the usual ice climbing gear and some stubbies might come in handy. There are bolt belays but the bolts do disappear off these routes, so be prepared to rap off a v-thread.
Be aware that most cell phones don't work well or at all in the South Fork, especially once you get into a drainage. If you don't have a Spot beacon (and even if you do), make sure someone knows where you're going and when you're supposed to be back. If you don't return, they should call the Park County Sheriff's Office at (307) 527-8700. It could take several hours for the SAR team to reach you: make sure you have a way to stay warm.
If you tell your contact you're going up one route then change plans and climb another, leave a piece of paper noting your intended route in your windshield. The team will check for this upon locating your vehicle.
style="display:block"
data-ad-format="autorelaxed"
data-ad-client="ca-pub-6523272176520096"
data-ad-slot="7132222476">