Overview
Howell Peak is located in the remote House Range of the western Utah desert. Neighboring
Swasey Peak
(the highpoint of the House Range) is located to the north of Howell Peak and the more famous
Notch Peak
(known for its huge north face) to the south. The peak is located in a section of the House Range known as the middle range and it's also the highpoint. Like the other peaks of the House Range, Howell Peak is guarded by a cliff on its western side; the cliff on Howell Peak is about 1000 feet uninterrupted starting from the top.
Unforgiving, dry and desolate are words that can be used to describe these mountains and ranges of the Utah west desert. I like to better describe them as being untouched, unique with their own kind of magnificence and the ever present "ear piercing" silence; a place few know or understand.
Getting to the summit of Howell Peak is a trip into the desert wilderness. Expect complete solitude and excellent desert views. The view from the summit is partially blocked in the north and south directions by Swasey Peak (6 miles) and Notch Peak (12 miles). To the southwest
Wheeler Peak
of the
Great Basin National Park
(55 miles) looking west is
Mount Moriah
(45 miles) and northwest is
Ibapah Peak
(48 miles). To the northeast Mount Nebo of the Wasatch can be seen some 90 miles away. Looking southeast are the
Tushar Mountains
about 80 miles away.
The
U-DIG
Fossil Quarry is only a 6 mile drive from the start of the hike and excellent trilobite fossils can be found there. To get there just head north from the start of the hike to an intersection (5 miles) then take a right and go another mile go around the road bend and you will see the quarry.
Council Cave
is another worthy destination and is located several miles south of the peak; its also one of the largest natural alcoves in Utah. Howell Peak is also part of the Howell Peak unit of the
House Range Wilderness
.
Getting There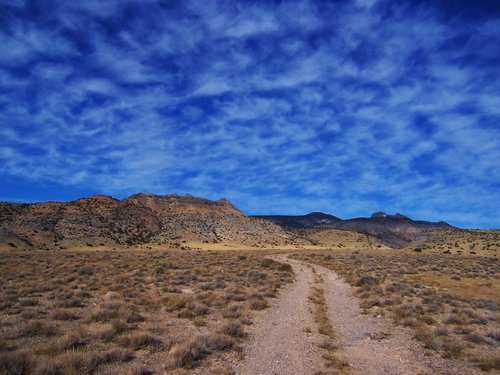 Getting to the start of the route mentioned does not require 4WD or high clearance.
From Salt Lake City (180 miles) :
From Salt Lake City head south on I-15 to the town of Santaquin. In Santaquin head west on US 6/50 towards Delta for 72 miles. In Delta make sure to get any needed supplies or gas. Continue west from Delta on US Highway 6 for another 32.5 miles to the turnoff.
NOTE :
The turnoff road is exactly 27.5 miles from 257 (a road you will pass that goes to Milford). The turnoff road will/should have a sign that says U-DIG fossils and a sign for Death Canyon and Marjum pass. Take this road and head north for just over 10 miles to an intersection with another dirt road. Go left and head west, there will/should be a sign for Marjum Pass. Continue west on this road for just over 7.5 miles to where another dirt road (unmarked, more rough) heads north. Heading north on this road you will reach the 4WD turn off (on your left side) in 1.6 miles. If you have high clearance you will be able to drive 1.5 miles closer to the peak.
When To Climb
The best time of the year to do this hike is between the start of fall and end of spring. Summer conditions can be very hot with temperatures into the 100's. Winter would also be a good time as the snow doesn't typically get more than 1 foot deep and there is no avalanche danger. The final 1000 foot slope to the summit isn't steep enough to require ice axe or crampons, however it does face north so snow may linger here longer.
Camping
Primitive camping is allowed in the House Range Wilderness. The 4WD road that continues towards the peak has some undeveloped camping spots along it, though trees are scarce. I would recommend camping by Swasey Peak, or in Marjum pass. Also Death (a.k.a. Dome) canyon has camping spots with firewood available.
The camping spot by Swasey Peak is at an elevation of 8000 feet but has an excellent west view into the desert and Nevada. To go there from the start of the hike: head north for 5 miles to an intersection go right. Continue on this road for just under a mile to a road on the left heads up the mountain towards Swasey Peak, take this. This road is a little rough but is still passable to a passenger vehicle. Continue to the end of the road which is 4.5 miles, there are lots of junipers here. This road also takes you past the start of the route to Swasey Peak, another nice objective. There are no campgrounds in this area.
Red Tape & USGS Quads
No permits are required. Please follow wilderness area rules.
USGS Quads
Marjum Pass (1:24k)
Swasey Peak SW (1:24k)
Mountain Conditions
A predicted forecast for the area can be found
here
.
Local weather for Delta, UT can be found
here
.