Overview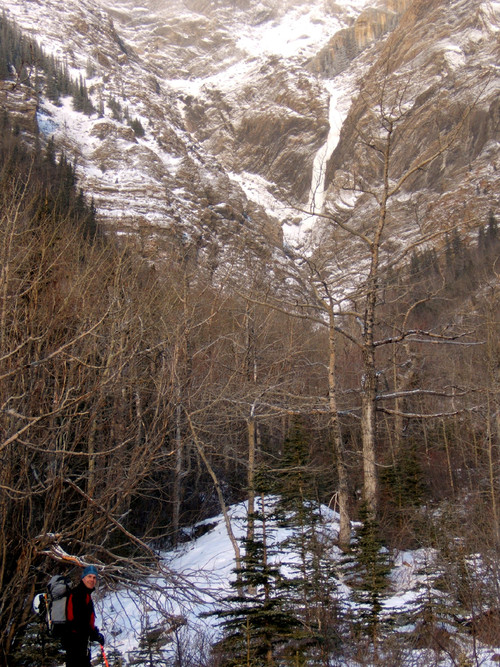 Ingredient 16 is a stellar one pitch ice climb located near the hamlet of Brule, Alberta. Due to its isolation from the more popular Jasper Park climbs, it probably sees 1-5 ascents per year. The quality of this climb varies dramatically from year to year. In 2007, the icefall was dark grey in colour; not resembling anything like an ice climb - this is caused by the high winds in the Brule area blowing dust (from Brule Lake) into the ice.
"Ingredient 16" and "
Ogre Canyon Falls
" can be climbed in a day. Do Ingredient 16 first - it's by far the harder approach.
Getting There
Although you can (I have) get to Ingredient 16 with a two-wheel drive (especially if you have chains), a 4 wheel drive is preferred.
To reach Ingredient 16, turn north onto Highway 40 from Highway 16 - the turnoff is located just west of Hinton Alberta. Drive north on Highway 40, crossing the Athabasca River. Approximately 2 kilometres past the Athabasca bridge, turn left on the road to Brule. Follow this paved road for about 20 minutes to the hamlet of Brule.
Follow the same road straight through Brule until it turns to dirt - continue following the road for 3.8 kilometres. There are unlocked gates on this road - please ensure that you close all gates behind you. At the 3.8 kilometre mark, park and head up the mountain through open aspen - the climb is visible high up. Eventually you will want to end up in the drainage that the climb is visible in, but the walking is easier if you delay getting in the drainage as long as possible.
The approach will take between 1 and 1.5 hours - you will need to use crampons and ice axes for the last 10 minutes.
Route Description
Climb the ice fall - it's easier on the left and very hard on the right. The Joe Josephson guidebook calls it grade 3, but trust me, its solid grade 4. Apparently, the first ascentionists were notorious for sandbagging. It's 40 metres long and mainly dead vertical. Although it looks like there might be a second pitch - there's not really. It's a short step of grade 2 ice and that's it - not worth doing.
Getting Down
Rapell from the ice at the top of the first pitch.
style="display:block"
data-ad-format="autorelaxed"
data-ad-client="ca-pub-6523272176520096"
data-ad-slot="7132222476">