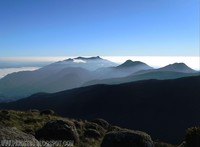 Itapiroca is one of the mountains called "giants of Ibitiraquire", since it's the 4th highest peak down there. It is one of the most visited mountains of the Sierra because is quite easy to summit. The hardest job is to overcome the Getúlio Hill. The starting point is at Pico Paraná Farm (900m.), Getúlio Hill reaches 1.500 m high in just 2kms of trail, so all the time you're going up, non stop. From there it's quite easy to summit Itapiroca. There isn't much to say about the mountain, personaly i don't think Itapiroca a beautiful mountain, but i sure think it is a "must do" for Ibitiraquire range, despite the fact it's not so nice, the views from up there are for sure breathtaking!
Getting There

Informational sat view. Zoom in to see details (below you can download the google earth kml file with all that marked!
Take BR-116 to North till Campina Grande Do Sul, and search for Posto do Tio Doca (Tio Doca Gas Station). Ask for directions to get to the Pico Paraná Farm. From that farm is the starting point to the trail to some mountains of Ibitiraquire range. The trailhead is behind of a sign that says "Pico Paraná" with some geological info and maps on it.
At the same sign there's info about distance and time to summit the mountain, if i'm correct, it's about 2 hours to the summit. Most people go up there to camp and enjoy the best view to sunset and sunrise, but the camping spot it's not at the summit, it's on the false summit.
From Getúlio hill walk straigh ahead until you reach the jungle line. The trail will divide in three ways. Take the RIGHT at the most open trail, that's the trail to Paraná Peak. After like half an hour the trail will divide again but this time in two, left to Paraná Peak and right to Itapiroca. There's ribbons too and each color means different mountains.

Panorama view from Getúlio Hill. From left to right: Ferraria Peak, Taipabuçú Peak, Caratuva Peak and at the left Itapiroca Peak.
Red Tape
As soon as you get to the Paraná Peak Farm, register yourself and pay a fee of R$ 10,00 (about USD 6.00) for the hike.
Parking lot at the farm just before the trailhead;
Well marked trails;
What's forbidden:
To make fire; Deforest any places. Respect the nature and wildlife please! Sometimes the farm owner walks around to check if everything's okay and to check for violations, if he sees you making fire, he'll call the cops!
Camping
Camping available at these places:
1 - Paraná Peak farm;
2 - Getúlio Hill;
3 - False summit of Itapiroca Peak;
4 - Caratuva Peak summit.
Weather forecast
You can hike this mountain in all seasons, but in summer there are rains every day. In winter is cold, but the days are clearer. The temperatures going from -10°C to 15°C.
Best time to climb: April to September.
Google Earth KML file for download
Be my guest, i marked all the summits.
For the download, please access:
http://www.4shared.com/file/aD29-wvP/ibitiraquire.html
Legal Issues

To hike/ climb is a dangerous activity and requires proper equipment and clothing, the owner of this page cannot be blamed by injuries caused to anyone who read this page for its info about the mountain, and eventually got hurt by doing so with reckless behaviour or bad weather conditions.

Paulo Roberto Felipe Schmidt – AKA: PAROFES
External Links
My youtube channel: www.youtube.com/parofes - Now with 270+ videos online!

The biggest brazilian website about climbing and mountaineering, for which I'm a columnist: