Overview/Approach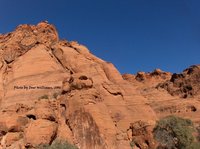 Jimmy Durante is at the very southern tip of
Island in the Sky
of Snow Canyon State Park fame, not to be confused with a feature of the same name in Canyonlands National Park north of Moab.
Snow Canyon State Park
is a state park of 7100 acres just north of St. George, Utah.
Island in the Sky
has a minimum of
64 published routes from 5.5 to 5.12b.
It is a significant piece of rock (small mountain) situated at the south end of the park that is broken down into eight different climbing sections along its west wall. In the winter it keeps one busy when many of the other spots don't look so inviting. Most routes are on the west wall of the island but
Jimmy Durante is the warmest route to climb on cold winter days
as it comprises the very southern tip of Island in the Sky and gets direct sun for a longer portion of each winter day.
Jimmy Durante is one of five routes that make up the "South End" climbing on Island in the Sky. At three pitches it is the longest of these five routes. It is easily accessed via the small pullout (east side) on the park road designated for the Jenny's Canyon trail at mile marker 9. Follow the trail as it dips into a wash and then deviate to your left to the base of the sandstone ramp that marks the base of the climb.
Route Description
1st Pitch-
The first pitch of Jimmy Durante is the crux pitch. It is 60' on a sandy featureless slab (photo) through a small roof problem to a chain station above. However the crux is not the move to gain the roof, but lower down. The first 20' is easy 5th class climbing that takes you to a ledge. There are four bolts above the ledge that serve as fixed pro. Todd's guidebook recommends taking gear for this route, but I used none nor found much placement if I wanted to use it. As you get through the second bolt, there is a 5.10ish move that involves getting your right foot up high and hoping it holds on the gritty loose sand as you reach for some small nubbins. After that the route is a breeze in comparison.


2nd Pitch-
The second pitch is more friction slab that leads to plenty of features such as slopers and Moki marbles (photo). This 90' pitch gets a little vertical, but offers plenty to grab on to or push off on. Four bolts to chains.


3rd Pitch-
Todd's book says 4th class to ledge (70'), but it might be more like lower 5th class (photo). I know my partner still thought she was climbing. There is still fixed pro to be found all the way to the top which offers a sizable flat ledge. Over in the far right corner there are three bolts that look like they were set up for a rappel. I don't know if there is another rap station further down, but this rap could require doubles. This does not look like a climbing route and retreats down the east side of Island in the Sky. I brought the second up with a body belay using a large block to my left. You could set up a gear belay in a crack here as well if you wanted.
Descent
Walk north on the west side and traverse some cool small ledges until you get above the main climbing area known as the Sand Dunes Area (obviously located across from the sand dunes). Descend at a left angle as you make your way down the second tier to the top of the Twist and Shout route and move right to a hand chain. The rest of the descent is the standard scramble approach used for the Sand Dune routes. Return to your car by walking out the wash to the road so as to not damage the fragile desert ecosystem anymore than you have to.
Climbing Sequence
Essential Gear
60 m rope will suffice. However, there might be a double rope rappel opportunity as I mentioned above. Guess I only needed four draws as I did not place any gear. Can anybody say "run out"? I would not take any gear if I did the route again, as I did not use any I had. Of course gear serves as a warm blanket at times. Take some bomber shoes that you trust for that hard friction move on the first pitch.
Biner your runners to your harness for the walk off.
Red chalk only please!
External Links
Snow Canyon State Park
Red Cliffs Desert Reserve
Best True Technical Clothing and Accessories in the Outdoor Industry, Hands Down....the Legit Climbers Gear at Real Prices
Scarpa has surpassed La Sportiva in terms of quality, function, value and actually stand by their warranties
Osprey Backpacks, Not a Second Choice
Great Outdoors Depot
style="display:block"
data-ad-format="autorelaxed"
data-ad-client="ca-pub-6523272176520096"
data-ad-slot="7132222476">