Overview
Rainbow peak has usually been visited by scramblers in recent years using a route that was discovered going up Oak Creek nearly to the limestone and circling back along the ridge top that heads east toward Rainbow Wall. While this route is very scenic, it also is quite long. One nice section of it is a large notch that must be descended via some ledges and reclimbed shortly before reaching the summit. The summit can now be reached via the Juniper Canyon Scramble route which gains about 2,850' vertical and takes about 5 1/2 hours roundtrip. There is some very nice scenery along the way with excellent scrambling.
Getting There
From Charleston Blvd and the 215 Beltway in the western part of Las Vegas, take Charleston Blvd. (Highway 159) west for about 5 miles until you reach the entrance to Red Rock Canyon NCA. Once inside the park, follow the 13 mile loop road for about 10 miles to the Pine Creek trailhead parking area. You should allow about 30 minutes driving time from the strip to the entrance station.
Route Description
Begin hiking southwest down a hill on the trail toward Pine Creek Canyon. After about 8 minutes you will pass a sign denoting a fire ecology trail on your right and shortly after you will see a similar sign on the left. The next trail heading left will take you across a couple of washes and then toward Rainbow Peak. As you approach Rainbow, you will turn west (right) into Juniper Canyon and boulder up the canyon following cairns along the way. Continue up the canyon past the point where climbers generally head up the right side of the canyon to climb Juniper Peak.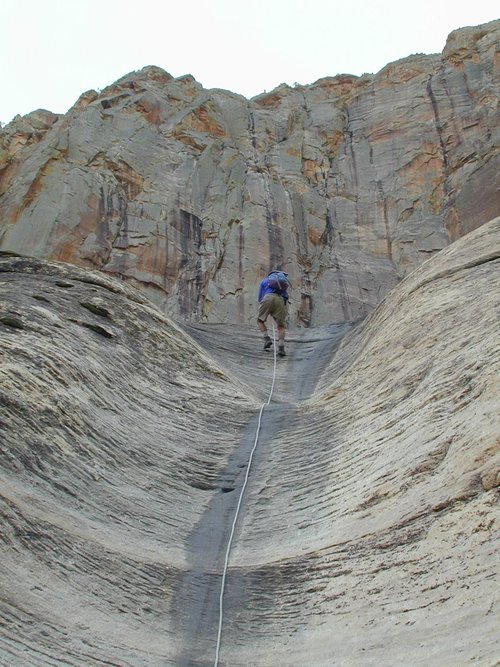 Shortly, you will reach the approach used by big wall climbers on the left side of the canyon to reach the base of the Rainbow Wall
There may be a rope there to assist in climbing the steep, usually dry, falls at this point (Note:all ropes in this area have been removed (by BLM?) as of 5/23/10). Continue above the rope heading toward the Rainbow Wall and pass another steep section with a rope to assist climbers who are packing large amounts of gear for climbing the wall. Near the top of the second rope look for a series of cairns heading east (left) which is where this route really starts getting enjoyable.
Climb up and east heading back above Juniper Canyon which you recently bouldered up following numerous cairns. Shortly, you will reach a section that heads northeast, but loses some elevation. Look for a tree and some ledges with a streak of desert varnish on them.
This ledge system can be followed around a small ridge saving considerable down climbing and then regaining of elevation on the original version of this route.
Continue following cairns as you enjoy great climbing and colorful rock formations heading generally southerly toward the summit.
You will join the regular route just below the summit ridge. Returning, be alert to cairns to avoid selecting an incorrect gully north of the one used on the ascent
Red Tape
National Park entrance fees apply in Red Rock National Conservation area. Hours of operations vary by season. See
Red Rock NCA Home Page
Camping
There is a campground located south of SR159 two miles east of the entrance to RRCNCA. There is no developed campground within Red Rock NCA, although backcountry camping with a permit is allowed.
When to Climb
Spring and Fall are the peak seasons as it becomes extremely hot in the summer. Winter can be an excellent time as well unless snow and ice accumulate from winter storms making the scrambling too hazardous. This is most likely to occur in January and February.