Overview
Also known as "Kahoon".
Click for
Introduction to the Central Alborz Mountains
Click for a
detailed map of the Central Alborz Mountains
.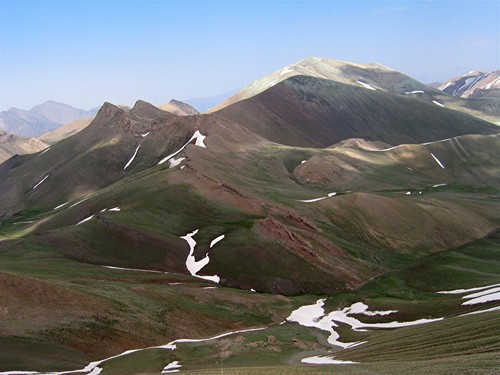 Kaoon is one of the 4000 m plus peaks that rise to the west of the Haraz Valley near
Mt. Damavand
in the Central Alborz Mountains of northern Iran. Kaoon is the highest of a small group of six peaks that are bound to the south by the Sesang River and to the north by a branch of the Paniri River. These peaks include:
--Kaoon 4075 m
--Kaoon's 3956 m sub-peak to the west
--Two nameless pyramidal peaks to the west: Peak 3898 m & Peak 3890 m
--Two rocky peaks to the north known as Siyaroo both of which have an elevation of 3783 m
The southern slopes of Kaoon drop to the bottom of the Sesang River Valley (3450 m). Across the river, you will find the bulk of the 4000 m peaks of the area aggregating around the twin summits of the 4338 m
Dokhaharan Peak
which is the highest peak of the area. Unlike the jagged summits of the Dokhaharan and its neighbors (but similar to the nearby
Shekar Leghas Peak
), Kaoon is nothing more than a huge pile of gravel that has a gray/teal hue. Some of the lower slopes of Kaoon and many of its immediate neighbors are of a shade of pink. This makes these mountains very colorful.
If you are fit, you can climb Kaoon and make it back to the trailhead in a single day (33 Km roundtrip with 1925 m of vertical). The starting point is the village of Nomar (2150 m) to the east. From Nomar you will hike up to the 3650 m Lehra Saddle (see the
Dokhaharan page
for more pictures) where you can tackle the summit of Kaoon. For most hikers, however, Kaoon will only be the first 4000 m peak in a multi-day program. From Lehra Saddle, you could descend a short distance to set up a base camp on the banks of the Sesang River where you could access the other high peaks of the area.
Getting There
From eastern Tehran, drive the Haraz Road (Tehran-Amol) past the towns of Baijan and Kahrood until you see a sign that says "Amol 55 Km". A few Kimlometers beyond this sign you will find a dirt road on the left (west) side of the road. This road is well-graded and is passable by most/any car. It might be inconspicuously signed for "Panjab" or "Nomar". Drive the road 25 km to its end at the village of Nomar (also known as Nomarestagh). Distance from eastern Tehran is roughly 130 Km.
Views from the summit:
Red Tape
No fees.

Camping
Anywhere. Lehra Saddle is an ideal spot.