Overview
Kaskasatjåkka is the third highest mountain in Sweden. Only
Kebnekaise
and
Sarektjåkkå
got higher peaks. Kaskasatjåkka was first ascent by the mapmaker, Gustaf Wilhelm Bucht, in 1880. The first winter ascent was first done in 1920 by H.N. Pallin and P. Spiess.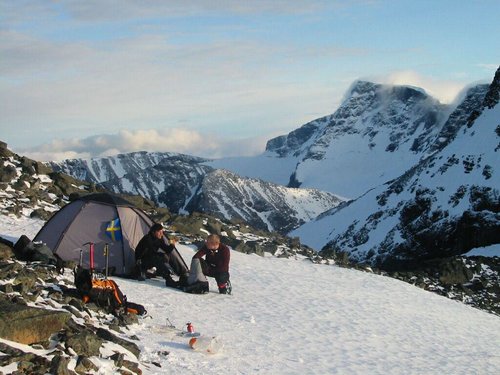 Kaskasatjåkka summit is a flat top-platue that is covered in snow most time of the year. The mountain itself isn't that special, but it offers a great view over the Tarfala valley and Kebnekaise mountain range. It's also used as a route to
Kaskasapakte
. The Tarfala area where Kaskasatjåkka is located is known for the windy conditions and many glaciers. Hikers use to take day-hikes from Kebnekaise mountain lodge to Tarfala to see the glaciers. There is also a research complex nearby and a hut where you can overnight for a small fee.
Routes
The summit can be reached from several different routes. The most easy route goes upwards a glacier and a wide ridge. The last section is just a simple scramble for some and a steep walk for others. Another route is the direct one via Lillietoppsrännan, it starts from the Tarfala lake and goes straight upwards a snowy corridor graded to PD. This route is very exposed to avalanches so be sure to check the snow conditions before leaving. The last section is a short walk along the ridge between
Kaskasapakte
and Kaskasatjåkka.
Getting There
The nearest town with an airport is Kiruna. Domestic flights arrives daily, you can also take a train/coach to Kiruna from most cities in Sweden. From Kiruna there are only two options to reach Kaskasatjåkka. The most popular and shortest way is by a bus or cab to the sami community Nikkaloukta. From here it's about 24 kilometers and 700 altitude meters in rugged terrain to the Tarfala hut at the base of Kaskasatjåkka. The second way is by train to Abisko and then approcah the mountain from north. From Abisko it's a multiple day hike via Kungsleden (kings trail). Here you can find more information about
Kungsleden
. A good map over the area is "Lantmäteriets Fjällkarta BD6".
Red Tape
No red tape. But show respect for the nature and wildlife in the area. Don't leave litter.
When To Climb
Located far north of the arctic circle, it's good to avoid November, December and January due the lack of sunlight. Best months for summer ascent is late June to September and winter climbing with skis in late February to April. If you need to rent equipment such as rope, harness, randonne skis, etc. you'll have to rent it from Kebnekaise mountain lodge. Be sure to book in advance during the tourist peak season.
Camping
You can stay in Tarfala hut or camp nearby. This place is a extremely windy place and pre-campers have build windshields near the hut that's very suitable for tents. The hut got 20 beds but there is no way to pre-book since they don't have a phone or communication. It's also possible to make a camp up on the ridge between Tarfalatjåkka and Kaskasatjåkka.
Webpage for the
Tarfala hut.
Mountain Conditions
Check at
SMHI
for latest updates on the weather.
Miscellaneous Info
Other interesting spots in the area is "Svarta Sjön" (The Black Lake), Tarfalatjåkka with it's 1911 meters above sea level, the polygons of Kebnetjåkka (odd looking stone formations created by the glaciers) and the nearby glaciers.