Overview
Want to explore a mountain younger than you are? Walk on land that was created after the year 2000? Witness the formation of new Earth?
Residing on Hawaii, the Big Island, Kilauea is the world's most active volcano, and ironically, it is also the most easily accessed volcano. Residing merely 15 miles from the giant shield volcano
Mauna Loa,
Kilauea was once thought to be part of its large neighbor. However, despite its proximity, Kilauea has its own distinct magma chamber. Kilauea resides almost completely within Hawaii Volcanoes National Park.
Kilauea is a shield volcano, and began to form 300,000-600,000 years ago, and is part of the volcanic systems that have formed Hawaii's youngest and largest island. There have been 45 separate eruptions of Kilauea in the Twentieth Century. The most recent eruption began in 1983. When curtains of fire rained out in 1983, few people would have suggested that it would continue to this day.
Most eruptions have been benign, slow moving flows. However, several explosions throughout history have been severe. Notably, a 1790 eruption killed a large war party fighting for dominance over the Big Island. The 1990 lava flow was also particularly destructive. This flow completely wiped out the towns of Kalapana and Kaimû, Kaimû Bay, Kalapana Black Sand Beach, and a large section of State Rte. 130, which now abruptly dead-ends at the lava flow.
The current eruption has been centered around Pu'u O'o, a large vent that materialized on January 3, 1983. Each day since has seen 300,000 to 1,000,000 cubic yards of lava pour out of the ground, forever changing the Hawaiian landscape. Since 1983, almost 3 billion cubic yards have spewn from the ground, creating 600 new acres of land. Historically, eruptions of Kilauea have only lasted days or weeks, making the current eruption a very odd occurance.
Visiting Kilauea and Volcanoes National Park is an experience you will never forget. The landscape is simply unimaginable, and the access is unmatched in the world. It's possible to hike across the caldera on land only a few years old over magma a mere 300 feet below the soles of your shoes. Hiking Kilauea allows regular people to see things only volcanic geologists usually get to experience. If you go to Hawaii, ensure you leave several days to explore this wondrous place.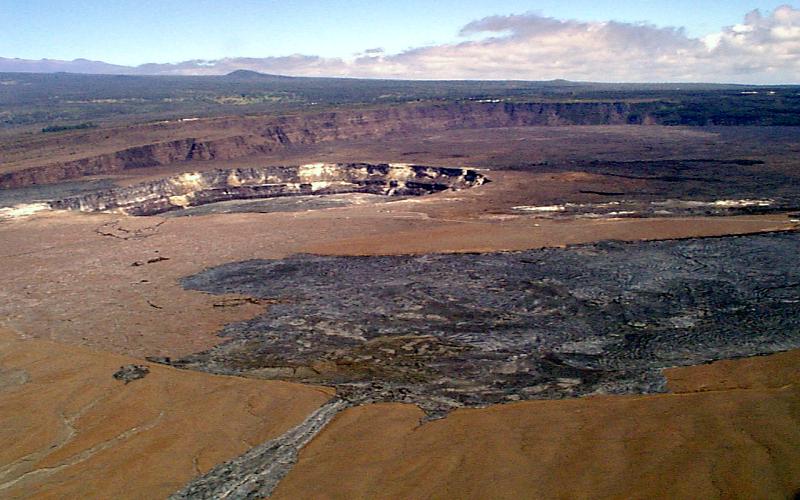 View looking north-northwest across Kilauea Caldera and Halema`uma`u Crater, with Kulani Cone,
on southeast slope of Mauna Loa in distance. Photograph by J. Kauahikaua on September 26, 1997
Hawaii Volcanoes National Park
Hawaii Volcanoes National Park was established in 1916. Throughout the park are the results of 70 million years of volcanism, migration, and evolution. The park encompasses diverse environments that range from sea level to the summit of the earth's most massive volcano, Mauna Loa at 13,677 feet. Kilauea, the world's most active volcano, offers scientists insights on the birth of the Hawaiian Islands and visitors views of dramatic volcanic landscapes.
Over half of the park is designated wilderness and provides unusual hiking and camping opportunities. In recognition of its outstanding natural values, Hawai'i Volcanoes National Park has been honored as an International Biosphere Reserve and a World Heritage Site.
Statistics:
Size: 333,000 acres
Roads: 60 miles of paved roads
Trails: 119 miles of established trails
Climate:
Many visitors to Hawaii Volcanoes National Park come unprepared. After all, who takes warm clothing to Hawaii? At 4,000 feet above sea level, this park is much drier and cooler than sea level. The average high year-round is about 70 degrees, the average low about 50 degrees. There isn't much variation from these averages - a little higher in summer and a little cooler in winter.
Ensure you bring appropriate clothing and rain gear.
Links:
National Parks Service Website
Lava from Kileaua nears the sea, January 2005. Photo courtesy the United States Geological Survey
Kilauea in Hawaiian History and Lore
The Goddess Pele - "She Who Shapes the Sacred Land."
Pele is the Hawaiian goddess of fire. She is said to appear either as a tall, beautiful young woman or as a very old, ugly and frail woman. She is often accompanied by a white dog and typically tests people such as asking if they have any food, drink and in more recent times, rides to another part of the island. Those who show kindness are rewarded and spared. Those who are cruel or disrespectful are punished by way of having their homes or crops destroyed. When enraged she may appear as a woman all aflame or as pure flame. Hawaiians always say that you should always pick up an old woman hitchhiking along the road - it might be Pele.
Pele also loves attending social dances, and is known for great jealousy and vengeance when she doesn't get her man. Stories of Pele encounters are common campfire tales. Her presence can be found around the Kilauea Volcano and Halema'uma'u Crater in the form of Pele's tears (tear-shaped lava droplets) and hair (babyfine golden strands of volcanic glass).
She is also known for cursing Hawaii visitors who return to their homeland with volcanic rock, and has always been considered a protector of the Hawaiian people. Every year thousands of lava rock pieces are shipped back to Hawaii from around the world from people who claim to have experienced horrible misfortune since removing the rocks and send letters asking for Pele's forgiveness.
Offerings to Pele can be found all over Hawaii Volcanoes National Park. Typically, rocks wrapped in palm leaves, conch shells, and Gin (yes, Gin) will be found as you hike.
King Kamehameha and the Eruption of 1790
In 1790, King Kamehameha ruled much of the Big Island. While he was distracted planning an invasion of Maui, a rival chief named Keoua seized part of Hawaii. Both sides deployed armies to do battle.
As Keoua bivouacked his troops and their families in the shadow of Kilauea, a giant eruption began, spewing ash, noxious fumes, and lava. Keoua's divisions began a hasty retreat to the sea as Keoua himself tried to appease the goddess Pele, whom he thought he had offended.
Keoua's first division had escaped, as did the third. When Keoua took stock of his troops, he was dismayed to find that every last man, woman, and child had been killed, nearly 400 people. Most died from the noxious fumes. Some steps are preserved today in Volcanic ash along the Ka'u Desert Trail.
Everyone believed that Keoua was cursed by Pele, and he never won another victory, although he kept fighting battles against Kamehameha. Soon after, he was invited by Kamehameha to dedicated a new temple (Heiau) in Kawaihae. When his ship landed ashore, he was promptly murdered, and had the honor of being the new temple's first human sacrifice. Kamehameha now had unchallenged rule over Hawaii.
Sulphur Dioxide fumes rise out of a lava vent in teh Kilauea Caldera.
So, Where's the Lava?
Many people mistakenly think they will see giant lava plumes arcing into the sky, or rivers of lava flowing into the sea. This is typically not the case, and have only happened a few times throughout history.
Although Kilauea can spew up to a million cubic yards of lava every day, it's usually not possible to see it very well. It all depends on where the lava is currently flowing. If you luck out, you may be able to poke a stick into lava flowing right next to your feet. Usually, you will only be able to see lava from a few miles away as it enters the sea. The issue is safety - brand new, cooled lava is very unstable. Thus, hiking across new lava to see a current flow makes you vulnerable to noxious fumes, collapsing earth, and dangerous heat.
It's nearly impossible to plan a trip to Hawaii around seeing lava. Only lucky residents of the Big Island can do that! When you arrive to the park, talk to the rangers at the Visitor's Center. They are usually very candid and they won't feed you a line of BS. If they say it's too dangerous to hike to the lava, then you had better heed their warning. They will give you a phone number to call for current conditions.
For most visitors, your best bet for seeing lava is the Chain of the Craters Road. This road branches off the main road in the park about 300 yards inside the entrance. The road goes all the way to sea level. A common thing to do here is to drive down to sea level at dusk, where you can park, hike short way, and you might see lava a few miles away entering the sea. You can usually see the steam clouds from here all day long. Binoculars will be a great way to enhance your view.
Also, see this link:
USGS - Current Conditions in Hawaii Volcanoes National Park.
Pu`u `O`o during eruptive episode 8, five months after the eruption began. Photograph by J.D. Griggs on September 6, 1983
Hiking and Camping on Kilauea Overview
Hiking:
Hawaii Volcanoes National Park has 119 miles of trails. Most visitors to HVNP merely drive around the roads in the park, stopping here and there for photos. This is not the way to see this wondrous place! You've got to spend the time and hike some of the trails.
I've included several hikes as routes on the sidebar. Hopefully, other SPers will add some more.
Maps:
Good maps are available in the Visitor's Center. Also, see the following links:
Park Overview
Summit Area Map
National Parks on Hawaii
Camping:
There's plenty of camping of all kinds in HVNP.
Camping Overview from the National Parks Service.
Getting There
As stated above, Kilauea is extremely easy to access. It's the drive-in volcano.
From either side of the island, get on Route 11 and drive uphill to a well-marked turn-off for the main entrance to Hawaii Volcanoes National Park. It's 26 miles from Hilo and 88 miles from Kona. Your adventure will begin at the Visitor's Center, which is above the main caldera. Park here.
Red Tape
Entrance to Hawaii Volcanoes National Park costs $10, and your $10 fee will allow you seven days of access, consecutively.
When To Climb
The mild climate of Hawaii makes Kilauea accessible year-round.
Lava enters the Pacific Ocean - August 3, 2004. Photo courtesy the United States Geologic Survey
Hazards
Your chances of getting caught in a lava flow on Kilauea is almost nil. However, deaths occur in HVNP each year. It can be a very dangerous place.
The most common cause of death is collapsing lava which can trap you. Ensure that you stay on established trails and out of closed areas. Park Rangers constantly change trails to avoid walking on unstable earth.
Explosive steam vents can also injure or kill hikers. It's not uncommon for these explosions to spew a horrible combination of Hydrochloric acid and Sulfuric acid, as well as minute particles of glass.
Sulfur Dioxide is all over the park. Do any hiking and you will surely encounter these noxious fumes. People with heart and lung conditions, pregnant women, infants, young children, and those with general poor health should avoid hiking.
Finally, some inactive vents can be deceptively deep. Similar to crevasses on glaciers, unwary hikers looking to explore these cracks have fallen in, sometimes hundreds of feet.
Contact Information
Hawaii Volcanoes National Park:
By Mail:
Hawai`i Volcanoes National Park
P.O. Box 52
Hawai`i National Park, HI 96718-0052
By Phone:
Visitor Information
(808) 985-6000
By Fax:
(808) 985-6004
By Email:
Havo_Interpretation@nps.gov
Lost and Found:
(808) 985-6157
Eye-level view of pahoehoe toe in west finger of west branch. Filaments of crust stretch around
bubbles as lava oozes ahead. Toe is about 10 cm high. Photo courtesy United States Geologic Survey