Overview
Kleiner Beil, the little brother of
Großer Beil
sits on the connecting ridge
Lämpersberg
– Großer Beil, which offers a nice traverse of these summits; this is, in my opinion, the main reason of visiting Kleiner Beil.
Kleiner Beil is a long rock and meadow ridge, the northern end, which drops about 100 m down to a notch between Lämpersberg and our summit, bearing the summit cross, the southern end is called sometimes
Seekopf
, in my opinion not a summit of its own: it is only 30 m higher than the connecting notch to Großer Beil.
Two other route opportunities can be recommended:
The
east ridge
from the summit to Seefeldalm is an easy, unmarked footpath with some scrambling and a nice alternative if you come from Lämpersberg and don´t want to do the whole traverse to Großer Beil to return to Schönangeralm.
The only ski route to Kleiner Beil from Inneralpbach via Stadelkehralm is for sure one of the more lonely ski routes within Kitzbüheler Alps.
Getting There
Main trailheads for Kleiner Beil are:
by car
The general accesses to the valleys are described on the
Kitzbüheler Alpen main page
.
by train and bus
Please note that the frequency of these busses per day is not very high (about once every hour).
Routes Overview
Routes Overview Lämpersberg and
Kleiner Beil
From Wildschönau:
Schönangeralm – Farnkaseralm – Seefeldalm – direct ascent via the unmarked east ridge (narrow trail) to the summit.
Traverse Lämpersberg – Kleiner Beil – Seekopf – Großer Beil.
For the routes to
Lämpersberg
and
Großer Beil
see these pages.
Ski route:
Inneralpbach – Stadelkehralm – west slopes of Kleiner Beil to summit
Red Tape & Accommodation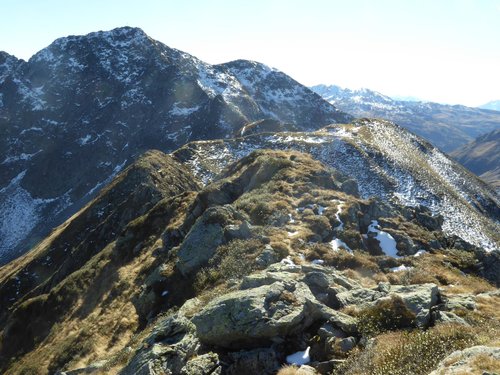 Red Tape
There are no restrictions or regulations, as far as I know.
Parking is free within the marked areas.
Accommodation
Wildschönau
Alpbachtal
Hopfgarten
Schönangeralm
at the end of Wildschönau valley is a mountain inn with a genuine cheese dairy in summer - don´t miss that!
Gear & Mountain Condition
Kleiner Beil is an
all - season mountain
.
In the hiking season you need full hiking gear and good shoes.
The unmarked east ridge from Seefeldalm and the traverse Lämpersberg - Großer Beil do need some easy rock scramble.
The traverses Lämpersberg - Großer Beil do need some easy rock scramble, too, and, with low visibility, a knack for orientation.
The ski route from Inneralpbach is rather steep and more demanding as those of neighbouring Lämpersberg. Full ski and avalanche gear is required.
Check the
Tirol avalanche bulletin here.
Current Weather:
Maps & Guide Books
Maps
Guide Books
Available only antiquarian but an indispensable mountain guide book: