Overview
Kletting Peak is a relatively easily climbed 12,000+ foot summit, located near the western edge of the High Uintas Primitive Area of northeastern Utah.
The summit is located approximately 2 miles along the ridge extending north from the summit of
Hayden Peak
, and is also a close neighbor of
A-1 Peak
, which is located 1.25 miles along the ridge to the east.
A hike to the summit of Kletting Peak can be made either as a day hike, or an enjoyable and scenic backpacking trip.
From the summit are excellent views to the south of Hayden Peak, the Kermsuh Lake basin, Bald Mountain, and the Mirror Lake area. To the east are views of numerous higher summits extending into the center of the High Uintas.
Kletting Peak is located in the Kamas Ranger District of the
Uinta-Wasatch-Cache
National Forest.
With 515 feet of prominence, the peak ranks as
#106 on the list
of Utah 12,000+ foot peaks with 200+ feet of prominence, as compiled by
Scott Patterson
.
USGS Quads:
Christmas Meadow, Utah (1:24k)

Hayden Peak, Utah (1:24k)
Getting There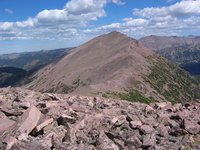 Virtually all approaches to Kletting Peak are accessed by way of Utah State Highway 150, heading either south from Evanston, Wyoming, or north from Kamas, Utah.

The shortest route to the summit of Kletting Peak is by way of the West Face Direct route. Two slightly longer routes include the South Ridge via Hayden Fork and the Hell Hole Basin route.

Another possible route to the summit would be the south face, approached from the Kermsuh Lake area. Please post a route description if you have climbed Kletting Peak from this approach.
Red Tape

Kletting Peak is approached by way of the Mirror Lake Scenic Byway, a 42-mile section of road located between Kamas, Utah, and Evanston, Wyoming. All motor vehicles parked in this area must display a valid recreation pass. These passes may be purchased at the trailead (self-service), or at various other self-service locations along Highway 150.

Fees are $6.00 per day, $12.00 per week, or $45.00 annually.
When To Climb
The normal summer hiking season in the Uintas runs from July through September, but may vary considerably depending upon the previous season snowpack and the first significant snowfall of the season.

Camping
Numerous campgrounds are located along nearby State Highway 150. The campgrounds nearest the summit include (from north to south):

Hayden Fork

Beaver View

Sulphur

Butterfly

Mirror Lake

Moosehorn

Suitable locations for backcountry campsites near the peak are located in the Hell Hole Lake and Kermsuh Lake basins.

Mountain Conditions
Links to local weather, road conditions, and fire information can be found on the Uinta-Wasatch-Cache National Forest website.