Introduction
The shortest and fastest route on Kaerntner Storzich / Pristovški Storžič is also the most beautiful one. If you have a friend who has never been in mountains and can manage a short, a bit exposed section, then in Karavanke this route may be a perfect choice. It is short, a bit spicy, and brings you on a mountain with one of the most beautiful panoramas in the area.


General Information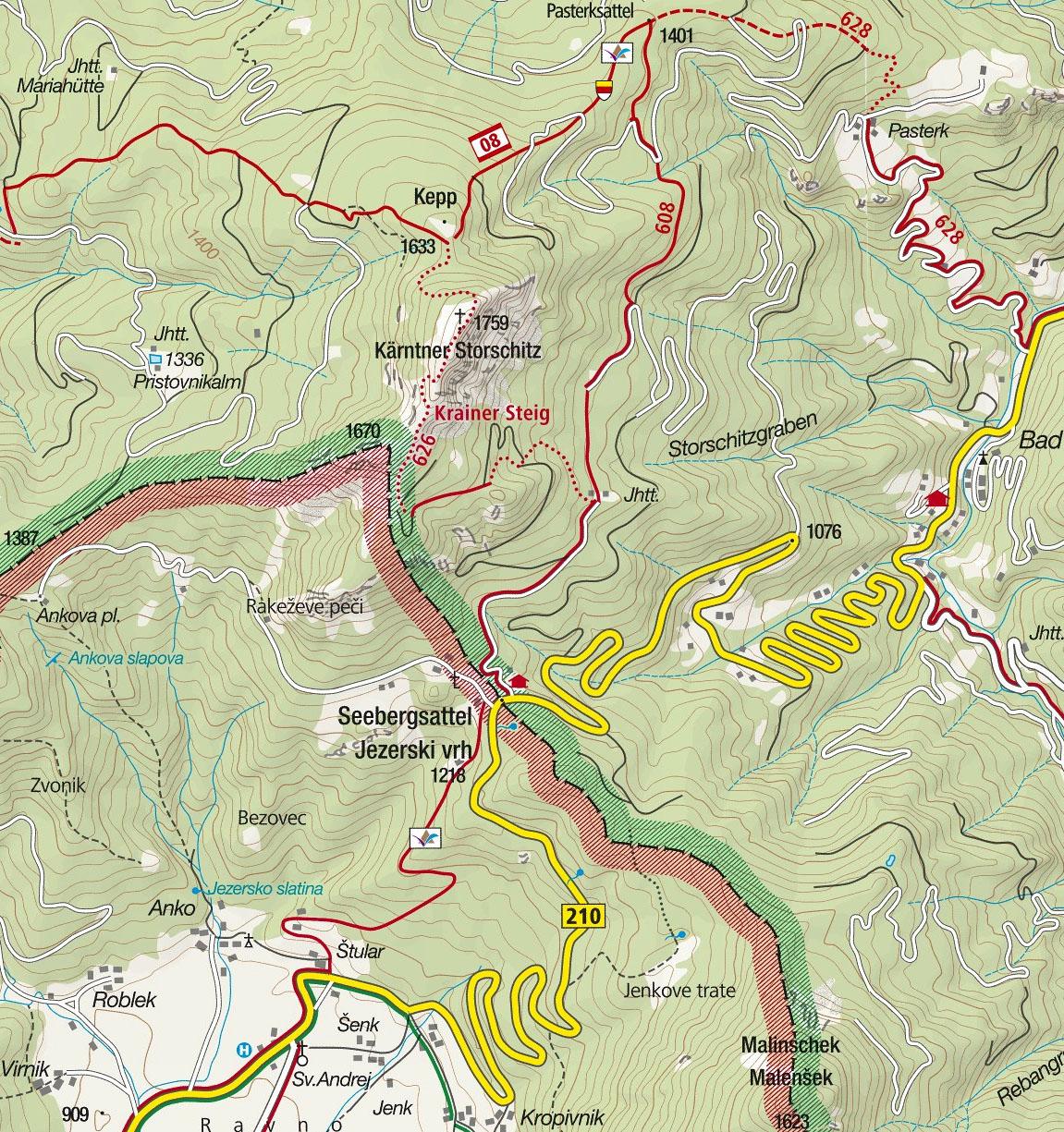 From Jezerski vrh / Seeberg Sattel, a high road pass, forrest roads and shortcuts will bring you to a short rocky section, where you cross a bit exposed ledge and you are over a picturesque notch already on the western side. Another short, steep section brings you on the summit ridge and the great panorama opens.
Difficulty:
It's a medium difficult hike up, on the Swiss Hiking Scale it would be rated T3. The route is suitable also for children (with some additional care on the exposed passage). The crux is a broad, comfortable ledge, which gets exposed, but is well protected by a steel cable. Besides this, there are two more steep and rocky ascent sections, also protected by a cable but not exposed. The rest is easy hiking.
Orientation:
The route is marked, good inscription plates are on key points, but otherwise marks are not abundant. So, you generally need to pay attention to get properly oriented, especially in the lower part, where forrest roads might deter you. See the GPX track in the header!
Slopes orientation.
In the traverse, the slopes are east oriented. The second steep ravine is west oriented and if snowy, can be in early morning a bit more challenging.
Objective dangers:
There are not many. The Paleozoic (Devonian) limestone is on a few places crumbly and on the summit ridge there's danger of lightning, if weather deteriorates.
Best season:
Late spring and summer months, normally from May/June till November (or first snow). This route very soon gets free of snow. With some additional care and eventually winter equipment this ascent can be done also in winter conditions. For skiing the upper part is not really appropriate.
Gear:
Good shoes and poles are sufficient for the majority of visitors. If in a group you have really uncertain hikers or children, a short rope might get handy. In winter conditions you need crampons and ice pick.
Tour start:
Jezerski vrh / Seeberg Sattel, 1215 m, on the road, connecting Eisenkappel / Železna Kapla, in Austria, and Kranj, in Slovenia.
Highest point:
1759 m (the mountain summit).
Altitude to overcome:
cca 550 m.
Time for ascent:
1 h 30 min.
Route Description
You start the tour just on the
saddle
, following the inscriptions and marks towards the
north
. Don't take the road which goes by the left, Slovenian side, towards the NW, but follow the Austrian one. That one soon starts turning a bit towards the right, in the
NE direction
. It crosses forrested slopes and brings you to two
hunters huts
, on good 1300 m. There the marked paths are branching. If you'd continue in the same direction (N), marks would bring you on Pasterksattel, while we need to turn
left
, uphills, following a well beaten, marked path. There we gain some 100 m of altitude,cross the mountain road again, reaching it again on some 1480 m. Then we follow the narrow road towards the W-SW, till before it reaches an
alpine meadow
.
Before the meadow be careful to spot on the right the place, where the marked path deters from the road, turning direction again
towards the north
. It ascends directly by the upper parts of the
meadow
and then enters high
forrest
again. In that section the slopes become already quite steep and the route is in a short passage already
protected by a cable
. It's not exposed much yet, but soon we reach a
distinct ledge
, which is broad and comfortable, but becomes more and more exposed. The path follows it, slightly ascending. When the ledge ends, the route turns
left up
, following a
steep ravine
. It is still protected, but rocks are solid and climbing up is really easy. So we reach a picturesque
notch in the main ridge
and descend a few meters on the other side.
Now the comfortable path crosses the
western slopes
. After a
short crossing
through dwarf pines the route turns
right
and steeply up again. Through dwarf pines a
rocky ravine
is acending, steep enough that the path is again protected by cable. We have only some 25 meters to ascend, then the path hits the
main ridge
and we turn left again. Mostly left just below the ridge we continue quite some more time, because the highest ridge point with the
cross
is very much
on the northern end
.
The mood on route - by
flow
:
Descents
This simple route would even not deserve its own page, but it's nice and I also want to point on possible combinations with other routes on Kaerntner Storzich / Pristovški Storžič.
1. By the same route.
You need 1 hour to get on the road pass.
2. Over Kepp Sattel and Pasterksattel.
This is the second normal ascent route on Kaerntner Storzich / Pristovški Storžič from Jezerski vrh / Seebergsattel road pass, easier, but some good 15 minutes longer. So, you can use it for return. From the summit, just continue towards the north. The path descends by two long turns through dwarf pines, there is even a short rocky section, where it is unnecessarily protected by cable. Soon you reach the nice alpine meadow and Kepp Sattel on its upper part, 1627 m. From there continue a bit right, in the NE direction, descending by Via Alpina (No. 08). A gentle forrested ridge soon brings you on Pasterksattel, 1401 m, where you turn sharp right and follow the marked path No. 608 to the road pass.
3. Into Vellach/Bela valley.
Descending by Pasterksattel and Pasterk farm into Vellach/Bela valley, some 825 m, is much longer - that route is more recommended in the opposite direction (eventually having bikes left on the road pass).
4. Into Troegern/Korte.
If we descend northwards on the Kepp Sattel, 1627 m, then we can continue descending westwards. By forrest roads and marked paths we reach the hamlet of Troegern/Korte, 980 m, but to return on Jezerski vrh / Seeberg Sattel from there, we need a second car.
5. On Kepp Sattel and via Ankova planina (meadow).
This is an interesting return route, longer than #1 and #2, but on it we still don't lose too much altitude. From the summit we descend on Kepp Sattel and then continue by a forrest road left down towards Troegern/Korte. Soon we need to turn left and cross the western slopes of Kaerntner Storzich / Pristovški Storžič. The first mountain road is weak, but a possible option. It soon has a dead end, but from there we can steeply descend by a clearing and reach the road below. So, the next branching would be better, but we did a shortcut. Now we continue by a good road soutwards, slightly descending. Then the road does two big turns, right and left. When we are south of Pristovnikalm (meadow), we start looking where to deter left. Over the main ridge we get soon on Ankova planina (meadow), where we hit the Slovenian road, connecting Roblekova planina (meadow) with the road pass. By the road we return towards the SE on the road pass.