Overview
Kratka Ridge is the name of the peak and the name of the ridge it is on. The ridge extends about 3 miles from Waterman Mountain to Mount Williamson, in the San Gabriel Mountains.
Since 1954 this peak had been the site of Kratka Ridge Ski Area (aka Snowcrest), but in recent years the Ski area has closed down and all that's left are a couple of dilapidated chair lifts and buildings. The hike to the summit is fairly easy and offers excellent views in all directions (Kratka is located near the center of the San Gabriel range). If your'e lucky you may even see a
bighorn sheep.
Getting There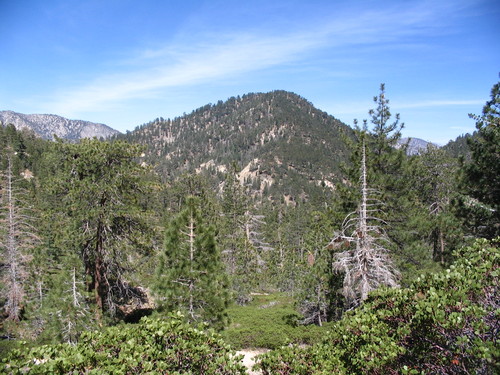 From Interstate 210 (The Foothill Freeway), take the Angeles Crest Highway exit (SR2). Go east 36 miles to the old Snowcrest resort, (it's 1 mile past Buckhorn Campground). You can park here and walk up the access road that starts at the far right end of the base area (at the top of the short ski lift), or drive another half mile on the highway to "Vista" picnic area on the right. There is no sign, it is shown on the USFS map though. Hike up through the picnic area to a saddle, turn right and head up the ridge, vearing right on and old trail. When you reach a saddle /ridge, go up till it becomes a road/ski trail, and follow it to the top of the chairlift. A use trail starts behind the lift building to the summit.
700' gain
Less than 1 mile.
Red Tape
A National Forest Adventure Pass or America the Beautiful pass is required to park your car on National Forest land.
For information check the
Adventure Pass
website.
Camping
Not really much camping on the hill, but
Buckhorn Campground
is a mile back down the road and is amazingly beautiful.
External Links
Angeles National Forest, USFS.
Bighorn Sheep info.
Lost ski areas of southern California.
Field guide to the San Gabriel Mountains.
Wikipedia listing for Kratka Ridge
Season and weather
The mountain may be climbed year round. In the winter it depends on if the road is open or not, usually it is plowed to the Snowcrest parking area, at which point there is a gate.
San Gabriel mountains weather