Overview
The village of
Busenberg
in the
Südpfalz area
is virtually surrounded by climbing cliffs. Of these two stand out to both sides of the village:
Drachenfels
with its medieval castle in the south ruin and
Kreuzfels
(together with
Drei Steine
) in the north. Both frame the village beautifully and you would expect that short access from the village would have resulted in early routes by the pioneers. Not so!
Almost all of the crags in the vicinity of
Busenberg
were discovered for climbing only in the 1960s. Kreuzfels is no exception - here
Robert Breitsch
and
Fred Thomas
established
Madonnenriss
, a crag climb above a little madonna in the south face, in 1960. For long years the cliff got forgotten - even the sports climbing boom didn't leave a mark until in the late 1980s roof climbing got fashionable and the roofs in the south face of the west ridge simply begged to be climbed. Over the last two decades some very hard test pieces went up, some of which have turned into instant classics:
Eichenwand (8-)
,,
Sportgoofy
(9-),
Kankra
(8-),
Nazgul
(8+),
Spanne langer Hansel
(8),
Nasser Sack
(9+).
Thanks to the roofs climbing is shady so that summer climbs in the south face are still possible. Also, a short shower won't get the rock wet. On the other hand, the older and less difficult routes east of the west ridge make for good winter climbing thanks to their exposure to the sun. Access to all of these routes is short and uncomplicated. There is a nature trail, running along underneath the south face of
Kreuzfels
from where a short scramble leads you to the cliff.
Kreuzfels
was named after the summit cross it carries, which has been erected on top of the ssummit mushroom. This summit structure is placed on a shelf like pedestal and quite beautifully displays several of the most remarkable features of Südpfalz sandstone: hourglass structures. At the base of the three interconnected summit formations the sandstone narrows to hourglass shaped pillars, which among climbers have become very popular for the natural protection they offer. On
Kreuzfels
a short UIAA I climb leads you to the top of these structures.
Climbing Routes on Kreuzfels
The following table has a link to the tour database of the PK, where you can find the grades for the free routes plus additional information.
Here
is the link to the complete route database.
Like most of the rocks around Busenberg, Kreuzfels saw its first ascent only relatively late. While the normal route (a UIAA I scramble to the summit formation) certainly has been climbed much earlier, the first documented route was set up in 1960 only. In the following years - through 1972 - half a dozen routes were established but then Kreuzfels was forgotten. By the end of the 1980s, however, climbers realized the potential of the roofs in the south face and about half a dozen ultra hard but short routes went up. Current "record holder" is Jens Richter with "Kleine Heile Welt 10-".
| | | |
| --- | --- | --- |
| Feature | Routes link | Summary |
| Kreuzfels | Kreuzfels | 27 routes ranging from 1 - 10- |
Getting There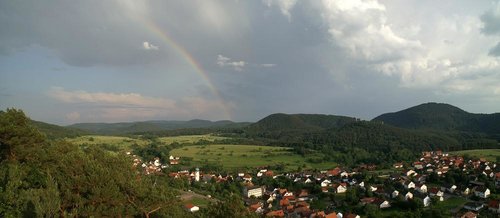 A good starting point for the Kreuzfels which are located to the north of Busenberg is the village's sports field. From there a marked nature trail leads to Drei Steine and Kreuzfels. More direct is the access from a dirt road in the north-west of the village, which can be reached from a parking lot on the road between Busenberg and Schindhard.
You can reach Busenberg as follows:
From Frankfurt
There are two possible routes which both take equally long
Via Ludwigshafen

From Frankfurt take motorway A5 southward to Darmstadt.
There change to A67 south.
At Viernheimer Dreieck turn onto A6 west. Leav
e it at Frankenthaler Kreuz for A61 south.
At Mutterstädter Kreuz take A65 south until you reach Landau.
At Landau turn on B10 west.
At Hinterweidental turn onto B427 south which will take you through Dahn to Busenberg

Via Kaiserslautern

From Frankfurt take motorway A3 west
At Mönchhofdreieck turn onto A67 south
At Rüsselsheimer Dreieck take A60 west
At Kreuz Mainz Süd take A63 south
At Kreuz Kaiserslautern turn onto A6 west
At Kreuz Landstuhl turn onto A62 south
At Pirmasens turn onto B10 east
At Hinterweidental take B427 south to Busenberg
From Stuttgart
Take motorway A8 to Karlsruhe
At Karlsruher Dreieck turn north onto A5
Tke the next exit to head for A65
At Kandel you can leave onto B427 which will lead you directly to Busenberg.
Red Tape
The sandstone of Südpfalz forms lots of caves and overhangs. Though this makes it most interesting for climbers, two species of birds of prey compete for this habitat: the peregrine falcons and the eagle owls. Both are endangered and wherever there is a eagle owl pair found nesting in the sandstone the crag will immediately be closed. Generally this closure lasts from the beginning of each year through Aug. 1st. If breeding is not successful the closures will be canceled even before that date. For a list of closures see the
Closure List of PK
.
The use of magnesia is not allowed in the whole Südpfalz region. This is rather a directive or an arrangement than an outright law. Thus you probably will get away with using it but do so only when absolutely necessary. Magnesia closes the pores which you find in the sandstone and together they form a smooth surface which will get very slippery in wet conditions. The rule of thumb is to use magnesia in the highest difficulty sections and only extremely sparingly.
A list of guidelines can be found
here
(in German).
Accommodation
In Busenberg you can find pensions, apartments and restaurants. Have a look at
the official site
for more info. There is a campground at
Neudahner Weiher
, north of
Dahn
, a second one west of Dahn. Both are about 10 km to the north-west of
Busenberg
. A third campground can be found at
Bruchweiler-Bärenbach
, about 7km to the south-west.
Weather Conditions
Maps & Books
Maps
As for maps there is a good overview map (1:50000) by Kompass Verlag but the best ones are the official topographic maps by the state government of Rheinland Pfalz, scaled 1:50000, 1:25000 and 1:5000. All official maps can be found on the web page of
Landesvermessungsamt Rheinland Pfalz
1:50000
Naturpark Pfälzer Wald
Kompass Map WK766
ISBN: 3-85491-523-3

Pirmasens Süd
LVA RLP Map L6910
ISBN: 3-89637-193-2
1:25000
Dahn
LVA RLP Map 6812
ISBN: 3-89637-147-9
Books
There are a number of climbing guidebooks on the region of Südpfalz. The best ones, however, have been published privately and are sold only in selected bookshops of the region.
Hiking

Pfälzerwald
B. & J.-Th. Titz
Rother Verlag
ISBN: 3-7633-4268-0



Climbing

Klettern im Buntsandstein
U. Daigger, H.-J. Cron
Westpfälzische Verlagsdruckerei St. Ingbert
ISBN: 3-00-0155457-4

Pfalz - Klettern im Buntsandstein des Pfälzer Felsenlands
J. Richter, S. Tittel
Panico Alpinverlag
ISBN: 978-3-936740-41-7

Pfalz ++, Klettern im Buntsandstein
R. Burkard, P. Weinrich
Published privately

Klettern im Naturpark Pfälzerwald
Naturfreunde Lambrecht
Published privately



Pfalz & Nordvogesen en bloc
A. Wenner, Y. Corby, I. Bald
Panico Verlag
ISBN: 3-936740-19-4