Route Description/Approach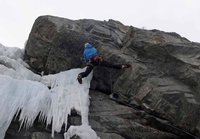 White Nightmare and its brethren mixed climb,
La Punta Blanca (White Tip)
, fill in the right side drainage of Bridal Veil Falls in Provo Canyon. In mid January of 2010, Bridal Veil Falls was not formed enough to climb in completion. In fact, the spray from the open section of the Bridal Veil waterfall reached White Nightmare via prevailing winds causing the climb to be
quite wet
.
White Nightmare is a simple and quick one to two pitch WI 4 event. However the guide book suggests it has its moments as a WI 5. We found it in
easy WI 4 condition in mid January
. The first pitch is the money pitch with the second pitch a necessity to reach the bolted rappel anchor (or make it one long pitch).
The top of the second pitch can be a bit nasty depending on conditions.
Some significant holes can exist between the two pitches as well.
La Punta Blanca is somewhere between M6 and M8 depending on conditions. It is
well bolted
involving quite a bit of technical dry tooling, a
challenging overhang
, and little ice to kick into in mid January of 2010. La Punta Blanca's bolt line is located directly to the right of White Nightmare. There are other mixed routes up slope as well.
Pull off at Nunn's park on the right side of US 189. Park on the right side of US 189 and walk through the gate onto a road heading east. You just keep walking down the road from Nunn's Park past
Stairway to Heaven
until below Bridal Veil Falls. The falls were in bad shape in mid January, 2010. Hike up the left side and cross well below the falls to avoid any holes in the broad ice cap. Scamper up the far right side to the base of White Nightmare. The mixed routes are on the cliff to the right. Very little avalanche concern on this route.
Climbing Sequence- White Nightmare
Climbing Sequence- La Punta Blanca
Double
60m ropes for the rap of White Nightmare. Tools, crampons, draws, screamers, helmet, gaiters, etc. Felt fairly exposed to the wind here compared to Stairway to Heaven in terms of temps and mist from the open water fall. I used my down when not climbing.
Provo Tips
The new (2009) Springhill Suites by Marriott (across from the BYU stadium) has a $75 rate if you are creative enough to get it (free breakfast). Perfect location (closest) to day trip it into the canyon and party with the college kids at night. Ate at a neat little Peruvian place named
Se Llama Peru on W. Center Street
. My younger partner had a hard time buying college Mormon chicks drinks at the bars, wait, what bars?
External Links