Overview
Trailhead: dam of La Sarra (1438m)
Time to summit: 4h 30 min
Slope: 1420 meters.
Very important warning: the route of start of La Sarra is very concurred and we should abandon it in the point that the sign indicates "Picos de Arriel / No lagos" (Peaks of Arriel / Not lakes). If we go very confident following to the people we can confuse us and we can continue in direction to the Lakes of Arriel or Refuge of Respomuso if we don't see the signal in a narrow curve of the path.
Getting There
see the main page
Route Description
We'll begin the route continuing the path near of the river Aguas Limpias but in the forest toward the 1650 meters we leave the route in the signal to enter the ravine of the Soba. The start is of very hard slope in the forest across an evident path with cairns of stones to reach the green upper plain (1850m, 1h30min). The cairns dissapear in this point but the route go to right side across son green terraces to reach the entry of the ravine/canyon.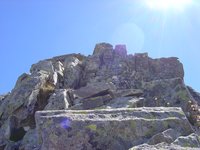 Although it seems very evident to continue for the center of the ravine is not the best itinerary (although is possible to walk it) and is better to seek to the left a small path to climb to a more comfortable upper terrace. Over the ravine we walk in north direction for a grassy terrain.
Again although we are seeing the col and the peak Arriel to the right (with a bad rocky land to arrive there) is better to climb toward the left by grassy slopes to situate us to the western of the col de la Soba. Now we'll turn toward the east (right) to pass near of the col (in which we'll see the path that comes from the French route) arriving at a terrain of great stones by the one that we'll arrive to Col de Arriel (between the peak Pequeño Arriel to the left and the Peak Arriel to the right) at 2600m (3h40min).
We'll approach to the final ridge by the right until entering it by a channell to the left (I), passing to left side of the ridge, and finally to some great blocks of stone (I +) exposed with a great fall toward the right (north). In some parts is possible to avoid the climb of the blocks for some narrow terraces to the left of the ridge to reach the spectacullar summit of Arriel.
Essential Gear
Nothing special in summer.
Early in the season is neccesary the use of crampons and ice-axe in some parts near of ravine of La Soba, Col de Arriel and the channel of access to final ridge. In winter is possible the presence of ice in some parts of the ridge and it's dangerous.
External Links
Add External Links text here.