Overview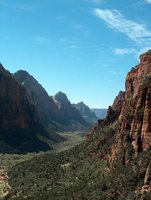 Lady Mountain is the monolith with a sheer cliff on its north side located across the road from Zion Lodge in the majestic and colorful Zion National Park (home of big wall climbing). It was named after a section in the climb that resembles a woman's face over Emerald Pools. Most of the mountain is covered in Navajo Sandstone from the Mesozoic era. Lady Mountain used to be called Mount Zion. Interesting as well is the fact that this was the first of the trails up to the rim or to the top of any monoliths in Zion. It was constructed by the NPS in 1923. Due to deaths and bothersome rescues,
two ladders and 2000' of cable hand line that used to exist on this route were removed in 1978.
The summit gives way to tremendous 360 degree views of the canyon including, Red Arch Mountain, the Great White Throne, Deer Trap Mountain, Cable Mountain, East Temple, West Temple, Canaan Mt, Three Patriarches and Castle Dome.
Getting There
Zion is a 229 sq mile National Park located about 20 minutes on State Hwy 9 off of I-15 north of St George (also a great sport climbing mecca) in southwestern Utah. Zion is an ancient Hebrew word meaning a place of refuge or sanctuary and is full of sculptured canyons and soaring cliffs. Lady Mountain is one of those cliffs rising above the canyon floor directly across from Zion Lodge located in the middle of the south section of the park. Drive through the Park Gates on the edge of Springdale via Hwy 9 and continue to the Lodge. Park at the Grotto Picnic area on your right.
Red Tape
You will not need a climbing permit, but you will have to pay a
National Park fee
to access the park. I always purchase an annual pass to US and Canadian Parks. If you are going to make more than 4 visits per year, I advise this option.
No bears to worry about, but I did accidentally step on a scorpion. He vibrated my boot to let me know. Then he took off unharmed. Guess I might try that on my next Grizzly encounter up north.
When To Climb
March to October is what the Park Service recommends. I booked this in March. It should be damn hot in mid summer.
Camping
There are great campsites in Zion. We stayed at the South Campground just inside the gates. We found a great spot on the North Fork of the Virgin River. This is a first come, first serve campground via self registration. March it was not overcrowded. This is a popular park however and I advise booking a site ahead of time at
Watchman Campground
if you think you are going during a popular period. If you demand the luxuries of town, I recommend
Majestic View Lodge
. I have stayed here on a separate trip and the rooms are first class and views are unbeatable.
Mountain Conditions
The
Zion National Park website
has everything you need including trail conditions or closures, wildlife notices, weather conditions, camping permits, canyon water levels, etc.
External Links