Overview
Lake Mead is the largest man made lake in the United States. It is located along the Colorado River about 20 miles to the East of Las Vegas. Lake Mead is formed by water impounded through Hoover Dam. It extends 110 miles behind the dam. The water held in Lake Mead is released via aqueducts to communities in southern California and Nevada.
Lake Mead National Recreation Area offers a lot of activities. Some include hiking, boating, and swimming. Lake Mead NRA encompasses both Lake Mead and Lake Mohave which emerged as a national recreation area. People pack here for boating, fishing, waterskiing, swimming, and hiking.
Before the existence of Lake Mead this area of the desert was sparsly populated. People who lived here were aware of the unforgiving character of the dry and brutally hot rugged land. Explorer John Wesley Powell penetrated into the territory of the Colorado River. Then in the 1930s the 726 foot-high Hoover Dam was built on the Colorado River (highest in the world at that time). This changed the nature of the United States forever. It created abundance water and power sources for the Southwest. Calming the floodwaters of the Colorado and turning a landscape into one that attracts millions of tourists and visitors each year.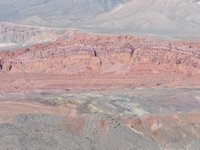 With the low desert sourrounding Lake Mead, there are many peaks that range from 2500-3500 feet. This makes it a great area for hiking and scrambling from October through May. In the summer months though expect highs easily over 100ºF.
Getting There
There are nine main access points to Lake Mead National Recreation Area, which includes two lakes and over 1.5 million acres of land. Depending on where you are coming from will determine which route you will take.
Here are common ways for people in the Las Vegas area.
From I-15 in Las Vegas exit onto Lake Mead BLVD (Exit 45B) East. Drive East for about 18 miles and you will come to the fee booth. From here drive straight to a T-Intersection. Depending on where you want to go from here turn right or left.
From Henderson get on HWY 146 (East Lake Mead Dr.) and drive East. About 7 miles East of the Boulder HWY you'll reach the fee booth.
There are 2 main roads in Lake Mead NRA. On the north side of Lake Mead is Northshore Rd. On the South side of the Lake is Lakeshore Rd.
Red Tape
Daily passes are $5 (good for 1-5 days; per vehicle).
Yearly ones for $20 which are good through December 31st in the calendar year purchased. (per vehicle)
Individual 1-5 days $3.00 per person (motorcycle, bicycles, hikers)
Individual Calender Year $20.00 per annual pass (motorcycle, bicycles etc.)
For More Information Call (702) 293-8907.
Fees & Reservations
External Links