Las Conchas
Las Conchas
is a small climbing area tucked into the Jemez River's upper canyon. It offers many sport routes in the heart of
Jemez Mountains
.
Cool summer temperatures, easy access, good climbing, and beautiful mountain scenery make Las Conchas a popular climbing area in Jemez Mountains, New Mexico.
The area's cliffs are scattered around Jemez river, elevation 8,400 feet +. The rock is a volcanic rhyolite. The routes are mostly bolted, few trad climbs available, range 30 to 60 feet in height and 5.8 to 5.13c in difficulty.
9 different crags are spread out for a mile along the East Fork of the Jemez River.
Climbing sesaon is spring to fall (best during the warm summer months due to high altitude).
Getting There
Las Conchas
is located along the
East Fork of the Jemez River
about 20 miles west of Los Alamos and 50 miles north of Albuquerque. From
Los Alamos
take Hwy 501 to Hgy 4 and head west toward Jemez Springs. The Las Conchas crag parking area is about 12 miles west of this road junction. From
White Rock
area, the easiest route is to continue west on Hwy 4. After passing through beautiful
Valles Grande Caldera
, you will come to the parking area just past the river. The easiest way from
Santa Fe
is drive towards White Rock, and then continue Hwy 4.
To reach the area from
Albuquerque
, drive north on Interstate 25 to Bernalillo and turn northwest onto Hwy 44 to San Ysidro. Turn north onto Hwy 4 and follow it to the parking lot at the East Fork of the Jemez.
The climbing area is along State Road 4,
park at the East Fork Trailhead
. Cattle Call Wall has its own parking area, just a hundred feet up the road. The East Fork Trailhead heads northwest into the canyon following the lovely Jemez River.
Cattle Call Wall and Roadside Attraction are located just 100 feet up the road. The other crags are encountered by walking up the canyon, and include Gateway Rock, Chilly Willy Wall, Love Shack Area, Gallery Wall, Dream Tower, The Sponge, Botched Rock, and the Leaning Tower.
Parking is for free, primitive camping is available right by the stream and rock cliffs.
Rocks and routes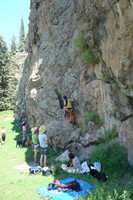 As mentioned above there are several cliffs developed for climbing scattered above grassy valley. Immediately east of the of the parking area is
Cattle Call Wall
, a prominent wall with 10 routes. It is right next to the road, so approach time is about 1-2 minutes. It is fronted by a level grassy meadow. You can park in front of the rock on the wide highway shoulder. The wall is popular instructional top rope area (you can lead if you wish to) and can be very crowded on weekends. The Cattle Call Wall is privately owned and the landowner has allowed the crags to be used by public. The routes here range from 5.6, to several 5.7-5.8s, one 5.9, and a couple of 5.10s.
Roadside Attraction
is 60 foot rock located just north of the road. Park in front of Cattle Call Wall and walk a short distance (3-4 minutes) to the next rock east (right). It has only 2 routes (Crucible 5.8 and Roadside Attraction 5.12a/b, Crucible 5.8 is bolted, Roadside Attraction has only 2 bolts, mostly pro. You can walk off from its top).
Gateway Rock
- this is the first rock alongside the riverside trail, and the first cliff encountered when walking north on the trail. The crag offers several fine routes, mostly 5.10s and 5.11s. There is one easy trad route - Garden Wall.
Chilli Willi Wall
- this wall is located on the river's east side about 1/2 mile downstream. It has several good camping wild camping sites among the pines and crags, and feels very private (it is away from the main hiking trail). Look to your right after the first river crossing, (by the Love Shack crag), there should a small trail up the short hill leading to these crags. There are at least 8 routes ranging from 5.8 to 5.11.
Love Shack Area
it is located right by the river, the routes may rise from water (depending on conditions). You find this area at the first stream crossing about 400 yards from the parking area. Approach time 6-10 minutes. It is overhanging, bolted, and you can towrope it. Ratings are two 5.11s, and two 5.12s.
The Sponge
is south facing cliff with some of the canyon's best rock. It is popular and offers some excellent climbing. Expect lots of pockets and steep rock. The cliffs sits above the last river crossing about a mile from the parking. Approach time is about 20 min. It has 5 routes, ranging from 5.9+ to 5.11a.
Dream Tower
is a tall buttress looming above the grassy meadow along the river's north bank. Some fine, long routes ascend the tower to a high anchor. Approach time is about 15 minutes. There are 4 routes: one 5.9, two 5.11s, and one 5.12b/c.
Gallery Wall
is a pillar high above the river's north bak. The easiest access is accessing The Sponge first, then backtracking upriver past Dream Tower, then scramble over and up to the base of a broken wall. Do an easy pitch to a bushy ledge below the pillar. There are 2 routes 5.11+ and 5.12a/b.
The Leaning Tower
is the canyon's largest cliff, and offers its hardest and longest routes. Continue about 250 meters downstream from The Sponge to a dramatic south facing outcrop split by a long overhanging crack system. The approach time is about 25 minutes. There are 5 established routes: one 5.9, and 4 in the range from 5.10b to 5.13c.
Las Conchas Hike Trail
Type
: easy day hike, popular and fun with children (they love playing int he stream and crossing the river on log bridges), dog friendly.
Distance:
2 miles one way (you return back the same way)
Starting elevation:
8.410 feet
Ending elevation:
8,315 feet
The trail starts on the stream's west side and is marked by a sign "Las Conchas Trailhead". A small sign nearby indicates this is Trail 137.
The trail continues to follow the stream down the canyon, passing through a broad meadows and beneath vertical rock formations. These formations were formed by ash from huge volcanic eruptions about 1.3 to 1.1 million years ago.
At 2 miles you encounter two signs, one pointing bak towards the Las Conchas trailhead from which you've come, the other pointing uphill towards the East Fork Box. This trail is not as much used and steep, most people turn around and go back the same way.
Closest services and other activities
There are no services in the area - bring food and water with you. The closest town is
Jemez Springs
, where you can buy food, lodging, visit bath houses. The town is an interesting art community as well, worth visiting. Jemez Springs is about 15 miles away from Las Conchas. If you would like a cultural visit, stop by
Jemez State Monument
located very close to Jemez Springs.
Los Alamos
is 20 miles away, and it is an opposite direction from Jemez Springs. Los Alamos has an interesting scientific history.
Jemez mountains have several natural hot springs, which are undeveloped and free. The most popular ones are Spence Hot Springs and San Antonio Hot Springs. Spence Hot Springs are located just of Hwy 4, on your way to Jemez Spings. The hike is about 1/4 mile in. San Antonio are a little bit out of way, accessible by a rough dirt road, and again in the summer the hike is very short, about 1/4 mile. (the dirt road to San Antonio hot springs is closed in the winter).
External Links
Las Conchas on Mountain Project
Las Conchas Trail
The area is also a very popular hiking destination.
On-line Las Conchas Climbing Guide
by
Jason Halladay