Overview
SAFE MODERATE BOLTED. Thousands of climbs in Joshua Tree have any 2 of these 3 adjectives, but this route has all three. Amazing, a 110 foot pitch sewn with 11 (yes 11!) bolts. This one of a kind route is guarded by a lengthy approach, and is quite new, so is a little loose at the bottom, but will clean up nicely with the next (of I suspect many) ascents as it becomes well known. Found in the new Miramontes guidebook, I don't know if Bartlett has it included in his or not.
Getting There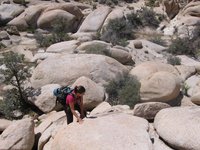 There are two approaches to North Astrodome. One starts at the lake at Barker Dam. The other goes to the very end of the road parking area, past Uncle Willie's HealthFood Store, and then right up a long and scenic wash. To approach this and other climbs on the Southwest face of North Astro, you will want to cross the lake at Barker Dam. It's a nasty fight with boulders and yucca if you take the Uncle Willies approach.
Park at the main Barker Dam nature trail parking lot with pavement, room for RV's, bathroom, etc. Follow the signed nature trail to Barker Dam until reaching the lakebed which may or may not have water in it. Cross the lake, or go around if water filled. Once across\around the Lake, head up the main wash on use trails. Usually it's easiest to stay as close to the bottom of the wash as possible, with a couple small detours around vegetation and boulders. Keep hiking until you can see you are almost past South Astrodome. There is an easy 3rd class ramp system that diagonals up the rock in front of South Astro, and this leads to a little forested cove at the base of North Astro. If you are doing anything harder than 3rd class slab moves you are off route! It's easier to go past it and then see the ramps after, as large boulders block the view on the approach. But if you follw the wash to its end you have gone too far.
Route Description
Once at the base, look for the line of bolts furthest to the left. The route starts in rather blocky loose sounding rock, best to protect with #2 Camalot or equivelant. Move from one block to the other, and then snag the first bolt. Most bolts are clipped to the left, and it's easy to knock the grade up a notch or two as many of the biggest holds lead to dead ends. Never run-out even in the jug-fest at the top of the climb.
Essential Gear
A couple medium hand to large hands size cams for the blocks in the beginning.
11 quickdraws.
Anchor set-up
Double ropes. You MIGHT make it with a 70 if you rap off of Lead Us Not Unto Temptation and prepare to downclimb a little after you run out of rope. I've heard of a 5th class downclimb off the shoulder of North Astro, but if you're leading this and feel wiggly after, it's probably best not to try that option.
External Links
Add External Links text here.