Overview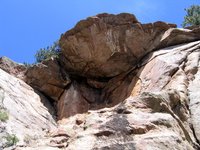 Loaf and Jug is a nice trad route on the River Wall, located just to the left of a big roof feature. This route can be toproped.
Getting There
The River Wall is 6.3 miles from the kiosk at the canyon entrance. Park on the other side of the river in a three-car pullout (directly across from a large roof). Walk downriver along the road, cross the river past a bridge, and hike uphill, angle back toward the river, and descend to the base of the rock wall. To reach all the routes, simply walk along a footpath along the river's edge. To reach topropes, walk all the way upriver until the crag ends, then scramble uphill, using the path of least resistance to the top of the crags. This walk-around is Class 3. The top of the crags is generally safe and flat, and allows you access to several anchors and trees.
Route Description
Identify the River Wall from where you parked, and find the large, obvious roof. Walk to the base of the roof.
Loaf and Jug takes the line of least resistance on the left side of the roof. Begin on a small slab with lots of holds, climb through an easy crack system with grass, step over to your right onto a smooth slab and climb it, and finish in a small offwidth to the top.
One pitch. Rappel or walk off.
Essential Gear
Medium to small sized protection. A 50 or 60m rope will be more than enough. If you intend to toprope, bring several very long slings to use the trees on top of the crag.
External Links
Add External Links text here.