Overview/Approach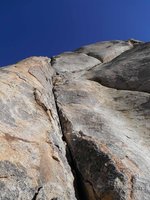 The southern orientation of Lost Horse Wall along with its height (300'+) makes it a must visit during cold winter days. Lost Horse Wall offers several of the better classic moderate winter climbs at Jtree: Dappled Mare (5.8) and Bird on a Wire (5.10a). Dappled Mare was established in 1973 and Bird on a Wire in 1977. Both routes run up the same end of the wall (east) for approximately three pitches and are worth doing back to back during a short winter day. Lost Horse Wall is mostly south facing. Bird on a Wire is included in Miramontes "must-do 5.10 cracks" list and Dappled Mare makes his "12 terrific trad moderates" list. Other notable climbs on the wall include The Swift (5.7) and Lost and Found (5.11b).

Lost Horse road is northwest of the Hidden Valley campground. Drive due south on Lost Horse road (dirt). Pull out left at the #5 turnout (about ½ mile). Follow the trail east in the wash for a short distance before you are below the main Lost Horse wall. Scramble up and left out of the wash to the east end for the two classic routes mentioned above. A round patch of varnish easily identifies the start of the second pitch for Bird on a Wire and thus makes for a great point of reference for the rest of the routes.
Routes Listed Left to Right; West to East on the Main Wall
The Swift- 3 Pitches- 5.7**/ I soloed this route on site, it is a secure solo climb for the competent soloist. The crux and/or exposure for soloing is a traverse right high up on the route out of the corner onto low angled slab. Dow
Bird on a Wire- 3 Pitches- 5.10a***/ Bird on a Wire starts left of Dappled Mare and is easy to identify as it climbs directly through a distinct round patch of varnish on the lower wall. The first pitch follows twin finger cracks that merge into one at a fixed rappel in approximately 80'. I continued the first pitch up to where Bird on a Wire intersects Dappled Mare (at the top of the left facing angled dihedral) and built a gear station there. The last pitch goes straight up from there on much easier ground until you come to a left and right crack for the finish. I have climbed both and prefer the steeper right hand crack option which is more in line for the grade of the climb. There is a decent feature at the top of the right crack to sling. If you chose the left, there is a medium crack to build a station in. Dow
Hairline Fracture- Single Pitch- 5.10a*/

City Slickers- Single Pitch- 5.11b*/
Dappled Mare- 3 Pitches- 5.8***/ A fun route to combine with Bird on a Wire for laps up the wall. First pitch (short solo) is 5th class if even. Second and third pitches offer enjoyable moderate climbing. Best way to finish that long third pitch is on Bird on a Wire, taking the right option at the very top which makes for another decent pitch. Dow
Roan Way- Single Pitch- 5.9*/
Edgar Rice Burros- 3 Pitches- 5.10c/
Headbanger's Ball- 2 Pitches- 5.11c*/
Mare's Tail- 3 Pitches- 5.9*/ The first pitch is just an easy rightward traverse on the ramp, past Bird on a Wire, then Dappled. Start Mare's Tail between the final two bolted routes on the right side of the wall, at the base of an obvious crack with a few mini-roofs in it. The official second pitch is the good climbing and if you extend your placements well, with a 70m rope, you can just make the top of the wall without stopping. Pull through the fun hand crack bulges. This first crack ends at a slab (crux) used to move left into a flaring finger crack. You can protect an ankle busting fall in a horizontal out right, then a micro cam fits in the base of that crack out left. Follow the finger crack up to a horizontal hand rail. Move left again and up past a large chock stone. Either belay on top of this chock stone or continue up the wide right-angled crack to the top. C4#4 helps with the final gear belay. Dow
Lost and Found- 3 Pitches- 5.11b*/
style="display:block"
data-ad-format="autorelaxed"
data-ad-client="ca-pub-6523272176520096"
data-ad-slot="7132222476">