Overview
Lost Peak is a gentle and easily accessed peak on the north end of Guadalupe Mountains National Park. The nor,th end of the park is very different in character from the southern and central end most visitors know. The north less dramatic, yes, but it is more remote and shielded from the winds this park is notorious for.
The summit of Lost Peak is covered with a variety of cactus as well as an incredibly large summit cairn for a relatively modest peak. This mountain is easy to reach from an established trail system, requiring a simple off-trail jaunt from the Tejas Trail on rocky, open terrain with good visibility. This summit is quiet, breezy and peaceful and affords the visitor expansive views of the desert to the west.
Rank:
Unranked
Prominence:
170 feet
USGS Quad:
Guadalupe Peak
Rank & Prominence:
Lists of John
Red Tape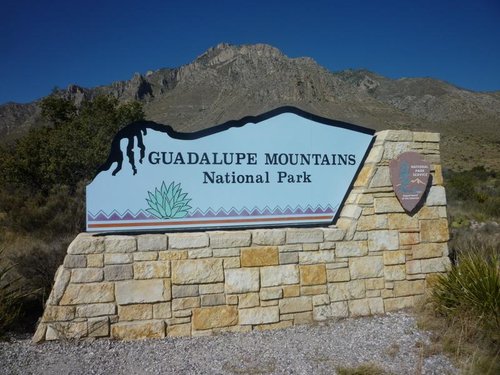 The entrance fee to this national park is $5.00 per person for adults 16 years of age and older, as is good for 7 days.
Many use restrictions apply in national parks, most notably that dogs are not allowed on most trails and are restricted only to parking lots, campgrounds and interpretive trails or other trails designated as dog-friendly.
Getting There
The vast majority of visitors to Guadalupe Mountains National Park will arrive by vehicle. The park is located in far west Texas, about 110 miles east of El Paso, Texas. El Paso has the nearest major commercial airport, though Albuquerque, New Mexico, would be an option for air travelers, as well.
Bush Mountain is accessible via the primary park entrance or by the norther entrance, but most visitors would opt for accessing the peak from the northern, less-developed entrance. The northern, Dog Canyon entrance to the park can be reached via New Mexico State Road 137.
Camping
Front Country Camping
Per the National Park Website:
Due to its higher elevation and protected location beneath steep cliff walls, the campground at Dog Canyon is cooler than Pine Springs campground in the summer, and sheltered from strong gusty winds in winter and spring. The campground has 9 tent sites and 4 RV sites (no hookups, no dump station). Picnicking is also permitted in the campground. Restrooms have sinks and flush toilets, but no showers. Charcoal and wood fires are not permitted.
Backcountry Camping



Permits, available at the visitors center, are required for the limited backcountry camping in Guadalupe Mountains National Park and stays are limited to 3 nights. All water must be carried into the backcountry. Even if you manage to find potable water on top of this well-drained limestone escarpment, park rules dictate that the water be left for wildlife. It is recommended to bring one gallon of water per person, per day.

Lost Peak is easily accessible as a day trip, but the Mescalaro backcountry campsite is the most convenient back-country site to visit Lost Peak as part of a multi-day or overnight trip.

Visit the National Park Website for more information about the 10 designated backcountry campgrounds in the park.


Weather & Seasons
• Summers are hot, though the desert nights cool down nicely at this elevation. Keep an eye out for afternoon monsoon storms in late summer.
• Autumn is generally cool and calm with pleasant fall colors.
• Winter can bring warm sunny days but bitter cold nights and even fog, snow and freezing rain.
• In a park notorious for high winds, spring brings some of the gustiest conditions. The park frequently posts high winds warnings in springtime.
External Links and Additional Information
• Guadalupe Mountains National Park
Official Website
•
Park Map
(PDF)