Overview
Cerro Ñato South-East Ridge - Luce de Leche (Milky Light)
The
Cerro Torre - Cordòn Adela Group
is a chain located in Patagonia inside
Los
Glaciares National Park
and lined up between
Brecha Cuatros Dedos
to the North and
Viedma Glacier
to the South. This spectacular group includes in its Northern sector some oustanding and worldwide famous granite peaks, as Cerro Torre, and some mighty ice-capped summits in its Southern sector.
Cerro Ñato
is one of these latter, an attractive peak located South to Cerro Torre, between
Cerro Adela Sur
and
Cerro Doblado
.
On
Cerro Ñato
mighty icy spur facing South-East it runs a beautiful ice-climb:
Luce de Leche (Milky Light)
.
Getting There
The approach trek to Cerro Ñato starts from
El Chalten
, a small mountain town in Argentina, Santa Cruz Province, on the riverside of Rio de las Vueltas. The village offers some basic shops, phone, internet facilities and accomodations such as camping and beds.
At the entrance of El Chalten there is a
Park Office
, where trekkers and climbers have to register and obtain permits (they are free: the only cost is the Park entrance fee). From El Chalten starts the trail to Cerro Torre and Cerro Fitz Roy, so during the peak summer season there is a lot of tourists, trekkers and alpinists.
The village is located about 230 Km North of El Calafate, the real gateway to the Los Glaciares National Park, and the tour requires about 4 hours, on paved road (daily buses).
El Calafate provides all modern facilities and all price accomodations (hotels, estancias, cabins, camping).
The town is situated on the south side of Lake Argentino, about 320 km Northwest from Río Gallegos (5 hours drive on good paved road; daily regular bus services).
One can fly directly to the new Calafate Airport or, alternatively, fly to the most important Rio Gallegos Airport (daily flies from Buenos Aires) and then drive for about 300 Km (5 hours) to Calafate along National Route Nr. 5.
From
El Chalten
a good path, following
Rio Fitz Roy valley
, leads to Bridwell Camp and Maestri Camp at
Laguna Torre
(camping place), from where a "mirador" can be reached: from here it's possible to enjoy a spectacular view on the impressive glaciers and peaks (Cerro Torre, Cerro Adela, Cerro Ñato, Cerro Doblado). The trail requires about 2,5 hours by walking.
From the "mirador" a thin trail leads down on
Glaciar Grande
, which is crossed diagonally leftwards to gain the base of the impressive Cerro Ñato iced Southeast Ridge.
History
-
The first summiters
of Cerro Ñato were
Ettore Castiglioni,
Leo Dubosc and Titta Gilberti (Italy)
on February 1937, climbing the
South-West Ridge
, the Normal Route (AD) starting from Paso Doblado, a saddle between Cerro Ñato and Cerro Doblado
- The second ascent was realized by
Walter Bonatti and Carlo Mauri
(Italy)
on February 1958, climbing the North Ridge, a snow ridge starting from Colle Trento, located between Cerro Ñato and Cerro Adela Sur
- In 1987, November 4th,
Davide Brighenti and Alberto Rampini
(Italy)
realized the first ascent of the stunning South-East ridge climbing
Luce de Leche (Milky Light)
.
Useful climbing info here:
Pataclimb
Route Description
Cerro Ñato South East Ridge
Luce de Leche (Milky Light)
Difficulty: TD inf. / 70º
Length: 900 m.
First ascent: Alberto Rampini CAAI and Davide Brighenti AGAI - (Patagonia '87 Italian Expedition) 4/11/1987.
Approach:
from Laguna Torre (campsites) get to the "Mirador", then descent to the Glaciar Grande and cross it slanting left towards the footh of the majestic iced ridge.
The best choice is edificating an igloo or making a cave below the wall: a tent may be not a good idea in case of wind, because of the absence of repairs.
Climbing report
From the bivouac hole at the base of the mountain climb gently angled snow slopes, reaching the beginning of the ridge. Follow it, sometimes keeping a little on the left, sometimes climbing directly on the sharp ice ridge. The ridge rises up more and more steep and offers a technical climb, due to the ice quality, similar to icefall one.
In the upper part of the ridge a main bergschrund provides an exciting climb on vertical-overhanging step; successively climb some steep gullies avoiding the rocks. To climb this steep sections a pair of technical axes is required.
The final wall is easier on good snow.
First ascent was realized in about 6 hours.
Descent
The descent route follows the
South West Ridge
to Paso Doblado, a long classic route (Castiglioni, Dubosc, Gilberti 1937 route, the peak's first route to be climbed and the normal one to the summit). From Paso Doblado the starting bivouac hole at the base of SE ridge is reached along the glacier between Cerro Ñato and Cerro Doblado.
Essential Gear
Rope, crampons, two technical tools each climber, ice screws. Helmet is absolutely a good choice.
Red Tape
Cerro Ñato is located in
Los Glaciares National Park
(Parque Nacional Los Glaciares), Santa Cruz province, Argentina, one of the most spectacular mountain area in Patagonia, on the border with Chile and Torres del Paine National Park. Los Glaciares National Park is a federal protected area and covering an area of 726,927 ha it's the second largest national park in the country. It was established on 11 May 1937 and in 1980 it was declared a World Heritage Site by UNESCO.
UNESCO INFO
Climbing permits are required in the National Park Office at the entrance of El Chalten. The permits are free, with the only requirement for the climbers to provide their full names and the peaks they are attempting to ascend.
Meteo
METEO PATAGONIA
Guidebooks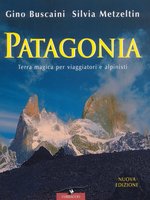 "Patagonia Terra Magica per alpinisti e viaggiatori" Gino Buscaini and Silvia Metzeltin
, Dall'Oglio Editore
"CAI CLUB ALPINO ITALIANO - Rivista Mensile 1988/4"
pag.76
External Links
UNESCO INFO
LOS GLACIARES NATIONAL PARK
PATACLIMB
TREKEARTH