Overview
Lummi Point is the highest point of Lummi Island, located in Whatcom County, Washington. Although the State Geographic Names Board officially recognized Lummi
Point
as the mountain name in December 1976, people much more commonly know the mountain as Lummi
Peak
. In addition to being the highest point of Lummi Island, Lummi Point is also the fifth-tallest "Island Highpoint" in the lower 48 United States.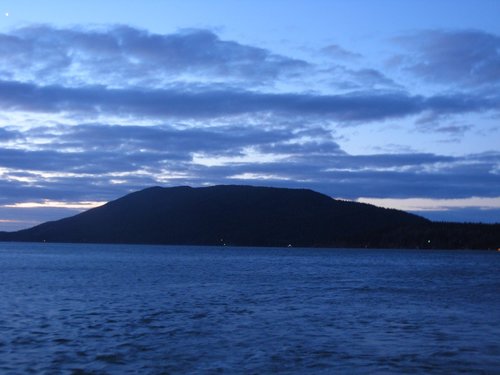 The mountain has thick evergreen forests on its hillsides and the summit area has few viewpoint locations, as a result. However, an official overlook has been created near the middle of the standard route that looks west towards Orcas Island and Mount Constitution, as well as several other locations in and around the nearby San Juan Islands.
Standard route when this SummitPost page was created during 2011:
The standard route is straightforward, nearly all of which is along trails and roads-converted-to-trails. The final slope leading to and surrounding the summit area has steep rocky cliffs and thick forests. However, multiple off-trail possibilities and hidden animal tracks exist that lead up that final slope without the necessity of hand-use for ascending. The summit area has at least 3-4 possible "highest" points, all of which are near the outer rim of the summit area and several of which seem higher (or lower) from different vantage points due to similar elevations.
The hike is only approximately seven miles roundtrip, with only approximately 0.5 miles of bushwhacking/off-trail required. Most of the standard route lies within Baker Preserve, a 435-acre section of land of Lummi Island protected through the conservation efforts of the Lummi Island Heritage Trust, San Juan Preservation Trust, and Washington Department of Fish & Wildlife. The Baker Preserve Trail ascends 1.6 miles and gains 1050' elevation before reaching the park boundary, at which point the standard route travels along currently non-protected public land.
UPDATE (Summer 2015)
: The route and access may have changed since this page was first created during 2011. Please review the "Red Tape" section below.
Getting There
DRIVING DIRECTIONS
FROM BELLINGHAM, WA:
1) Briefly drive north along I-5 to Exit 258 (Bakerview Road/Airport exit).
2) After the off-ramp and at the stoplight, turn left (west).
3) Continue driving west for 1.3 miles until reaching a "T" intersection with Marine Drive. Turn right onto Marine Drive.
4) After 2.3 miles further, turn left at a stop sign, to remain on Marine Drive.
5) After 1.6 miles further, the main road veers left to become/join Lummi Shore Road. From this location there are two options:
OPTION 1:
Veer left with the main road, and then follow Lummi Shore Road for 7.6 miles around the peninsula coastline to the Lummi Island Ferry Terminal (on left side of road).
OPTION 2:
Veer right to a stop sign, then turn left onto Lummi Shore Road followed by an immediate right turn onto Kwina Road (heading west). After 1.0 miles, turn left onto Haxton Way and then follow for 4.5 miles to the Lummi Island Ferry Terminal (on right side of road).
6) Once the ferry arrives at Lummi Island, turn left onto Nugent Road.
7) After 1.5 miles, the main road turns left (becoming Sunrise Road).
8) After 0.8 miles, turn right at a stop sign onto Seacrest Drive.
9) After 0.3 miles, turn right at the Baker Preserve Trailhead parking area (on right side of road, with wooden "ENTRANCE" and "EXIT" signs marking the location.)
TRAILHEAD LOCATION: Approximately at 48.6946, -122.6608 (75' elevation)
------------
HIKING DIRECTIONS:
1) From the Baker Preserve Trailhead, begin hiking uphill, quickly gaining elevation.
2) After approximately 0.75 miles, the trail meest with an abandoned logging road. The intersecting road is a road-trail that heads south, mostly atop a steep and cliffy west side of the island.
3) An official westward-facing overlook is at approximately 1150' elevation along the road-trail, near the boundary of the Baker Preserve.
4) At approximately 1400' elevation, a gate is passed. After this gate, the road-trail becomes a trail, which becomes gradually less defined.
5) South/southeast of the gate, there is an apparent ongoing dispute about where private property is located on Lummi Island. Some sources (such as the WDFW) claimed the most obvious summit routes are/were on public access land, while other sources (such as Lummi Islanders) claimed that the entire mountain beyond the Baker Preserve is/was private property. An official Whatcom County website in early 2011 showed both assertions to be incorrect. Please review the "RED TAPE" section and accompanying map provided by Whatcom County showing private property boundaries. If that property map was used as a reference, it would be possible to reach the summit without crossing into private property. However, public maps can change at any time, private property boundaries can change without much notice, and any efforts leading onto private property are not recommended.*
6) Steep forested slopes and rock cliffs surround the summit area. The summit area has several possible highest points, each one nearly equal in elevation, indistinguishable, and without outward views.
*This SummitPost page and page author do not condone or promote unauthorized/unapproved access on private property. This page was created as a general resource for the peak only, using information gathered through the public domain in late January/early February 2011.
Red Tape
No overnight stays; Lummi Point and Baker Preserve are for day use only.
No pets allowed.
No vehicles of any type allowed.
The Baker Preserve requires all hiking parties to sign-in at the Baker Preserve Trailhead.
For the latest Lummi Island Ferry schedule, fares, etc. please visit the
official website
.
As of January 30, 2011: No signage was posted along the summit route to prohibit hiking beyond the Baker Preserve Boundary. Since that timeframe, at least one person has claimed that the summit and surrounding area is actually owned by the Lummi Island Land Company (LILC). However, at the time this SummitPost page was created, all signs and markings en route to the summit area and beyond the Baker Preserve Boundary reference the Washington Department of Fish & Wildlife (WDFW), and no references along the route mentioned the LILC. Considering the LILC has been involved in past land claim disputes on the island over the years, it is possible that either entity may or may not have "rights" for designating the area usage. Any potential visitors should do their own updated research prior to visiting Lummi Island.

February 3, 2011: Just as what was done prior to visiting the peak, the SummitPost page author continued research by speaking directly with a WDFW employee who claimed to have direct knowledge about the land in question (located south and east of the Baker Preserve). The WDFW employee claimed to have a map showing that the land south and east of the Baker Preserve that contains the final stretches of the standard summit route, as well as the summit area itself, is on unmaintained Department of Natural Resources (DNR) land, not LILC land. Per the WDFW employee, public access to that land parcel is allowed on day-use, hiker-only, no pets/garbage/fires, "Leave No Trace Behind" basis.

The WDFW employee also stated that a second parcel of triangular-shaped WDFW land is located beyond (south of) the DNR land and marshes, and that the unmaintained road provides the main arterial to that second area (if ever needed) although the road officially ends before reaching that southern WDFW section. However, public access is not allowed on that second, more southern WDFW parcel on Lummi Island because it contains sensitive habitat. According to the WDFW employee, public access to that second, more southern WDFW parcel is strictly forbidden and is signed as such at its boundary but the road leading in that direction from Baker Preserve is still accessible.

However, according to the same WDFW employee, the LILC does own and maintain land north of the northern slopes of the summit hill, and that area should be avoided unless permission is explicitly granted by the LILC. Per the WDFW employee, access to the summit is only currently legal using the standard summit approach shown on this SummitPost page (via the Baker Preserve Trail), although that access might change and/or be disallowed over time. Some locals dispute the assessment provided by the WDFW, so different entities have stated different assertions of where local access restrictions apply. Be aware that visitations to the peak by non-islanders is generally frowned upon, regardless of the access issues that may or may not exist. Any potential visitors should do their own updated research prior to visiting Lummi Island.

February 4, 2011: Somebody who claimed on another hiking-related website to have worked for DNR and WDFW, supposedly with direct knowledge of Lummi Island activities, recommended future potential parties to visit a particular Whatcom County website showing private property boundaries. The person's claim was that the LILC owned the property containing the summit. However, the following map, which was taken directly from the recommended website the same day that person made the suggestion, shows a different property scenario. With different maps, opinions, authority figures, etc. it can be very difficult to exactly determine who or what is correct or not.

July 27, 2015:
Wayne Chaudiere of the Whatcom Conservation District submitted a map (.PDF) to the "Images" section of this page, showing that most of the original standard hiking route still remains within Lummi Heritage Trust and WDFW lands. However, the map also shows the LILC now owning the summit land. It is unclear whether the LILC will ever grant public access to just temporarily visit the summit (hiking, non-hunting). Further research will need to be done by future interested parties. As mentioned earlier, this SummitPost page and page author do not promote or condone unauthorized/unapproved access to private property. This page is for general purposes only. Future interested visitors will need to do their own due diligence, as the original hiking route and access may have changed.

It is worth noting that the few people during 2011 who were asking potential visitors online (on another website) to do their research regarding private property on Lummi Point/Lummi Island are the same few people who also expressed a desire for the record of that conveyed research (which had disproved their claims multiple times) to not be posted online. Unfortunately, without demonstrating that evidence of research or timeline, the same questions would ultimately arise from different people in the future. Hence, there was a necessity to show some of that research and controversy on this page, as a resource to others.

DISCLAIMER: If any future signage is posted along the summit route that prohibits even day-use, hiker-only, "Leave No Trace Behind" access, please respect the landowner, use your best judgment, and consider this SummitPost page only as a general resource for the island/peak rather than a promotion to make a summit attempt. Please also contact the page author with any such update, so that update can be shown on this page. Any potential visitors of Lummi Point are responsible for their own researches and actions, and do so at their own discretion and risk.
Camping
No camping is allowed on Lummi Point or anywhere near its standard route.
External Links
Just as mentioned earlier, the Lummi Island Ferry website is linked
here
.