Overview
This is a route that offers a little bit of everything that, to me, is what mountaineering is all about-- scrambling, exposure, snow climbing, a ridge traverse, uncrowded approach trails, and a gorgeous wilderness setting. In addition to all that, you get to climb an extra peak-- MacLeod Peak-- en route.
Hauling a rope and rack is not necessary; all you really need, aside from the regular essentials, is an ice axe or sturdy trekking poles. In late summer, the axe and poles may not be needed, but be aware that the climb up MacLeod Peak is on high, steep, east-facing slopes, which means there is likely to be snow around for most or all of the summer.
If you don't mind some scrambling, snow, and exposure, I highly recommend this as your ascent route and the hiking route via Swift Creek for the descent.
Getting There
About 11 miles southeast of Hoback Junction, look for a signed road heading north into the Granite Creek Recreation Area. This gravel-and-dirt road, which can be a little rough but is still passable for most passenger vehicles, follows Granite Creek for 10 miles to Granite Hot Springs, a popular spa (admission fee required). Along the way there are spectacular views of Granite Creek and the Gros Ventre Range.
7.5 miles up the road, look for a spur that makes a bridged crossing of Granite Creek. Turn here and follow signs for 0.1 mi to a trailhead. Find a spur road (usually closed) that makes a bridged crossing of Swift Creek. Just across the bridge, a sign indicates the beginning of Swift Creek Trail.
Route Description
Basic Details:
Approximately 6.5 miles to the summit, elevation gain about 4900', scrambling on ridge traverse is Class 3-4 with loose rock and exposure at times, snow climbing is on moderate-to-steep slopes.
Key Elevation Points:
Trailhead, 6800'; MacLeod Lake, 10,205'; MacLeod Peak, 11,180'; Corner Peak, 11,180'.
You will note that the TH-to-summit elevation difference is closer to 4400' and not 4900' as noted above. The 4900' figure is more accurate because it takes into account dips on the trail approach and along the ridge traverse.
Another SP member has put up a page for MacLeod Peak. In consideration of that, I am intentionally being light on details about that peak and am only providing what I think is necessary to make this route description accurate and useful.
Begin hiking on the Swift Creek Trail. If you are hiking early in the morning, prepare for your legs to become soaked quickly; you are on a good trail, but waist-high grasses and wildflowers often hug the trail, and you will brush against them.
Between 1 and 1.5 miles, you cross Swift Creek so that it is on your left. Very soon after this crossing, find an unmarked but obvious trail junction. Here, the Swift Creek Trail takes the left fork. The right fork puts you on a trail, faint at times and often very steep, that leads to MacLeod Lake, which is between 4.5 and 5 trail miles from the trailhead.
At the lake, you have a panoramic view of a beautiful cirque. Sharp-looking MacLeod Peak bookends the cirque on the left; Corner Peak is slightly northwest of the lake and, with its flat top and gentle-looking southern slopes, is easy to dismiss from here. You may, in fact, find yourself not believing Corner Peak is really Corner Peak. It is.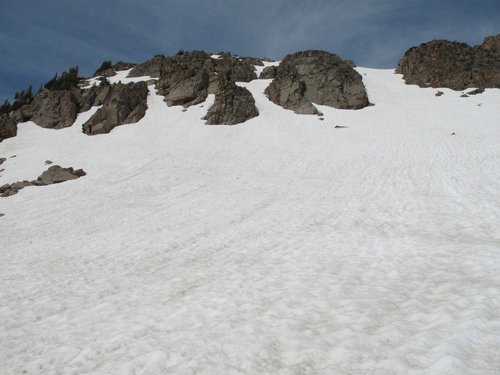 Now climb west up the slopes to the summit of MacLeod Peak, which is close about three fourths of a mile away. If snow is present, climb the snow, which, unsurprisingly, starts out at a moderate grade and then steepens as you get higher. If there is not much snow, the best route to take is probably via the rocky shoulder and ridge directly west of the lake and south of the summit; you should find Class 3 conditions there until you emerge onto the upper slopes of the peak.
From the summit, study the connecting ridge to Corner Peak (you probably were studying it as you climbed, too). It is not as bad as it may look, and in my opinion, the hardest part is the initial descent to gain the ridge, but there will be plenty of loose rock and some exposure you need to take seriously. My only real complaint about it is that it was over too quickly!
I climbed this route with another SP member, and one of us thought the traverse was Class 3 while the other felt there were some Class 4 moves. This underscores two important things: the line between Class 3 and Class 4 can be a very murky one, and two different people may not follow the exact same line. This is why I list the difficulty of this route as Class 3-4.
Below is a series of thumbs showing the ridge; the middle four show it in sequence from Mac Leod to Corner (I would have stitched them into one panorama, but the focal lengths when shooting were not all the same).
The ridge traverse is about three fourths of a mile long. At the end, look for a loose-looking gully to the right, accessed by a ledge that from afar looked steep and exposed but turns out to be much friendlier up close. Climb this Class 3 gully, which is loose but is not terribly so, for around one hundred feet to easier ground and then walk to the summit of Corner Peak.
Variation: Lake to Peak Direct
From MacLeod Lake, it is possible to go around either side of the lake (the right side would be easier and more direct) and climb straight to Corner Peak via a combination of scree slopes, rock outcrops, and couloirs. This route
appears
to be no harder than Class 3 scrambling and moderate/steep snow.
This option would, of course, cut distance, time, and elevation gain, but it seems a shame to skip MacLeod Peak and the enjoyable ridge traverse. However, anyone pressed for time because of pace or weather or intent on Corner Peak only might like this route (but someone only interested in Corner Peak should consider the walk-up route via Swift Creek in that case).
Another good use of this route would be to use it and the route via MacLeod Peak to make a circuit of the two peaks and return to MacLeod Lake. This would be an especially sensible option for someone backpacking in and making camp near the lake.
The photograph below shows Corner Peak from the lake, and you can study it to see the options for climbing directly to the peak.
Route Topo
style="display:block"
data-ad-format="autorelaxed"
data-ad-client="ca-pub-6523272176520096"
data-ad-slot="7132222476">