Overview
Mahogany Mountain towers 4,000 feet above American Fork but blends into the foreground of the higher Mt. Timpanogos just behind. Just a bit shorter than Mahogany Mountain to the north is a 300+ prominence summit on the same mountain mass I call Mahogany North. With a basic trail and decent views it's worth an exploration.  
Getting There
Take the Alpine Loop Road in American Fork Canyon or from the Sundance area to the Timpanooneke Campground. Drive all the way through the camp until the road turns to gravel and you hit a gate. This gate is closed in early summer until all the snow is melted on the road behind. Follow the road as it works its way around the north peak of Timpanogos. The road gets rough with rocks so it is slow going. High clearance is wise but 4WD isn't that necessary except there were a few big mud puddles. Most vehicles were large trucks but it was hunting season. Just as Utah County comes into view, teh Mahogany Peaks come in view. Just after a large parking area and then a downhill section, an obvious road turns right (uphill) toward the mountain. Follow this a few minutes to the trailhead (a blocked ATV trail going steeply uphill).
Route
Jump the fence and walk the ATV road down a bit, then up the big hill visible from the start. Once on top of this first hill, the remaining route is visible (as drawn on the picture below). The trail will continue down 130 vertical feet to a saddle then continue up the other side to the north ridgeline/saddle of North Mahogany. The trail is a bit brushy and a few hunter trails branch off at times. Overall, the going is easy through grass and aspen trees. Once on the ridgeline and you can see down into the valley, the trail disappears in the grass. Cut left climbing 40 feet with no trail. Now on a more defined ridgeline, you'll quickly find the trail again leading up the ridge to the summit.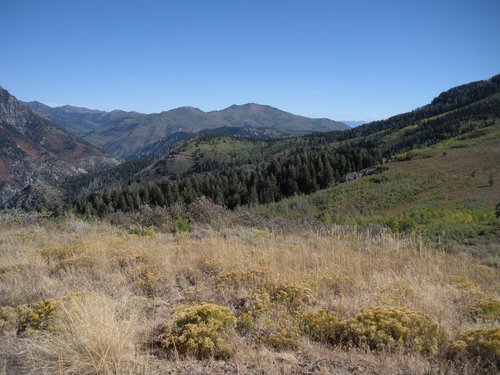 Views
External Links
http://www.willhiteweb.com/american_fork_canyon/mahogany_peak/north_396.htm