Introduction
This is one of two usual ascent routes on Mangart from the west, from the high Mangart Saddle and its hut. In comparison with the Normal route, the Slovenian route is a bit harder, and also more attractive. It cuts obliquely the west wall, using a steep ravine. The most used combination from Mangart saddle is the ascent by Slovenian route and the descent by Normal route.
General Information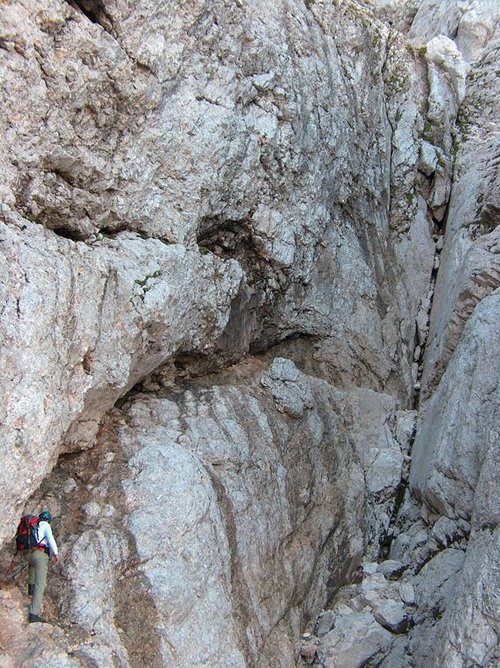 Difficulty:
It's a medium hard hiking tour, actually most of it is a ferrata. On the Swiss Hiking Scale its difficulty is graded T4.
Orientation:
It's easy, from the very behinning to the top we can follow the usual Slovenian (Knafeljc) red-white marks. Maps to be recommended: Tabacco No. 19. 1:25000. Planinska zveza Slovenije: Mangart - Jalovec. 1:25000.
Slopes Orientation:
The route goes all the time over the western slopes. They are nice, shady in the morning.
Exposition:
Some places are very exposed and so not appropriate for people suffering from vertigo.
Objective dangers:
The usual care is needed regarding falling rocks. This is even bigger due to route popularity.
Best season:
Summer months, normally from July till October (or first snow). Have in mind the conditions on the return route (Normal) - snow on its big ledge can be very dangerous!
Gear:
Good shoes and poles are sufficient. For less experienced the ferrata equipment might be useful.
Tour start:
The end of the road on Mangart Saddle, or the Mountain hut, 1908 m. See the parent page how to drive up there!
Highest point:
2679 m.
Altitude to overcome:
cca 775 m.
Time for ascent:
2 h.
Route Description
First you ascend over the grassy slopes on the saddle and then further to the rocks of Rateški Mali Mangart (2259 m). There you continue right over a few rocks to the saddle east of this peak. Now all the broad north horizons open and deep below we can see the blue eyes of Mangart Lakes. Mangart north wall is completely vertical here and the Via Italiana, which climbs over it, and then joins us from the left, looks really neck-breaking.
But our route leads us gently up to the crossroads, where to the left Normal Route goes and to the right Slovenian Route. Over a scree field we reach the foothills of Mangart west walls where a distinct mountain ravine starts. From the very beginning steel ropes and pegs help us and so it is all the way up. The ravine leads us steeply up to the right to a small notch in a SW ridge. There the route turns left, climbs over rocks and higher we get the more it becomes obvious that we are reaching one of the most prominent panoramic peaks of Julian Alps. Soon above the notch there is a wet corner, where early in summer we climb through a small waterfall, but above the route gets easier.