Overview
MAYA MOUNTAINS – Range of hills mostly in southern Belize, extending about 70 miles (115 km) northeastward from across the Guatemalan border into central Belize. The range falls abruptly to the coastal plain to the east and north but more gradually to the west, becoming the Vaca Plateau, which extends into eastern Guatemala. Both the range and the plateau are extensively dissected and of uniform elevation throughout, the highest point being reached for 2 mountains Doyle's Delight 1170 mts and Victoria Peak 1160 in the transverse Cockscomb Range, which extends seaward perpendicularly from the main divide.
The mountains take their name from the Maya people, who retreated into the mountains before the Spaniards, leaving great centres, such as Lubaantun on the mountains' southeastern periphery, deserted behind them.
Maya Mountains contains lot of interesting places such as: natural parks, natural reserves, sanctuaries with: Ancient city-building Mayans, lots of caves, creeks, rivers, rain forest, wild animals. All mentioned before are almost unexplored. Even the highest point Doyle's Delight, was nameless until 1989.
Scientist refers to those areas as "Green Paradise". Cause de diversity of flora and fauna, is rich in wildlife, including jaguar, deer, tapir, monkey, and kinkajou. Numerous species of birds inhabit the forests. Reptiles and amphibians include iguanas, crocodiles, and green tree frogs. . It's been the focus of several recent expeditions, each of which has revealed new species never before recorded in Belize, and some new to science.
Natural parks and reserves
Blue Hole National Park (665 acres)
Chiquibul National Park (265,262 acres)
Caracol
Cockscomb Wildlife Sanctuary and Jaguar Reserve (96,000 acres)
Five Blues Lake National Park (4,060 acres)
Mountain Pine Ridge Forest Reserve
Colombia Forest Reserve, over half of the total area of Maya Mountains.
Doyle's Delight
Doyle's Delight, the country's tallest peak. Nameless until 1980s and not known to the general public because of charismatic. The mountain is still hidden in the very heart of Maya Mountains right on the border of Toledo and Cayo districts.
Doyle's Delight summit is a vast area nearly 300m long and a good 100m wide. The vegetation and the soil changes daily dramatically compare with the ridge top.
Green, dripping, dark tapestry where rivers disappear underground, howler monkeys roar from the treetops, thousand-year-old Mayan temples await discovery — and ticks, chiggers and flesh-boring flies buzz and bite.
Check:
Doyle's Delight
Few expeditions went there reaching the summit and using helicopters as assistance to return. Just 2 expeditions are well-known until now (may '09). Check trip report from one of them.
Doyle's Delight Expedition June '08
Victoria Peak
Victoria Peak is the highest mountain in the range at a height of 3,675 feet and the second highest elevation in Belize. 13ft lower that Doyle's Delight, Victoria Peak is situated in the Cockscomb Basin Wildlife Sanctuary.
On May 2, 1998, Victoria Peak was declared to be a natural monument. Prior to this declaration, Victoria Peak was part of the Cockscomb Basin Wildlife Sanctuary. At the Launching of the 30th Anniversary Celebration on February 6, 1999, an agreement between the Belize Audubon Society and the Government of Belize was signed, adding Victoria Peak and Blue Hole Natural Monuments to the list of protected areas managed by the Belize Audubon Society.
Victoria Peak
Rising abruptly from the lowlands, the jagged Cockscomb Mountains are an impressive mass of rock that is visible from the coast in clear days. The Victoria Peak Trail is open during Belize's dry season, February 1 - May 31. Recommended to do it in 3-4 days hiking. 5 days if you're not in good conditions. All hikers must be accompanied by a licensed tour guide (experienced guides can be hired from the local communities buffering Cockscomb). Check trip report from one of them.
Victoria Peak Expedition April '09
Mount Margareth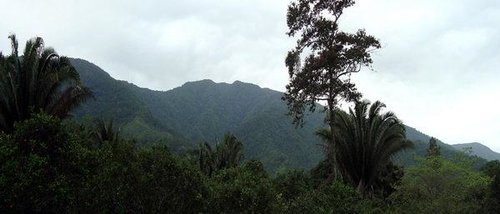 Mount Margareth is almost unexplored mountain, in middle of the rain forest. Located in the North-East shores of the Mayan Mountains, in Cayo District. Is completely covered with vegetation (quasi-mist forests). This range is not terribly high, but it is comprised of extremely challenging terrain due in part to the constant weathering of its volcanic spine and limestone
Mount Margaret
Getting There
There are many ways to get in the Mayan Mountains. In the circle of principal belicians highways
South from the highway who connects Melchor de Mencos (Guatemalan border) with Belmopan
West from Hummingbird Highway, connecting Belmopan with Dangriga/Stan Creek
North from Southern Highway, connecting Dangriga/Stan Creek with Punta Gorda.
Camping
All the parks, sanctuaries and reserves areas have camping areas. But out of there, maybe would be impossible to use tents, normal in jungle is to use hammocks.
Red Tape
Maya Mountains area is a protected valuable natural resource. Depends of location is necesaty to get permits, licenced guides, taxes.
Check with the local autorities or turist centers.