, seguire una linea di successione temporale-cronologica per evidenziare il discorso effettuato in
. Nella didascalia della foto sottostante troverete invece un'esposizione topografica-orografica partendo dalla sinistra (Colle di Annibale e Cresta Ovest) per raggiungere il margine destro (Sella e Colle di Faceballa e Cresta S-SW). Nel passaggio dall'una all'altra vengono tratteggiati con buon margine di precisione gli otto itinerari esistenti sul versante con un'unica precisazione: la via
corrisponde nella parte inferiore a quella del 1901, mentre la superiore indica l'attuale via di Sci-Alpinismo, passando subito sulla destra della via sulla Parete Sud della Quota
effettivamente percorsa dalla cordata delle Guide svizzere Balley padre e figlio con Guido Cibrario e Franco Viale.
1)- (September 03th, 1872): from the South margin of the Glacier du M. Velan climb the West Gully of the cliff between the Units 3708, 3672 meters: from the base at an altitude of 3323 meters, with just path
"tilted"
right to exit, after
about 380 metres
to Slotted between the two, at the western edge of the Summit Ice Cap (
F+/PD-; 1h'30
by the base;
3h'30/4h'00
from the entrance on glacier;
5h'00/6h'00
bivouac; climb dangerous and exposed to falling rocks from the overlying rocky ridge; signed
b15
).
2)- (September 04th, 1901):
from the bivouac (in those days Montagne de Molline) leave on the right (East) the previous path towards the Saddle Faceballa; instead continue North on detrital valley floor aiming at the penultimate rocky channel (the last meeting ahead of the Aiguille du Déujener on West Ridge). After reaching the base at an altitude of
2804 metres
, climbing the same, often with the snowy route, quite easily until you reach the Glacier Mont Velan at an altitude of
3270/80 metres
in its Northern margin. This with
almost 500 metres
of altitude difference is already
"an ascension in the ascension"
and, crossing the glacier towards the Northeast, leading to a rocky spur that descends to the South-southwest from the Quota
3678 metres
. The slope of that is from the right with a diagonal to the left until almost reaching the West Ridge to finally bend to the right, reaching the Summit (
F+/PD-; 2h'00/2h'30
from base up to the Glacier du Mont Velan;
PD-/PD+; 1h'30/2h'00
by the entrance on glacier;
5h'30/6h'30
bivouac; the ascent is not easy in the final on rocky rib; signed
b14
in the low part, while in that upper corresponds at the current Ski-Mountaineering Itinerary that bypasses right or East). The original path, probably no more repeated, constitutes a
"fall-back"
, as the first climbers leaned to the left along the rocky rib from trends rather regular. In Bull. C.A.I. XL, 1909, p. 114 and notes Agosino Ferrari and Guido Cibrario in RM 1901, p. 385). In fact the same claim to have left alongside a icy slide very steep:
"The road became very bad, having had to travel for a while the edge of the ridge, with a steep slip side ...".
That being on the left (West) are only rocky parts, it means that it is clear of the slope where he currently spends Via Ski-Mountaineering. This means that at that time the ice conditions were very different with more snow and its steepness. This also explains why the vast sector of the face between this via and the rocky downhill of 1872 has never been faced up to October 1970 (descent Buscaini-Metzeltin to power back in the Valleys of Molline/Menouve after covering a part of the Crest S-SW coming through the large Southern Couloir above the side of By Basin).
3)- (July 15th, 1902):
It follows the wall
"more open"
just to the right of the previous route
1)-
, but it is equally exposed to falling rocks especially in parts of the medium-low. The attack is similar to the previous route, while the climb is via routes between rocks very small parallel ridges alternating with narrow rocky gullies. Gradually moving away from the preceding couloir is reached Quota
3672 metres
almost at the end of the South Ridge from Faceballa Saddle or by the Col (
F/F+; 1h'30
from the base;
3h'30/4h'00
from V'lan's Glacier
5h'00/6h'00
by bivouac; also this climb dangerous and exposed to falling rocks for identical reasons; signed in the picture as
b15bis
).
"The Ways Most Recent"

4)- (October 31th, 1970):
directly to the glacial Slope Southwest. Having been carried out for the first time down this way we describe it in this way: from the Summit Ice Cap in Northwest to the edge of it until you reach the wide saddle between the Altitudes
3678 and 3708 metres
in the Northwest and South. From this, avoiding the frame summit, descend to
100 metres around
the very steep glacial slope (55/60°) and passing to the South of a plate and reddish boulder in a narrow and short groove, reaching the Glacier du Mont Velan (
AD/PD+; 0h'45/1h'00
in descent up to the glacier. It is certainly the most direct route to take to the Val Molline and Menouve Vallon, although it requires a focus on the end frame; uphill
4h'30/5h'00
by bivouac, time varies greatly depending on the ice and the frame terminal; in the photo signed in red as
1970
).
5)- (September 06th, 1973):
in practice it is a variant even more direct but more dangerous than the previous route. Effected uphill and in day departing from Prailles above Etroubles follow the other routes up to the glacier. Then goes up directly passing on left (North) of a reddish rock, and ends left increasingly from the previous route with excess (55°/65°/70° and then also 80 degrees), and
"cut"
directed trim overhang also high
5/6 metres
(step very delicate, not done at the time with the
"piolet-traction"
). Probably not always possible and to be avoided with the snow does not last (
PD+/AD-
for the first two pitches;
MD+
for the last;
4h'30/5h'30
from bivouac;
6h'00/6h'30
Prailles;
4h'30
in the first by Prailles; in the photo above signed as
1973
in red). This route is probably somewhat changed in the last forty years; Indeed, an analysis from below, no longer notice the large frame summit that will become less effective shrinking to a small hem. This confirms the considerations made on lime Via 1901. To that end goes noticed how the glacial slope, already much changed between 1901 and 1970 (down Buscaini spouses), has undergone considerable change with the gradual withdrawal of the ice sheet; so in the next route described here is very likely to meet emerging rocks and covered with
"verglass phenomena"
, where there was a uniform snowy slope.
6)-(July 27th, 1997):
Climbs the Northwest Face of Quota
3708 metres
with a rise in the ground
"mixed"
not very long but delicate. As in the previous two routes up to where the glacier increases in steepness and under the rocky islet of reddish color; at this point turn right (South) reaching the base of a tiny rocky slope at the base of the Face (danger of falling rocks and ice). Discarding on the right the large triangle rocky, climb instead on the same small rocky appendix reaching the glacial slope above, which exceeds from right to left reaching the Summit of the Quota and then the Ice Cap (
AD/AD+; 2h'00/2h'30
from base for the final
240/50 metres
;
5h'00/5h'30
bivouac).
7)-(July 27th, 1997):
further variant of the streets in 1872 and 1902, has been used with a descent even further south than the same, where the face turns a wall of rocks very Southwest routes over the final part of the Western branch of South-southwest Crest from the Hill and Saddle Faceballa.From Quota
3672m
down to short, reaching a shoulder at following Quota
3630m
; from this, abandoning the S-SW Crest, get off to the right (North) on the edge of a small triangular rocky wall. Passing three small rocky consecutive
"bottlenecks"
, go down progressively to the right reaching the rocky cliff just South of Via 1902. Through this, a
hundred metres
high and perhaps seemingly repaired (the landslide in September 1973 came right over from the previous via, because the stones go always down in their uncontrolled rebounds for the shortest way and do not respect the diagonals drawn on a sketch), descend to the stony ground below and the outer fringe Southern of the Glacier du Mont Velan. This section does not give in to the call channel, but keep on the rocks of small ridges, a little more difficult (II°-) but certainly safer. It has similar characteristics of the two previous resulting equally and perhaps even more dangerous (terrible landslide in September 1973;
F+; 1h'00/1h'15
down, in ascent probably
2h'00
; not recommended at all; signed in orange as
1997
)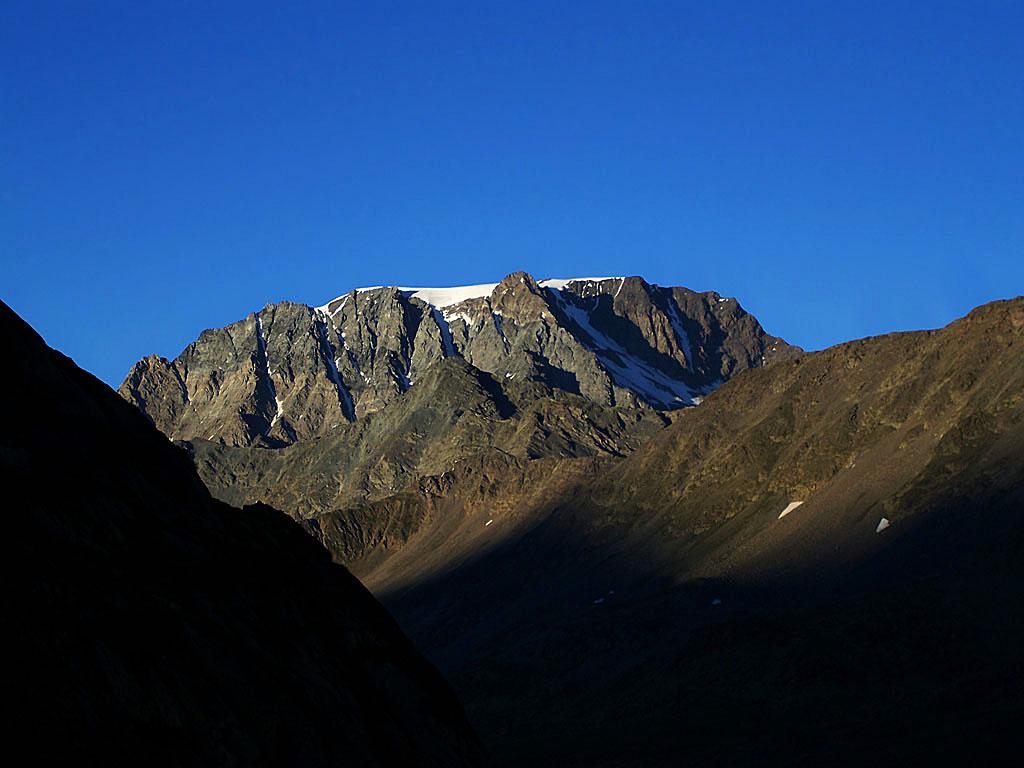 So the Face is more rocky,

by Gabriele Roth aka Gabriele
"Le Vecchie Vie"
1)- (3 Settembre 1872): dal margine Meridionale del ghiacciaio si sale il Canalone Ovest della parete compresa tra le Quote
3708, 3672 metri
: partendo dalla base a quota
3323 metri
, con percorso appena
"inclinato"
a destra si esce, dopo
circa 380 metri
all'intaglio tra le due, presso il margine Occidentale della Calotta (
F+/PD-; 1h'30
dalla base;
3h'30/4h'00
dall'ingresso nel ghiacciaio;
5h'00/6h'00
dal bivacco; ascensione pericolosa ed esposta alla caduta di pietre dal soprastante costolone roccioso; siglata
b15
).
2)- (4 Settembre 1901):
dal bivacco (a quei tempi Montagne de Molline) lasciare sulla destra (Est) la via per la Sella ed il Colle di Faceballa; invece proseguire a Settentrione sul detritico fondo del vallone mirando al penultimo dei canali rocciosi a Nord dello sperone roccioso che si affonda più in basso (l'ultimo sale a monte dell'Aig. du Déujener sulla Cresta Ovest). Raggiunta la base a quota
2804 metri
, salire il medesimo canalone, spesso con il fondo innevato, abbastanza facilmente fino a raggiungere il Ghiacciaio del Mont Velan a quota
3270/80 metri circa
nel suo margine Settentrionale. Questa con quasi
500 metri
di dislivello risulta già
"un'ascensione nell'ascensione"
e, attraversando verso Nordest il ghiacciaio, conduce ad una costola rocciosa che scende verso Sud-sudovest dalla Quota
3678 metri
. La salita della medesima avviene dalla destra con un diagonale verso sinistra sin a quasi raggiungere la Cresta Ovest per infine piegare a destra raggiungendo la Cima (
F+/PD-; 2h'00/2h'30
dalla base al ghiacciaio;
PD-/PD+; 1h'30/2h'00
dall'ingresso nel ghiacciaio;
5h'30/6h'30
dal bivacco; ascensione non semplice nel finale sulla costola rocciosa; siglata
b14
nella parte inferiore mentre in quella alta la stessa corrisponde alla Via Sci-Alpinistica, aggirata la costola a destra od Est). La via originale, probabilmente non più ripetuta, costituisce un
"ripiego"
, poiché i primi salitori s'appoggiarono sulla sinistra percorrendo la costola rocciosa dall'andamento piuttosto regolare. In Boll. C.A.I. XL, 1909, pag. 114 e note di Agosino Ferrari e Guido Cibrario in RM 1901, pag. 385). Infatti gli stessi affermano d'avere lasciato a fianco uno scivolo molto ripido ghiacciato: "la strada si fece assai cattiva, avendo dovuto percorrere per un tratto il filo di cresta, con un ripido sdrucciolo di fianco ...". Essendo che sulla sinistra (Ovest) esistono soltanto parti rocciose, giocoforza significa che trattasi del pendio ove attualmente passa la Via di Sci-Alpinismo; questo a significare che a quel tempo le condizioni glaciali fossero molto diverse con maggiore innevamento e relativa ripidezza. Ciò spiega anche perché il vasto settore di parete tra questa via e quella rocciosa in discesa del 1872 non sia mai stato affrontato fino ad Ottobre 1970 (discesa Buscaini-Metzeltin per poter rientrare nel Valloni di Molline e Menouve dopo aver percorso una parte della Cresta S-SO uscendo tramite il gran Canalone Meridionale sopra il Bacino di By).
3)- (15 Luglio 1902):
segue la parete
"più aperta"
subito alla destra dell'itinerario
1)-
, ma é altrettanto esposta alla caduta di pietre soprattutto nelle parti medio-basse. L'attacco é similare alla precedente via
1)-
, mentre la salita avviene tramite rocce alquanto rotte tra crestine parallele alternate a canalini rocciosi. Allontanandosi progressivamente dal precedente canalone si raggiunge la Quota
3672 metri
praticamente al termine della Cresta Sud dalla Sella di Faceballa (
F/F+; 1h'30
dalla base;
3h'30/4h'00
dal ghiacciaio;
5h'00/6h'00
dal bivacco; anche questa ascensione pericolosa ed esposta alla caduta di pietre per identici motivi; siglata nella foto come
b15bis
).
"Le Vie più Recenti"

4)- (31 ottobre 1970):
direttamente per il pendio glaciale Sudovest. Essendo stata effettuata per la prima volta in discesa questa via la descriviamo in tale senso: dalla Calotta dirigersi a Nordovest fino al margine della medesima fino a raggiungere la larga sella posta tra le Quote
3678 metri
a Nordovest e
3708 metri
a Sud. Da questa, evitando la cornice sommitale, scendere per
100 metri circa
il pendio molto ripido (55/60°) e, passando a Sud di un masso roccioso piatto e rossiccio in una strettoia-canalino, raggiungere il Glacier du Mont Velan (
AD/PD+; 0h'45/1h'00
in discesa; costituisce sicuramente la via più diretta per scendere in Val Molline e Menouve, anche se richiede una particolare attenzione sulla cornice terminale; in salita
calcolare 4h'30/5h'00
dal Bivacco di Molline, tempo molto variabile a seconda delle condizioni glaciali e della cornice terminale).
5)- (06 Settembre 1973):
in pratica è una variante ancora più diretta ma più pericolosa della via precedente. Effettuata in salita ed in giornata con partenza dal Villaggetto di Prailles sopra Etroubles segue le altre vie fino al ghiacciaio; quindi sale direttamente passando sulla sinistra (Nord) del masso rossiccio (pericolo di caduta pietre) e conclude sempre più a sinistra rispetto alla precedente via con superamento (55°/65°/70° e poi anche 80°) e
"taglio"
diretto della cornice strapiombante ed alta anche
5/6 metri
(passaggio molto delicato, effettuato all'epoca senza
"piolet-traction"
e con ramponi da misto). Probabilmente non sempre possibile e da evitare assolutamente con neve non dura (
PD+/AD-
per i primi due tiri di corda;
MD+
per l'ultimo;
4h'30/5h'30
dal Bivacco di Molline;
6h'00/6h'30
da Prailles;
4h'30
nella prima salita in giornata da Prailles).
Questa via probabilmente é alquanto mutata in questi ultimi quaranta anni; infatti, da un'analisi dabbasso, non si nota più la grande cornice sommitale che s'é notevolmente ridotta riducendosi a modesta orlatura. Questo a conferma delle considerazioni effettuate a calce sulla Via del 1901. All'uopo và notato come il versante glaciale, già molto cambiato tra il 1901 ed il 1970 (discesa dei coniugi Buscaini), abbia subito notevoli trasformazioni col ritiro progressivo della coltre glaciale; così nella successiva via sulla Parete Nordovest della Quota
3708 metri
, sotto descritta, é molto probabile incontrare rocce emergenti nonché ricoperte da
"verglass
, laddove esisteva uniforme pendio innevato.
6)-(27 Luglio 1997):
affronta la Parete Nordovest della Quota
3708 metri
con una salita in terreno
"misto"
non molto lunga ma delicata. Come nelle due vie precedenti fino a dove il ghiacciaio aumenta in ripidezza e sotto lo isolotto roccioso di colore rossiccio; a questo punto voltare a destra (Sud) raggiungendo la base di una minuscola appendice rocciosa alla base della Faccia (pericolo di caduta di pietre e ghiaccio). Scartando sulla destra il grande triangolo roccioso, salire invece sulla stessa raggiungendo il pendio glaciale soprastante, che si supera da destra a sinistra raggiungendo la Sommità e la Calotta (
AD/AD+; 2h'00/2h'30
dalla base per i
240/50 metri
finali;
5h'00/5h'30
dal bivacco).
7)-(27 Luglio 1997):
ulteriore variante delle vie del 1872 e 1902, é stata utilizzata con discesa ancora più a Sud rispetto alle medesime, laddove la faccia rivolge una Parete Sudovest di rocce molto rotte sopra la parte finale del ramo più Occidentale della Cresta Sud-sudovest dal Colle e Sella di Faceballa. Dalla Quota
3672 m
scendere per breve raggiungendo una spalla presso la Quota
3630 m
; da questa, abbandonando la Cresta S-SO, scendere a destra (Nord) sul filo d'una piccola parete triangolare. Oltrepassando tre piccole
"strozzature"
consecutive, dirigersi progressivamente sempre verso destra raggiungendo il salto roccioso subito a Sud della Via 1902. Tramite questo, alto
un centinaio di metri
e forse apparentemente più riparato (la frana nel 1973 arrivò proprio sopra questo dalla precedente via, poiché le pietre scendono sempre ed incontrollate nei loro rimbalzi per la via più breve e non rispettano le diagonali tracciate sulla carta), scendere alla sottostante pietraia ed ai margini estremi Meridionali del Glacier du Mont Velan. In questo tratto non cedere all'invito dei canali, bensì tenersi sulle rocce delle piccole creste, un poco più difficili (II°-) ma certamente più sicure. Presenta analoghe caratteristiche delle due precedenti, risultando altrettanto e forse ancor più pericolosa (terribile frana nel Settembre 1973;
F+; 1h'00/1h'15
in discesa; segnata in arancione come
1997
)
So instead it is more "mixed",

by Gangolf Haub
8)- Ski-mountaineering Via from Etroubles through Menouve/Molline Vallons and Glacier du Mont Velan
From Etroubles Municipality through Menouve Vallon and Molline Bivouac
(2415m)
: Aosta to go back to the North with the National Road n° 27 of the Gran San Bernardo, after Gignod Commune
(994m)
, reach that of Etroubles
(1280m)
to the West out of the same, and after two bends in a Cross, take a detour to the Northeast leading to Prailles Dessous small Village (the Holy Farm
"La Grandze in Tsi Inconnu"
) where, immediately after in the locality Quaye, is placed in the sign ban on driving and where it is obligatory to the parking lot. From the parking Quaye
(1650 metres about)
continue through the farms private dirt road, addressing himself to the North, enters and travels along the Menouve Vallon or Menovy passing to the West and high above the Torrent with the same name. Leaving the upper left corner of the Alpages Combe German and Plan Bois
(1893m)
the same reaches the next Alp Menovy
(1913m)
to the West at the next crossroads abandon the branch that leads to Trecaudette Pastures
(2133m)
and continue instead with the lower one to the great Alpage of L'Arvus
(1983m)
, where the dirt road ends. From this climb with a small path
not numbered
that goes above the grassy headland coming to a small basin where there are the ruins of an old alp, just below that of Molline Vieille (Old Molline;
2295m
) with a path parallel and in West of the Molline Torrent into the homonymous vallon continue with the path
n° 21
reaching the Molline new Bivouac (
2415m
; opened since 2005;
E; 1h'45/2h'00
by signal no transit), nearby the Mountain Molline. The trail ends here even numbered but continues with smaller and closer and closer to the torrent and then crossing through the path between small vallons and grassy humps reach a crossroads at
2519 metres
. Just before this point, and not long after camp begins the route to the West Slope of the Sella Faceballa (attention in the summer because the slope is steep and overgrown by grass
"Ollina"
), which brings us back to the basic routes of the Southwest Face and its small variations via the above steep South-southwest Ridge, dividing between Low Menouve and Upper Molline Vallon West and the Alp Faceballa to East in the most Western sector of the "Conca" or Basin of By (above Doues and Ollomont Municipalities)(
OSA ie Good Skiers and Mountaineers; 0h'20
from Molline Bivouac;
2h'10/2h'30 in total
).
By Etroubles Commune through Menouve/Molline Vallon towards Mont Velan hanging Glacier & from Great St. Bernard Hill,

by Antonio, sergioenrico with traced by Maria Grazia Schiapparelli
8)-Via Sci-Alpinistica da Etroubles tramite i Valloni di Menouve/Molline ed il Glacier du Mont Velan
Dal Comune di Etroubles tramite i Valloni di Menouve/Molline ed il Bivacco Molline
(2415 m)
: dalla Città d'Aosta risalire verso Nord con la Strada Nazionale del Gran San Bernardo n° 27 e, dopo il Comune di Gignod
(994 m)
, raggiungere quello d'Etroubles
(1280 m)
. Uscendo verso Ovest dallo stesso, dopo due tornanti e presso una Croce, prendere a Nordest una deviazione che conduce a Prailles Dessous (Agriturismo
"La Grandze in Tsi Inconnu"
) dove, subito dopo in località Quaye, è posizionato in cartello di divieto di transito con obbligatorietà d'effettuare il parcheggio. Dallo stesso
(1650 metri circa)
continuare tramite la poderale che, indirizzandosi a Nord, entra e percorre il lungo Vallone di Menouve oppure Menovy passando alta ed ad Ovest sopra l'omonimo Torrent. Lasciando in alto a sinistra le Alpi di Combe German e Plan Bois
(1893 m)
la stessa raggiunge il successivo Alpeggio di Menovy
(1913 m)
; al bivio successivo abbandonare ad Ovest il ramo che conduce all'Alpe Trecaudette
(2133 m)
e procedere invece con quello più in basso verso la grande Alpe dell'Arvus
(1983 m)
, dove la poderale termina. Da questa salire con un sentierino
non numerato
risalente al soprastante promontorio erboso arrivando ad una piccola conca dove si riscontrano i ruderi d'un alpe antica, appena sottostante quella di Molline Vieille
(2295 m)
. Con percorso in parallelo ad Ovest del Torrent de Molline continuare nell'omonimo Vallone con il sentiero
n° 21
raggiungendo il nuovo Bivacco di Molline (
2415 m
; aperto dall'estate del 2005;
E; 1h'45/2h'00
dal cartello di divieto), presso la Montagna di Molline. Qui termina anche il sentiero numerato proseguendo però con dimensioni più ridotte, quasi una traccia, e, avvicinandosi sempre di più al torrente ed in seguito attraversandolo, tramite il percorso tra valloncelli e gobbe erbose raggiunge un bivio a
2519 metri
. Appena prima di questo punto e non molto tempo dopo il bivacco inizia l'itinerario verso il Versante Ovest della Sella di Faceballa (attenzione in estate perché il pendio é ripido e coperto da erba
Ollina"
), che ci riconduce agli itinerari di base della Parete Sudovest e relative piccole varianti tramite la soprastante Cresta S-SO, divisoria tra il "Basso" Vallone di Menouve e quello Superiore di Molline ad Ovest e quello dell'Alpe di Faceballa ad Oriente nel settore più Occidentale della "Conca" di By (
OSA ovvero Ottimi Sciatori Alpinisti; 0h'20
dal bivacco;
2h'10/2h'30
).
So is their winter,

by sarme
Difficulties & Equipment
DIFFICULTIES
From
PD/PD+
with short stretches to
AD-
for all the routes described above.
Da
PD/PD+
con brevi tratti di
AD-
per tutte le vie descritte.
SW Face, between two ridges, by Maria Grazia Schiapparelli
EQUIPMENT
For High Mountaineering, with rope, axe and crampons.
Da Alto Alpinismo, con corda, piccozza e ramponi.