Overview
Mount Blackburn is the highest peak in Alaska's Wrangell Mountains and the most dramatic massif in the range. It is the 5th highest peak in the United States - 12th in North America.
Mount Blackburn has two summits. The West Peak is the mountain's highpoint, a fact that was not known until the 1960s when new survey work and more accurate USGS maps were released. The first ascent of the West Peak was made by Bruce Gilbert, Dick Wahlstrom, Hans Gmoser, Adolf Bitterlich, and Leon Blumer via the Northwest Ridge on May 30th, 1958. This intrepid team of climbers made the first ascent of Blackburn, yet did not know it at the time. In fact, Leon Blumer's submission to the 1959 American Alpine Journal is titled "Mount Blackburn - Second Ascent."
East Blackburn, also known as Kennedy Peak, was first climbed in 1912 by Dora Keen and George Handy via Kennicott Glacier and the East Face. This inspiring expedition was truly ahead of its time. It is said that Dora Keen solicited miners from the nearby Kennicot Copper Mine and forged a route up the broken East Face, crossing deep crevasses and rifts in the ice. Summiting the East Peak with few supplies, the team did not traverse over to the West Peak. Dora later wrote a famous article for the Saturday Evening Post titled, "First up Mount Blackburn." Of course, she was only the first to ascend the East Peak. With increasing global temperatures, the Kennicott Glacier/East Face route is no longer practical.
Gerry Roach made the second ascent of East Blackburn in 1977 by way of the Southeast Ridge. His team then traversed to the West Peak and descended the Northwest Ridge to complete the first traverse of the massif. Until then the elusive East Peak had gone nearly 70 years without a human footprint.
Mount Blackburn is the third highest peak in Wrangell-Saint Elias National Park. It can be seen along the unpaved road to McCarthy on any clear day.
Recorded Ascents


Route
Group
Year
Publication
East Face/East Peak
Dora Keen & Party
1912
Appalachia 1912, 1915
NW Ridge
American/Austrian/German/Australian
1958
AAJ 1959
NW Ridge
4 Japanese
1964
AAJ 1965
NW Ridge
10 Japanese
1972
AAJ 1973
SE Ridge
5 Alaskan
1974
AAJ 1975
NW Ridge
2 Japanese
1975
AAJ 1976
NW Ridge
7 Japanese
1976
1977
SE Ridge
5 Americans
1977
AAJ 1978
NW Ridge
10 Japanese
1977
AAJ 1979
South Side
3 Americans
1978
AAJ 1979
E Ridge
4 American
1982
1983
NW Ridge
6 American
1987
1988
South Rib
4 Americans
1993
AAJ and CAJ 1994
N Ridge from W, 1st Arm
3 Alaskans
1999
AAJ 2001
39 people up the NW ("Japanese") ridge, about 23 (including us) via other routes, plus Ropeless Ruedi according to a magazine (1996) up the north face, and who knows how many other ascents which have gone un-reported or are reported elsewhere. Thanks to Dr. Peter Greene of the University of California at Davis.
Permits
No permits required. Climbers are advised to check in at the park ranger station in case of emergency. Firearms are allowed for defense as grizzlies are common within the park.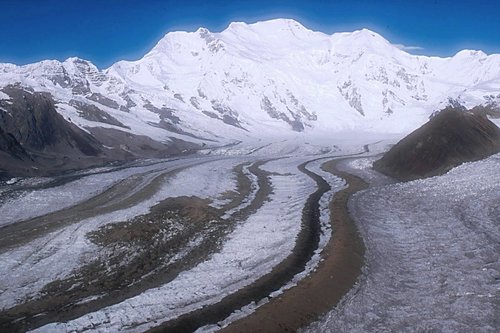 Getting There
By Car
From Anchorage, Drive east along the Glennallen Hwy (AK-1)To the town of Glennallen. Drive south along the Richerson Hwy. Turn left toward Chitina on AK-10. Turn off onto an unpaved road heading into the heart of Wrangell-Saint Elias National Park.
By Air
Ellis Air has scheduled flights on Wednesdays and Fridays. Call (907) 822-3368 or 800-478-3368 for prices and flight times. Wrangell Mountain Air, (800) 478-1160, offers twice daily service (Mid-May to Mid-September) from Chitina to McCarthy with advance reservations.
Chartered bush planes can access the Nabesna or Kennicott Glaciers from Chitina, McCarthy or the Copper River Basin's Gulkana Airport. I personally recommend
St. Elias Alpine Guides
.
Potential Routes
All routes are Alaska Grade II+
The following information provided by the National Park Service:
1. North Ridge - Access the 7,200' level of the Nabesna Glacier via local air taxi service. Climb to pass at 9,880' level and ascend North Ridge to summit. Deep snow is common at 9,800' level and hard packed conditions exist above 11,500' level. Severe weather, avalanches, crevasses, and serac fall are dangers. This is currently the most used route, and has an elevation gain of approximately 9,190'. Takes about 17 days round trip plus unexpected delays.
2. East Ridge via Rime Peak - Access the 7,200' level of the Nabesna Glacier via local air taxi service. Ascend the north face of Rime Peak (12,741') and descend onto the East Ridge of Mt. Blackburn. Traverse and ascend the East Ridge to the summit. NOTE: The East Ridge between Rime Peak and Blackburn is a knife-edged, cornice ridge which demands prime conditions and a high level of concentration. Very few ascents have been made via this route. Severe weather, avalanches, crevasses unstable cornices, and serac fall are dangers. Elevation gain is 9,190'.
3. Southeast Ridge - Access from Nugget Creek or Kennicott via surface or air travel. Ascend the Kuskulana or Kennicott Glacier to the 9,000' level of the Southeast Ridge. Ascend ridge to the summit. NOTE: First summit is false summit. The first ascent of Mt. Blackburn was done by Dora Keen in 1912. She made her ascent via a direct route on the Kennicott Glacier. Elevation gain via these routes is approximately 13,690'.
4. South and Southwest Ridges - Attempts have been made via the southwesterly ridges and glaciers, but none to date have been recorded as successful as far as we know. Severe weather, crevasses, avalanches, difficult snow and rock conditions, and impossible route situations have been problems for parties attempting these areas.
Maps
USGS Quadrangle - McCarthy (C-7)
Weather
The mountain's proximity to the Gulf of Alaska gives it some of the worst weather in North America. Due to frequent storms, seasonal inaccessability and the general remoteness of this peak, less than 50 summit attempts have been made in the last 30 years.
Reflects local weather; however does not predict accurate summit conditions:
Mc Carthy Current Conditions & Forecast
External Links
Wrangell-Saint Elias National Park
Ski Mountaineering - Mt. Blackburn
National Weather Service-Alaska
St. Elias Alpine Guides LLC