Overview
Mount Ditney is a 4460' forested peak located 11 miles northeast of Granite Falls, and 14 miles east of Arlington. While not a particularly attractive mountain when viewed from a distance, numerous meadows in the summit area offer peakaboo views in most directions, making it an attractive target for a spring snowshoe trip. Additionally, Mount Ditney offers 1680' of prominence, ranking it #23 in Snohomish County.
The hardest part of summiting Mount Ditney is undoubtedly the approach. The more aesthetically pleasing (and easier) west approach requires some form of Weyerhaeuser permit, and 18 miles of travel on gravel roads (easy if you opt for the more expensive vehicle permit). The east approach requires eight miles of non-motorized travel on FR41 (as of 2018, still closed at the Canyon Creek Bridge), the upper portion of which often does not melt out until July.
Despite the difficulties, Mount Ditney can be a better than expected scramble under the right conditions, and should be a mandatory visit for local prominence peakbaggers.
A note about the name - The following comments are credited to George Winters of the USFS: 'A young person I just had a conversation with related that her grandfather said he inadvertently named the mountain. The grandfather was a logger in a logging camp one evening when a bedraggled wanderer happened in to camp. The unknown guest asked the name of the mountain. The grandfather jokingly said "Mt Ditney" which was the camp cook's name. He later was surprised to see the name on maps.'

Getting There
West Approach: Secure a permit from Weyerhaeuser here, or take your chances without. From the gate (600') at Masonic Park (four miles east of Granite Falls on the Mountain Loop Highway), follow the mainline 1/2 mile over the Canyon Creek Bridge, then turn right on the Road 200 mainline (note that many Weyerhaeuser roads are unmarked). Follow the mainline 4.2 miles to Olo Pass (1987'). Turn left to stay on the mainline, and follow it an additional 7.8 miles to Road 600. Turn right onto Road 600, which will parallel Jim Creek between Wheeler Mountain and Mount Ditney - follow it for 2.3 miles to Road 610. Turn right on Road 610, and follow it as far as snow conditions will allow, or to its end in 2.2 miles (3500').
East Approach: Follow the Mountain Loop Highway out of Granite Falls for approximately seven miles, and turn left on FR41. Follow FR41 8.4 miles to the South Fork Canyon Creek Bridge, beyond which the road is closed to motorized traffic. (Note that local 4x4ers sometimes pull back the boulders blocking the road, allowing access for ORVs.) Assuming you are mountain bike equipped, continue on FR41 for 8.0 miles, to a poorly defined spur turning left at 2800' - this will be 0.6 miles before the Three Fingers trailhead.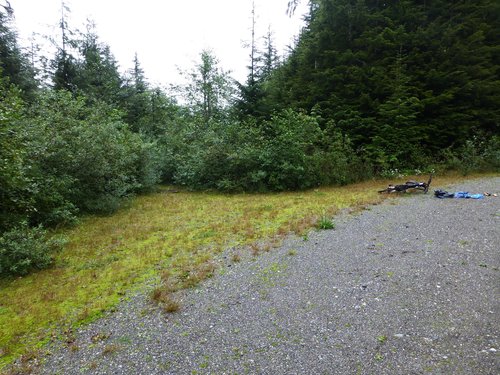 Route
West Approach: Begin uphill through open second growth from a point about 500' before the end of Road 610 (any point between the final switchback 1/4 mile from road end and the actual road end will work fine). After about 200' of steep uphill scrambling, the grade will level off, and you will cross over the wilderness boundary into a pleasant mix of meadow and old growth.
Travel about 1/2 SE, aiming for a 3860' saddle between Mount Ditney's summit and Point 4200. (It is okay to stay left of the saddle, but heading directly to Mount Ditney's summit will put you in fairly steep terrain). Now travel 1/2 mile east to the saddle between the summit and Point 4269. From here, turn left, and follow easy forested slopes to the summit.
East Approach: From Tupso Pass, head northwest toward Point 3071, passing north of a small pond/swamp at 2800'.
Continue northwest to Mount Ditney's well-defined east ridge, and follow it toward Point 4263. Steep terrain between 3200' and 3600' may require 'bush belays' and 'shrub rappels' in some spots. Use caution as you approach Point 4263, as this is the one spot on Mount Ditney where one could throw themselves off a cliff.
From Point 4263, follow easy terrain to Mount Ditney's summit, passing by Tupso Lake along the way if desired.
When looking at Mount Ditney from a distance, it appears as if it would yield little in the way of views. Upon closer inspection, however, it is revealed that there are scores of small meadows and open areas on the upper parts of the mountain (easy to view on Google Earth). By spending a little time wandering through the summit area, views in most directions can be pieced together.
Red Tape
No permits are required for the East Approach. The West Approach will require some form of Weyerhaeuser permit.

When to Climb
The West Approach could be used almost all year, depending on snow conditions (Weyerhaeuser often plows the mainline). The East Approach would probably be best June through November, due to lingering snow on the upper parts of FR41.
Camping
There are almost unlimited camping locations on the upper portions of Mount Ditney - no restrictions beyond standard wilderness policy.
External Links
Add External Links text here.