Overview
Location: Southwestern portion of the Sawtooth Range, at the head of the Queens River. At about 12 miles back, this peak is one of the furthest back in the range from a trailhead.
Nearby Peaks: Plummer Peak, Arvals Peak, Elk Peak, Scenic Peak, Nahneke Mountain, Browns Peak, East Warrior, Blizzard Mountain, Greylock Mountain
Linkups: None
Difficulty: Class 3 scrambling - mostly steep open slopes with 1 major band of rocks to ascend
Usage: Hikers, Backpackers, Horses, Fishermen on approach trails
Terrain: Broad open slopes of scree, with some solid rock bands to climb through. Higher up the scree becomes talus and the going is slower and more deliberate
Traffic: Very light
Summit Register: Yes
History / Etymology: Unknown
Getting There
Nearest Paved Roads: ID-21 (from Boise via Edna Creek this drive is about 2.5 hrs)
Nearest Dirt Roads / Conditions: China Basin/ Queens River Road (decent- usually passable without 4WD), Middle Fork of Boise River (Good), Swanholm Peak Road (Good), North Fork Boise River Road (Good), Edna Creek Road (Good)
Approach Trails / Conditions: Queens River Trail- has some seasonal downfall and overgrowth. In addition there are many stream crossings. This approach trail requires much work, but it provides great scenary.
Routes
Main Route: South Slopes (Class 3+)- Follow the Queens River Trail and near the 7430 contour leave the trail and follow the side stream east to a point below the south slopes. Ascend the south slopes directly. Near 9000 feet there is a large rock band. There are several slots to avoid vertical rock. Once above the rock band there are large talus fields. Either climb directly up steep scree slopes to the summit or ascend to the west ridge and follow that to the summit. The short west ridge offers some great views over a massive drop off.
Main Route Stats: 20.3 miles / 6068 (round trip)
Average RT Time: 7-10 hours
Route Stats: 24.2 miles / 5908 feet (round trip)
Alt Route: East Face (Class 3)- Ascend from Everly Lake (see Lopez)
Other Routes: Southeast Slopes (Class 2-3)- this route is between the East Face and the South Slopes Route (see Lopez)
Red Tape
Jurisdiction: Sawtooth National Forest
Permit: Yes- self registration at trailhead
Other Users / Issues: None- long approach drive keeps this area relatively traffic free
Maps: USGS Quad- Mt Everly
Guide Book: Tom Lopez, Idaho: A Climbing Guide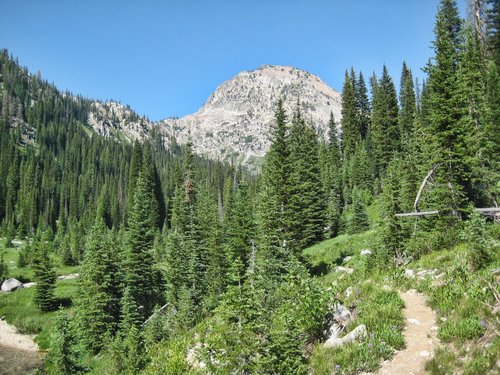 When To Climb
Climbing Season: June - Nov
Ideal Climbing Time: July-Oct
Nearest Weather Station: Atlanta, Smiley Creek
Weather Relative to Region: The trailhead is lower in elevation than much of the region and it similar to the Grandjean trailhead. Expect slightly warmer and drier conditions.
Camping
Car Camping Sites: Queens River CG, Riverside CG, Camp Gulch CG
Backpacking Sites: Above Average- Everly Lake, Plummer Lake- tons of other unnamed lakes!
Flora & Fauna
Potential Wildlife: Badger, Beaver, Black Bear, Mule Deer, Pronghorn, Cougar, Coyote, Elk, Marmot, Marten, Moose, Mountain Goat, Rainbow Trout, Brook Trout, Grouse
Confirmed Wildlife: Elk, Marmot, Pika, Grouse, Mule Deer
Vegetation: Ponderosa, Lodgepole, Engelman Spruce