Overview
The East Ridge route is a shorter way to climb Mount Houghton than the standard route, although one more technically difficult. This route involves crossing the ridge between Mount Houghton and Mount Rose.
Getting There
See directions on the main page. The start of this route is at the Mount Rose Summit trailhead off of Highway 431.
Route Description
From the Mount Rose Summit parking area, take the Mount Rose trail for the first 3.6 miles to a sign pointing to the final leg of the Mount Rose trail at just over 9,700 feet. Rather than heading up to Mount Rose, cross over to the base of the ridge up Mount Houghton. There are a few ways to go, all of which involve loose scree. The most direct is to head up right to the base of the ridge, at just over 9,900 feet below two rocks photographed below. The gully continues up most of the scree slope, and ends near the top. This is very steep, involving over 250 feet of elevation gain in 1/10th of a mile.
Once atop the ridge, there is a meadow. From the meadow, hike straight to the left edge of the summit ridge. From here, walk up through the trees; through a mostly open slope, and you will reach the summit.
To be safer, descend via the Relay Peak service road, unless hiking Mount Rose, and then you can descend down the scree slope.
Round Trip Distance: 9 miles
Elevation Gain: 1650 feet
Difficulty: Involves Class 2, some Class 3 scree
Alternative Option
A second alternative option is to avoid the scree slope, and climb up the rocky slope just to the left. The only problem with taking this way is that there is a lot of loose rock. Still, it is doable, and mostly class 2, with some class 3. You just need to be careful.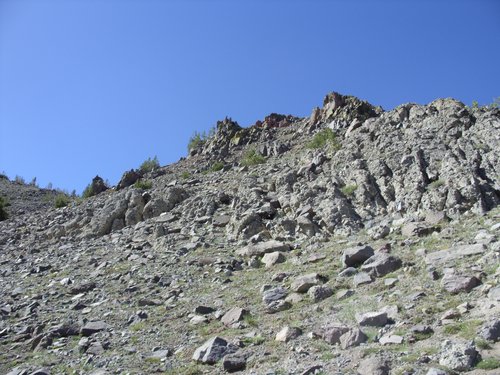 When to Climb
Essentially, this route can be hiked all year round. Hard pack snow may help the climber get up the slope. However, it is far more accessible during summer and fall. No matter what time of year, beware of loose rock.