Overview
"It was like I could reach out and touch Mount Baker
," exclaimed the late Maxine Meyers in a 2000 interview. Meyer stayed one season (1956) in the old lookout tower as the fire watcher.
The Mount Josephine Lookout was developed in 1938 with a 55' wooden tower with 8x8' cab and ground house living quarters. A 40' wooden DNR live-in was built in 1959 and destroyed in 1981.  
Mount Josephine is a mountain summit located in Skagit County, WA. Josephine climbs to 3,957 feet above sea level with 1,317 feet of clean prominence .
In the summer when the snow melts there is a rugged logging road (also known as Mt Josephine Truck Trail) that will get you to about 50 feet from the summit. The nice, flat summit of Josephine was home to the fire lookout tower described above. Only the remains of the four structural concrete corners are left today. Even though the summit has a nice flat spot, the south edge is sheer cliffs.
The summit holds great 360 degree views of all the local surrounding peaks. Looking northeast you will have amazing views of the Twin Sisters Mountain and Mt Baker. Also great views looking down into the Skagit River Valley.
This summit is HIGHLY recommended in the late winter - early spring. You will not typically see much traffic that time of the year and there will not be any driving to the summit at that time.
The day that I hiked to the summit was in May of a mild winter. I could only drive to 3,000' so it was a 1.5 mile snow hike to the summit. There was 3' to 5' of snow on the road with great views the whole way.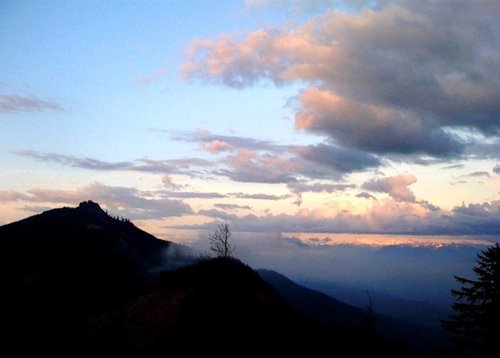 Getting There
Heading East on Highway 20 from Sedro-Woolley. As you enter Hamilton take a left on Scott Paper Rd, take a right on Hamilton Cementery Rd and then take a left on Medford Rd. Continue on Medford Rd until there will be a Y in the road at a horse camp area. Take a left at this Y. From this point it is all miles of logging roads. Follow the map that has been provided. The map shows how to get just below the 3,210' highpoint and also just below Mount Josephine Summit.
Red Tape
This is a year round Summit. Being able to drive all the logging roads, I would not attempt this during hunting season unless you are wearing Hunter's Orange. The area is plentiful with Deer, Elk and Bear.
The best time of year to hike this would be late winter to early spring. This is a great snow hike that does not get alot of traffic that time of the year.
Camping
Not needed to make the summit, but might be a fun idea to get away in the early season. I did not see any signs that said no camping. Camping would be at your own risk, however I did notice many flat landings that would make great camping spots. A great idea would be hiking up to the snowy summit and watching the sunset, then camping for the night. Here is a link to an overnight trip my 5 year old son and I did in 2011.
Trip Report Here