Overview
Mount Machebeuf is located on the north side of I-70 near the Loveland Ski Area.  Machebeuf was named after the first Bishop of Colorado Reverend Joseph P. Machebeuf.  Mount Machebeuf lies just to the east of the Continetal Divide and its neigbors are
Mount Bethel
,
Penttingell Peak
,
Woods Mountain
and
Mount Parnassus
.  Sitting at an elevation of 12,805ft not too many visitors make the trek to the summit, which gives the mountain a great sense of solitude.
Directions
From Denver head towards the mountains on I-70W.  Drive past Georgetown and Bakerville then take exit 218.  At the stop sign on the off-ramp take a immediate right onto a dirt road.  About 100yards down that road is the Herman Gulch Trail Head.  There is a large parking lot with a pit toilet.  Expect plenty of people at the TH, the hike to Herman Lake and the Continental Divide Trail are popular destinations.
South Gully Route
South Gully Route
5.33 Miles
2,600 Feet Elevation Gain
Class 2
This route starts from the Herman Gulch TH.  Follow the signs from the parking area, after a few hundred yards there will be a split in the trail.  Head west along the CDT/Herman Lake Trail, the trail heading to the east goes to Watrous Gulch and connects with the Bard Creek Trail.  After about a mile on the trail the valley opens up and there will be clear view of Penttingell Peak directly to the west.  Look for the first main gully on the south face of Machebeuf, this will be the ascent route.  From the trail to the summit is less than a mile but has 1,800ft vertical gain.  The route gets steep in areas with tundra going from grass to rock and back to grass near the ridge.  The route remains class 2 the entire way.  Follow the west side of the drainage to the summit ridge then head east to the true summit.  Don't get fooled by the cool rock formations on the west side, it is a false summit but it is a good marker to head towards from the base of the gully.  There are many options and this is just describing the South Gully, as far as a descent I chose to make a loop and head down towards the Watrous Gulch Trail.  This is a nice loop and there is some good skiing potential in the bowl between Machebeuf and Woods Mountain come winter.  Here is a link to my full trip report from Colorado Ascents: 
Machebeuf TR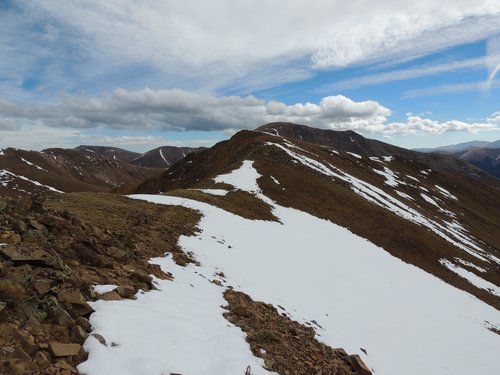 When to Climb
Mount Machebeuf is a great climb all seasons of the year.  There are some good possibilities for skiing and snowshoeing in the winter months.
Camping
There are some primitive camping sites along the uper sections of the Watrous Gulch Trail.