Overview
Mount Margareth is almost unexplored mountain, in middle of the rain forest. Located in the North-East shores of the Mayan Mountains, in Cayo District. Is completely covered with vegetation (quasi-mist forests). This range is not terribly high, but it is comprised of extremely challenging terrain due in part to the constant weathering of its volcanic spine and limestone
Mount Margaret lies between wild rivers and tropical hardwood forests where the indigenous jaguar, tapir and scarlet macal reside. Along the rivers an easy-going people, living in modest villages, traditionally have earned a living from working the land.
Hike/climb to the rugged of the Mount Margaret represent a unique opportunity to encounter its physically diverse flora and fauna, with such natural wonders as cascading waterfalls and limestone caves in an intact and relatively undisturbed environment. In fact over 60% of Cayo District has been set aside as either a Wildlife Sanctuary, National Park, or Forest Reserve.
Just a few climber/hikers took the challenge to reach the summit. According to the villagers less that 10 foreigners and similar quantities of people that lives nearby.
Mount Margareth as many more Mayan Mountains are hard hikings with steep hills in mud, no trails, crossing huge areas fully covered with vegetation, annoying insects, high temperatures, high levels of humidity, ticks, lethal snakes, poisonous trees, thorny growth, wild pigs and jaguars.
I didn't find more info. Even the altitude is very controversial. On many informative source appears as a hill with less that 300 mts high. On Google Earth mark over 850 mts, last report with GPS get over 940 mts. Sadly, when I reach the summit, I didn't count with any tool to rectify it.
Getting There
Use the Hummingbird Highway Belmopan-Dangriga. In the 27th mile are localed many orange farms and few countryside houses.
Ask to the people to be accompanied by a guide (workers from the area). Not much people knows the mountians, but they are well familiarized with the area and wild nature.
My guide was Will Santos, brother of Walter Santos (With experience in mount K2). Is not any address in those houses, but all people knows each other very well.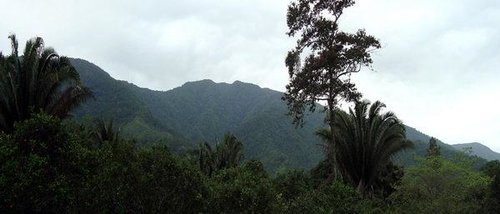 Red Tape
No fees, no huts, no trail, no guaranties that you will survive (take care with snakes)
Hike tooks me around 8 hours. starting in the 27th mile and finishing in the 29th on the Humminbbird Highway.
Camping
Ask for lodging, spend a night in any house is good idea. You can use tent or like me, I used a realy confortable hammock. They don't charge any cent, but is good idea to leave some money as gratitude.
Link
My own site
style="display:block"
data-ad-format="autorelaxed"
data-ad-client="ca-pub-6523272176520096"
data-ad-slot="7132222476">