Overview
Using Dennis Poulin's
fine trip report
as a guide, we followed his directions to the north side of Mount Moses. This provides the shortest
route to the summit since roads take you to a point that is sbout 2 miles as the crow flies from the summit. I felt it was worth sharing this route to others who might be interested in visiting the summit of this mountain. At the time of year we visited (July), there was no snow issues and this was really just a nice hike.
Getting There
We went in from highway 305 via Buffalo Valley after spending the night at the Mill Creek campground, visited the mountain and exited via the Fish Creek Ranch road.
Via Buffalo Valley road: About 21 miles to turnoff at 4750 on map. Then another 8.5 miles to the sign and junction with the Fish Creek road. From that sign, it is close to 5 miles to the radio site (Peak 8420) and then almost another two miles to where we parked our vehicle.
The Fish Creek road is shorter and more direct to the highway, and I'll provide some maps that will help in direction finding for those who are interested in either road system. If you are coming from Battle Mountain or heading that way, then the Buffalo Valley road is the best way to go. Overall, it is a better road than the Fish Creek road but we found the Fish Creek road to be in good condition with the exception of a couple of muddy sections that were not a problem for us at our visit. The area map will give a rough idea of the roads in and I found the Nevada Benchmark map book to be helpful.
From Battle Mountain on Hwy 305 to exit for Buffalo Valley road - 12.5 Miles
From Hwy 305 to turn off from Buffalo Valley road - 21 miles
From Buffalo Valley road turn off to junction with Fish Creek road - 8.5 miles
From that junction to Radio towers - 5 miles and then almost 2 to where we parked
For Fish Creek road to Hwy 305, 16 miles.
Route Description
From where we parked, we crossed over (crawled under) a barb wire fence and proceeded to drop down over 650 feet to a saddle. Then you regain all of that elevation plus more to gain the summit of Mount Moses. On the way back, you need to once again gain the 650 feet that you lose making the total elevation gain for this one a bit over 2350 feet and 4.2 miles roundtrip.
The terrain is mainly class 2 with one or two spots where you need to use your hands as you work around some rocky outcrops. On a hot day, water is essential and is the key need for this hike.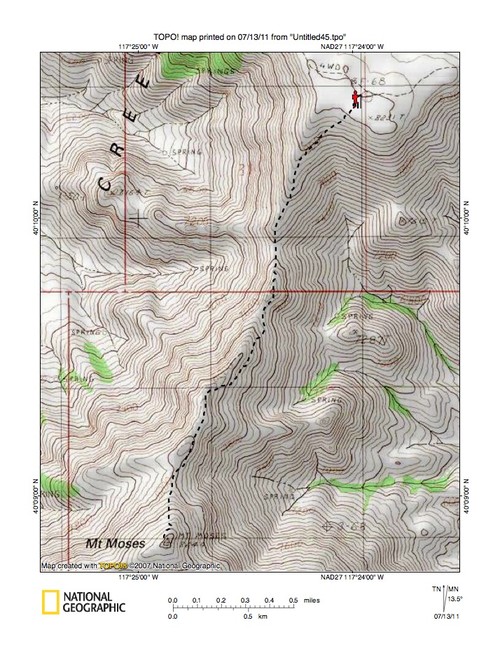 Essential Gear
The main need to get to this route is to have a vehicle with high clearance and 4WD. It is doubtful you could get up this route in the spring if snow or mud is present. Plan for doing the road after a good dry spell as wet weather may make the roads impassable.
External Links
Add External Links text here.